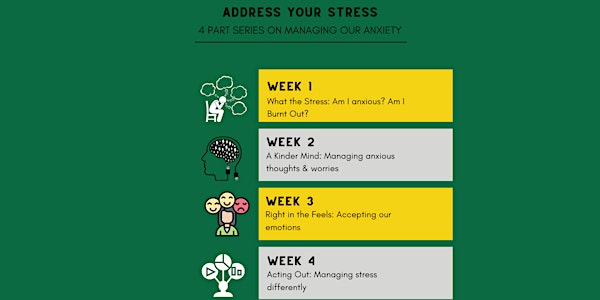 Address Your Stress ~ 4 Part Anxiety & Stress Management Series
Are you feeling anxious? Stressed about returning to campus? Remaining at home to learn? You are not alone.
About this event
The Student Wellness Centre is excited to announce a 4 part workshop series on managing stress and anxiety.
Stress is a natural part of our everyday lives, as is stress management. When stress is overwhelming, is your tendency to turn to unhealthy coping strategies? Who in your social circle is available for you when needed? What self-care strategies are you using to manage stress when it occurs? Join this virtual workshop and learn the importance of recognizing stress factors, evaluating stress responses, and managing stress with positive self-care strategies.
This is a virtual, drop in, open group (meaning you can pick and choose which week to tune in based on your schedule)
Who Should Attend?
All students are welcome!
Students looking to achieve better stress management
Students looking to develop self-care strategies
Learning Objectives
Recognize signs of stress
Identify personal stress triggers
Recognize responses to stress
Use self-care strategies to manage stress
Workshop Outline - Virtual Zoom Delivery each week starting @ 10:00am CST for 60 minutes
Week # 1 - What the Stress? Am I Anxious? Am I burnt out? (January 27)
Week # 2 - A Kinder Mind: Managing Anxious Thoughts & Worries (February 3)
Week # 3 - Right in the Feels: Accepting our Emotions (February 10)
Week # 4 - Acting Out: Managing stress differently (February 17)