RESET. RESTORE. RADIATE. Learn how you can lose 20-30 lbs in 6 weeks by resetting your metabolism and restoring your hormones balance.
About this event
RESET. RESTORE. RADIATE.
Are you ready to lose stubborn weight and feel your best? Are you ready to take action to achieve your health and wellness goals? Our free Metabolic Reset Workshop will be your first step on this journey. Participants of the Metabolic Reset Program have lost 20-30 pounds in just 6 weeks!
Join Dr. Kristijana Rakic, Naturopathic, and Functional Medicine Doctor, as she discusses how you can RESET your metabolism, RESTORE your optimal health, and RADIATE from the inside out by understanding 3 overlooked causes in weight loss resistance.
YOU DESERVE THIS.
Feel energized, gain clarity, strengthen your mindset & be EMPOWERED
 Dr. K has helped thousands of people in the Region of Waterloo lose weight. Having run Weight Optimization programs for over a decade, she has developed the roadmap to ultimate weight loss success. Dr. K will help you overcome these obstacles while healing and restoring your health. Lose weight safely and permanently by making therapeutic lifestyle changes over the course of 6 weeks. Get help that is easy to understand and incorporate into your daily habits for a lifetime.
It's time for you to get the results you deserve. 
Below are some of the amazing and CONSISTENT results that Dr. K has been seeing in her patients over the last few months. 
SUCCESS STORIES
"It feels good to feel good again! It's much easier to take care of myself now that I have my energy and metabolism working again! This past year has been freakin' great in so many ways! I have been able to focus on my health and self care and not only maintain my weight loss but reap many off the scale victories! It feels really good to feel really good! This journey has been so much about health, energy and metabolism. I have learned that it really wasn't about weight - just how my body wasn't functioning at an optimal level."
Listen to Gloria's Story. Gloria now has more energy, mental clarity, more zest for life, renewed hope, and confidence!  
Listen to Natasha's Story. After ten years of doing all the right things, Natasha is finally getting the results she feels she deserves with the Metabolic Reset Program. 
Start Your Journey. Register for the free VIRTUAL workshop today
Upcoming workshop date: 
Monday Nov 2nd - VIRTUAL WORKSHOP - You will be emailed a zoom link the day of the workshop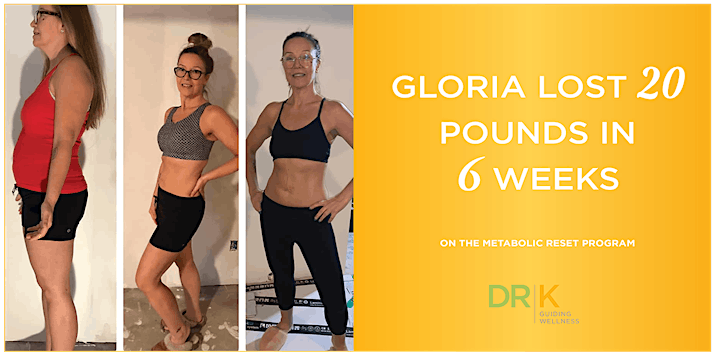 Organizer of Addressing 3 Overlooked Causes of Weight Loss Resistance
Dr. Kristijana Rakic, Naturopathic and Functional Medicine Doctor
After a decade of private practice, corporate wellness, and community health programs such as the KW Cleanse, Dr. K has witnessed massive transformations in the health and vitality of her community.  
Dr. K is a strong advocate of prevention and health optimization.  She is enthusiastic about educating and empowering her patients to maintain a healthier lifestyle and is eager to work with individuals who are ready to take charge of their health. 
Dr. K graduated from the University of Waterloo with an Honors Science degree in Kinesiology. She received her Doctor of Naturopathic Medicine diploma after completing four years of post-graduate medical education at the Canadian College of Naturopathic Medicine and is certified Functional Medicine Doctor by the Institute of Functional Medicine.  She has successfully completed a certification in Therapeutic Prescribing and is licensed to prescribe Bio-identical hormones and Desiccated Thyroid in Ontario.  Dr. K is also certified in First Line Therapy (FLT), an advanced certification program in recognizing the barriers to weight loss and helping patients achieve optimal body composition.
Dr. K is licensed in Ontario through the Board of Drugless Practitioners (BDDT-N). She is also a member of the Ontario Association of Naturopathic Doctors (OAND) and the Canadian Association of Naturopathic Doctors (CAND).