About this Event
Womxn Offering Wisdom Presents:
Sisterhood Dialogues Part 2: A Conversation Led By Our Black Sisters
Join Womxn Offering Wisdom Founder's Ayesha Syed & Executive Member Preeti Nayak dialogue with panelists - Gilary Massa, Claudette Rutherford, Deanna Heron and Darcie Sutherland - about solidarity and sisterhood, moving beyond performative solidarity in addressing and dismantling anti-Black racism.
This Webinar will take place Wednesday July 8th from 3-4pm on Youtube.
This webinar is designed for our South Asian and Tamil Sisters! Please join us!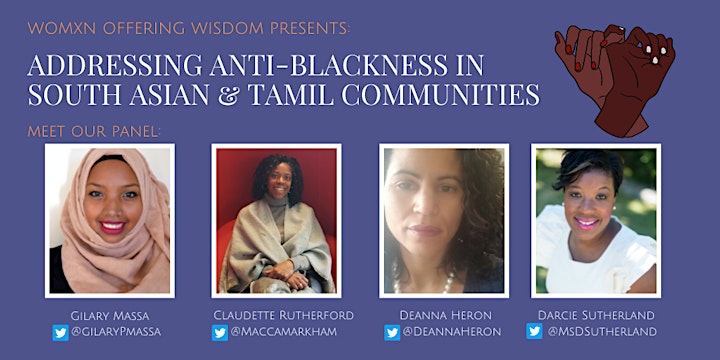 Gilary Massa is a proud Afro-Panamanian Muslim who lives in Toronto Canada with her husband and two young children. She has a long-standing history in community engagement, public education, and activism related to equity, human rights, and social justice. With roots in both the labor movement and student movement, Gilary has spent the last 15 years supporting school boards, advocacy organizations, labor unions, government agencies, and private enterprises with better understanding of how to support human rights, equity, and inclusion in their organizations. Gilary is currently pursuing a Masters in Leadership and Community Engagement at York University.
Claudette Howell Rutherford is a secondary school teacher and Department Head of Social Science and Humanities at the York Region District School Board. Claudette is co- founder and steering committee member for the Parents for Black Children York Region, a grassroots advocacy group in York Region. Claudette has served on the Board of Directors for the Markham African Caribbean Canadian Association for over 15 years as Director of Youth and Education Programs. As the Vice President of Markham African Caribbean Canadian Association. Claudette was Chair of MACCA'S Annual Black Youth Legacy Conference and Summer Camp Administrator. Claudette is the Program Lead for the Ministry funded KinnectYouth Mentorship Program for Black youth in care and is a member of the Network for the Advancement of Black Communities helping to develop a community of practice for mentoring programs across the province.
Deanna Heron is a secondary school Vice-Principal with the York Region District School Board with a background in Arts Education and Guidance. Her work is dedicated to improving the trajectory of students who are most likely to be subject to marginalization, cultural imperialism, and other forms of oppression - actualized through numerous YRDSB committees: Restorative Practices Training Team, Indigenous and Racialized Leaders Mentorship program, the Equity Strategy Steering and Action Committee, Black Male Focus Group, SpeakOut Conference Planning Team, and the Alliance of Educators for Black Students. Her involvement with Leadership by Design, LLI – a program designed to support Black students at promise – is affirming of her lived experience as a Black student in Ontario schools, a parent of Black sons, and as a Black educator striving to cultivate Black Excellence everywhere.
Darcie Sutherland is a passionate educator, who anchors herself in her faith and as Black woman with proud Afro-Latina and West Indian roots. As an educator for the past 20 years with degrees in Sociology, Education and Masters In Education, she has been committed to supporting marginalized students from K-12 through the role of teacher, African/Caribbean Liaison and Vice Principal, ensuring that students' voices are heard and supported within an systemic oppression, specifically challenging AntiBlack Racism. She is past Chair of Alliance Of Educators for Black Students (AEBS), initiated a Black Male Focus Group, which has resulted in a Black Mentorship Program in the YRDSB and is a mentor in the Racialized Leaders Mentorship program.