ADHD 5-week Seminar Starting Oct 25th - Facilitated by Dr. Michelle Francis
Free Seminar helping families & community members learn about, and the importance of, supporting children with ADHD
About this event
Dr. Michelle Francis, MSc, MD, FRCP (C) - Nanaimo Pediatrician will be facilitating this 5-week seminar where we will explore each week new topics around understanding and supporting children with ADHD (diagnosed or suspected). Through awareness and knowledge, we will explore ways to support the child and the family.
Each session we will explore new topics that will provide you with knowledge and tools to enhance your support of a child with ADHD. Topics we will be covering:
• ADHD Diagnosis – what does this mean…
• Tools for home life successes…
• Tools for school success…
• Social tools – regulation, social cues…
• Treatment options – diet, medication…
Participation: We encourage all to participate during the sessions when they feel comfortable doing so. We learn from each other, and the seminar is richer when we all contribute.
Each week is built off the next so we ask that you commit to attending each week. We know that life happens so if something does come up, we ask that you let Kimberlee know asap, so we can look at the best ways to support your learning.
SESSION DETAILS
For: Parents/Guardians/Caregivers/ECE's of children with ADHD.
Date: Mondays (Oct. 25th, 2021 through to Nov. 22nd, 2021) 5 weeks – 2 hour sessions (1.5 hour info with 30 minute Q & A)
Time: 6:00 pm to 8:00 pm Location: Zoom (link given once registered)
Registration: As we will be hosting this seminar virtually you only need to register once per household.
If you require more info, or help understanding how to set up and use the zoom technology, we can help you over the phone. Please email Kimberlee at kimberlee@nanaimocdc.com to set up a time to chat.
This workshop is sponsored and funded by Island Savings Community Endowment Funds and Children's Health Foundation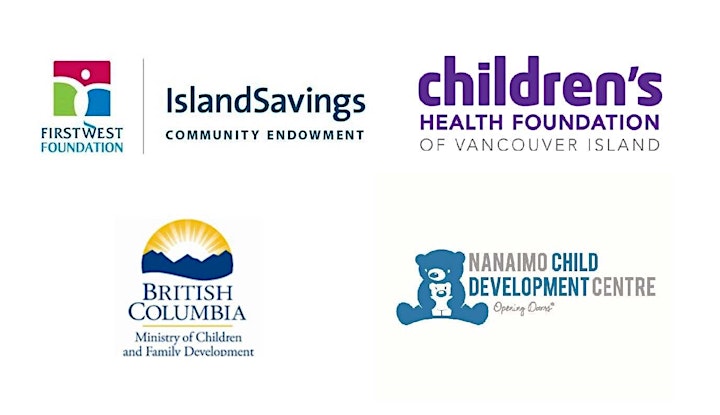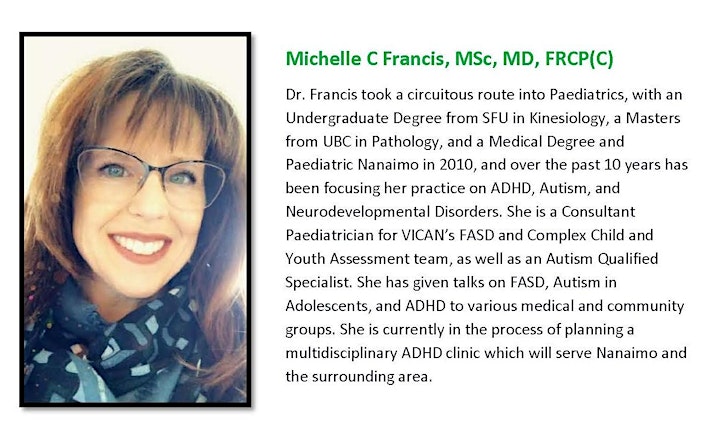 Organizer of ADHD 5-week Seminar Starting Oct 25th - Facilitated by Dr. Michelle Francis
Knowledge Sessions are sponsored by Making Connections Conferences in connection with Nanaimo Child Development Centre and often in partnership with other organizations. This event is in Partnership with PacificCare.
The Nanaimo Child Development Centre (NCDC) is:
A community-based, not-for-profit organization that has been an integral part of the community since 1967

Our mandate is to provide individualized services for children with developmental needs, from birth to age 19, and their families that promote optimum child development.

Our aim is to assist children during their growth and development with their communication skills, motor skills, and learning abilities while recognizing and addressing the diverse needs of each child to ensure he/she reaches their full potential.
The NCDC provides support, assessment, and therapeutic services to nearly 1800 children and their families in Ladysmith, Nanaimo, Lantzville, Gabriola Island, and Protection Island areas each year. The NCDC offers specialized assessments to children who live in the areas listed above as well as Duncan, Ucluelet, Tofino, Parksville, and Qualicum Beach, who are thought to have Complex Developmental & Behavioural Conditions.
The programs/services at the NCDC include: Occupational Therapy, Physiotherapy, Speech-Language Therapy, Infant Development Program, Supported Child Development Program, Child & Youth Development Program, Family Development Program, Family Resource Navigator, C.A.R.E. Program, and the Complex Developmental and Behavioural Conditions (CDBC) program.
NCDC - Vision
An inclusive community in which all children and families have the supports they need to grow, participate and thrive.
Making Connections -  Vision 
To build capacity and excellence for the community involved in supporting child and youth development by enhancing knowledge through training and professional growth based on current and cutting edge researched practices, for professionals, families, and community members.
PacificCare - https://pacific-care.bc.ca/
PacificCARE Family Enrichment Society (PCFES) is a non-profit Society.
The purpose of PCFES is:
* To promote and provide quality services for children and family.
* To provide a holistic approach to the development of community childcare services.
* To encourage the development of support networks for childcare providers through education and advocacy.
* To facilitate and promote the educational development and professional advancement of child care providers.
* To provide families with the information that will help them make wise childcare choices.