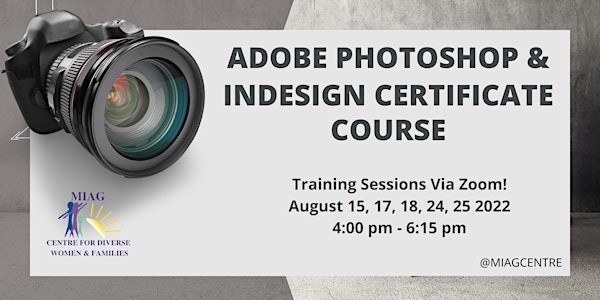 Adobe Photoshop & InDesign Certificate Course - Learn a New Skill!
MIAG is offering a useful and interactive online certification course in ADOBE Photoshop and ADOBE InDesign. Register today!
About this event
Learn some basic skills that you need to design your own graphics from start to finish! By taking these beginner's courses, you'll feel confident and comfortable using Adobe Photoshop and InDesign.
How will you benefit from this training?
- Gain practical skill of designing professional flyers, posters, banners, business cards, editing pictures, creating promotional materials, etc.
- Help your organization reduce designing costs in the long term
- Build your organization's capability in managing specific designing requirements and timelines
Training Requirements:
- Basic level of computer literacy
- Download Adobe Photoshop and InDesign applications on your laptop in order to practice in our online class
- Download Zoom on your laptop in order to participate in this online class
Training Dates & Topics:
The Adobe Photoshop training courses consists of 3 sessions which will take place on August 15, 17 and 18, 2022 and the InDesign training consists of 2 sessions that will be on August 24 and 25, 2022. Both training sessions will be held online from 4:00pm - 6:15pm. Choose one or both of the training courses that apply for you. Certificate will be awarded after completion of the course!
Workshops' Cost:
Adobe Photoshop (3 Sessions)
MIAG Member: $75
Non-Member: $90
Adobe InDesign (2 Sessions)
MIAG Member: $50
Non-Member: $60
Please click on the following link for registration and payment: https://www.miag.ca/registration-form-for-workshops/training
Space is limited. Registration and payment are required in advance in order to secure your spot. Zoom link will be sent prior to the training session.
For more information about the course or about MIAG membership, please contact us at (647) 638-3332 or e-mail: farida@miag.ca or visit our website: www.miag.ca
Please review the flyers below for more details.