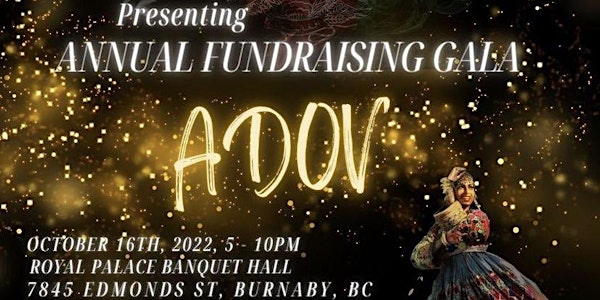 ADOV Annual Fundraising Gala
Join us as we celebrate our first annual fundraising gala as we raise funds to support Afghanistan!
When and where
Location
Royal Palace Banquet Hall 7845 Edmonds Street Burnaby, BC V3N 1B9 Canada
About this event
Our annual fundraising gala is coming up on Sunday, October 16, 2022. Thanks to the unwavering support of our community, the event has gained significant interest from our Afghan and non-Afghan followers that are determined to do their part in supporting Afghanistan.
Although international support for Afghanistan is no longer trending on the news, the poverty-stricken struggle of Afghans remains a day-to-day reality. You and I are blessed in that we do not agonize in finding the source for our family's next meal yet we must remember that had life been different, we could have been the ones relying on the sympathy and kindness of others to provide for our us and our family.
This year, with your generosity we are hoping to raise a minimum of $20,000 in aid for Afghanistan to help them through the piercingly cold winter that is approaching in the coming months. Especially after the recent catastrophic floods that have left our destitute Afghans homeless, they need your support now more than before.