[a]drift Artist Talk by Edith Krause

Saturday, August 10, 2013 from 2:00 PM to 3:00 PM (PDT)
Event Details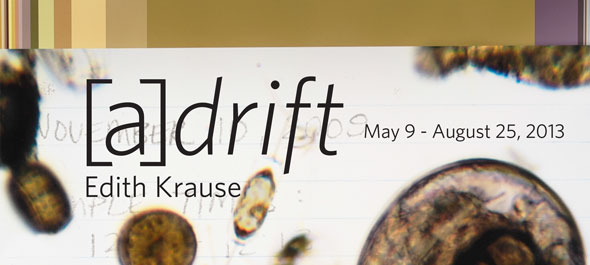 [a]drift

A visual art series by Edith Krause with human life-sized images of microscopic marine creatures to convey their ecological importance, reveal forms that are unfamiliar and fantastic, and make visible the invisible.
Exhibition Talk with Edith Krause

Date: Saturday, August 10, 2013
Time: 2:00 p.m.
Location: Beaty Biodiversity Museum
Join Edith Krause, the artist presenting our exhibition [a]drift, as she explores the inspiration and process behind her work.
Edith's talk will be followed by a special screening of Ocean Drifters, A Secret World Beneath the Waves, written, produced and directed by Richard Kirby (a Marine Institute Research Fellow at Plymouth University, UK) and narrated by David Attenborough. This short film reveals how marine plankton have shaped life on Earth and continue to influence our lives in ways most of us never imagine. Using remarkable imagery to portray the beauty of plankton in a way not seen before, Ocean Drifters also conveys an important environmental message demonstrating how plankton play a central role in the global carbon cycle, and how rising sea temperatures due to climate change are now altering their numbers, distributions, and abundance with consequences for the marine food chain, commercial fisheries, and the ecology of our entire planet.
Note: Exhibition talk is included with museum admission or membership.
About the Exhibition
[a]drift
May 9 - August 25, 2013
In this visual art exhibition by Edith Krause, [a]drift presents human life-sized images of microscopic marine creatures. Merging the worlds of art and science, Krause chose portraiture, an art form traditionally reserved for humans, as her medium to showcase individual organisms while carefully avoiding the scientific habit of splaying them out for identification. She worked with them as characters in the actual poses she observed. While the images are mimetic, these enlarged portraits convey their ecological importance, reveal forms that are unfamiliar and fantastic, and make visible the invisible.
Biography
Edith Krause is a printmaker, currently living in Langley, British Columbia. She began her art studies at Emily Carr Institute of Art & Design and recently completed her MFA at the University of Alberta. Previously, she studied and worked in the fields of marine biology and aquatic ecology at the University of British Columbia and earned a Masters of Science degree in Zoology. Her interest in biology has been a major influence on the subject matter of her artwork and her current art practice consists of an interdisciplinary exploration of ecosystems, employing scientific methodology to collect images and data, and art to express her findings.
Parking
The nearest parking is in Health Sciences Parkade, one block south of the museum across East Mall. For more information on how to get to the museum, please click here.
Fine Print: Groupons, discount coupons or other promotional offers cannot be applied to the ticket price when purchasing tickets for special lectures or events.

When & Where

Beaty Biodiversity Museum
2212 Main Mall
University of British Columbia
Vancouver, British Columbia V6T 1Z4
Canada

Saturday, August 10, 2013 from 2:00 PM to 3:00 PM (PDT)
Add to my calendar
Organizer
Fall in love with the diversity of life as you explore 20,000 square feet of exhibits, visit our teaching lab, and stare through the jaws of the largest creature ever to live on Earth—the blue whale.

The museum puts UBC's natural history collections, with more than two million specimens, on public view for the first time. Among our treasures are a 26-metre-long blue whale skeleton suspended in the Djavad Mowafaghian Atrium, the third-largest fish collection in the nation, and myriad fossils, shells, insects, fungi, mammals, birds, reptiles, amphibians, and plants from around British Columbia and the world.

Through a combination of exhibits, hands-on activities, educators' resources, public presentations, and community and cultural engagement, we are working to increase understanding of the interconnectedness of all life on Earth. Just as important, we connect the world-renowned scientists at the adjacent Biodiversity Research Centre with the public. This unique combination of world-class, university-based research and beautiful, compelling exhibits makes the research conducted by UBC scientists more accessible and more relevant to the public.
[a]drift Artist Talk by Edith Krause