Advance Ontario: connect * compute * innovate

Tuesday, 14 May 2019 at 8:00 AM

-

Thursday, 16 May 2019 at 12:00 PM (EDT)
Event Details
Advance Ontario: connect * compute * innovate
ORION, SOSCIP and Compute Ontario are pleased to announce a combined conference on May 14th-16th, 2019.

As innovation in research, education and industry becomes ever more dependent on digital infrastructure and collaborations among experts in their fields, it is key that this community come together to assert and understand their shared challenges and opportunities as well as their unique perspectives. 

May 14: Workshops 

May 15-16 Conference keynotes and breakouts
*

Unless otherwise noted, workshop and conference tickets are sold separately
Advance Ontario will explore: 

Diversity in Data Science  

Supporting NextGen Talent  

Cybersecurity

Emerging Technologies

How Technology can Save the World

Smart Cities
Join us for insights into the future of Ontario's innovation economy. 
Workshop Agenda: 
May 14 – Workshops: 8am-4pm
STORM: Mobile Security Toolkit Ethical Hacking Workshop  
Improve your cybersecurity in a day! Hacking and penetration testing methodology PLUS a fully-loaded penetration testing platform.

This one-of-a-kind workshop offers modules from EC-Council's Certified Network Defender (CND) and Certified Ethical Hacker (CEH) certification courses using the STORM Mobile Security Toolkit - a fully-loaded penetration testing platform. Workshop includes the STORM tablet loaded with a custom Kali Linux OS, courseware, videos, and tools. More info
May 14 – Workshops: 1pm-4pm
AI: What, When, Why and How? 
Artificial Intelligence (AI) has gained momentum in the last five years as it started moving from the research realm to real-world applications. Unfortunately, this was accompanied by people over-using the term to describe everything as they didn't fully understand it. This workshop will try to answer the following: What is AI? When to use AI? Why use AI? How to use AI? This will be followed by a live demo of creating a voice assistant using the IBM Watson platform.
Conference Agenda: (subject to change) 
May 15 – Conference
8:00am Registration and breakfast
9:00am Opening Remarks
9:05am Opening keynote: The Future of Quantum Computing
9:45am ORION/Compute Ontario/SOSCIP update 
10:15am Break
10:35am Breakouts by stream 
11:55pm Lunch & Awards 
1:15pm Emerging Technologies
2:00pm Diversity, Data Science and Digital Inclusion
2:45pm Break
3:05pm Plenary
3:50pm Cybersecurity: A Team Sport
4:20pm Closing remarks
4:30pm Networking reception

May 16 – Conference
8:00am Registration and breakfast
9:00am Opening remarks
9:05am How Technology can Save the World
9:45am 3MI Finalist presentations
10:05am National Digital Research Infrastructure - the story so far and where we go from here 
10:20am Break
10:40am Intersection of Academia, Industry, and Start-ups
11:30am Closing remarks
12:00pm Conference ends 
Sponsorship:


Sponsorship packages available! Please contact Jillian Dempsey at jillian.dempsey@utoronto.ca
Group rates available!
We know that innovation can be powerfully sparked when we put our heads together. That's why we're offering group rates for groups of three, or more. For this option, select the "group rate" ticket option upon registration.
Early-Bird rates end

 April 22, 2019!
Sponsors: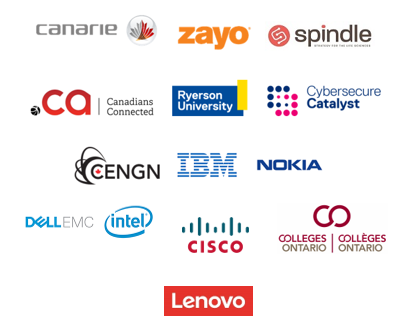 ---
Terms and Conditions
By registering, you consent to sharing your registration information with Compute Ontario, ORION, SOSCIP, and other third parties.
Only one (1) promo code may be redeemed per user or party, in the case of group rates. 
Promo codes cannot be used in combination with other codes or offers. Organizers have the right to adjust registration accordingly. 
When & Where

MaRS Discovery District
101 College Street
Toronto, ON M5G 1L7
Canada

Tuesday, 14 May 2019 at 8:00 AM

-

Thursday, 16 May 2019 at 12:00 PM (EDT)
Add to my calendar
Organizer
Compute Ontario
As a central hub, Compute Ontario has a pivotal role in the province's advanced research computing and big data strategy. Our consortia provide access to comprehensive advanced research computing resources, including the most powerful computers and networks designed to solve the world's most complex problems, and highly qualified personnel who train researchers and run the systems.
ORION
ORION is a not-for-profit organization commuted to actively supporting Ontario's researchers, educators and innovators. Since 2001, we've facilitated new discoveries and learning by connecting institutions and regions, enabling collaboration, forging partnerships, and providing our community with the digital tools they need to make the work a better place.
SOSCIP
Based in Ontario, SOSCIP is unique as Canada's only R&D consortium harnessing advanced computing to drive innovation. SOSCIP was established in 2012 as a collaboration between 15 Ontario post-secondary institutions, IBM Canada Ltd. and many small- and medium-sized enterprises (SMEs) across the province, SOSCIP has catalyzed the creation of a collaborative ecosystem that has accelerated the economic impact, job creation, skills retention and growth of over 120 Canadian firms.