Description
Advanced Cheese Making
In this advanced workshop, we will explore many different aged and fresh cheeses. Two new classes of cheeses will be introduced: hard cheeses and goat-milk cheeses. We will examine some of the many pathways for ageing soft cheeses by demonstrating the techniques of making blue cheeses, washed rind cheeses and feta. In addition, we will be learning about whey cheeses and mozzarella. Bring your cheesy questions, and David will help you along with your cheese making adventures.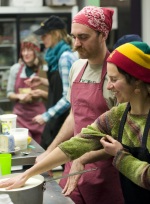 Date: Wednesday, May 30th, 6-9:45pm
Location: UBC Farm Centre
6182 South Campus Rd
Vancouver BC
Cost: $40 (+ $1.99 registration fee).
Materials included.
David Asher Rotsztain is an organic farmer and farmstead cheesemaker on Mayne Island. He developed his cheesemaking skills though various teachers, including a Brown Swiss Cow named Sunday on Cortes Island. In addition to making many varieties of cheese at home, David leads cheesemaking workshops for food security-minded organizations and cooking schools around the Salish Sea. He is a dear old friend of the UBC Farm.
Visit guerrillacheese.wordpress.com for more info on David's workshops.