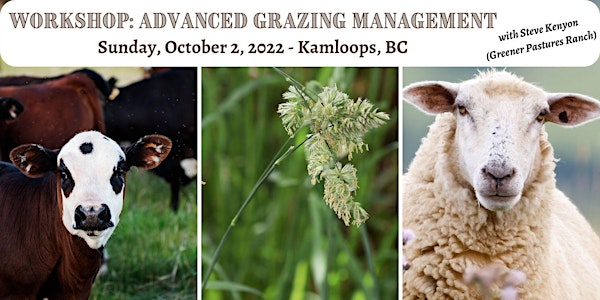 Advanced Grazing Management Workshop - Kamloops
Dive into Advanced Grazing Systems with Steve Kenyon & design your own Grazing Management Plan with support from BC grazing mentors!
Refund Policy
Contact the organizer to request a refund.
Eventbrite's fee is nonrefundable.
About this event
The Advanced Grazing Management Workshop will provide hands-on support to livestock producers, providing them the resources necessary to design their own grazing management plan.
Before the workshop even begins, participants will be invited to complete self-directed, introductory course on Advanced Grazing Systems before the workshop. The nationally-developed curriculum provides producers with all of the background they need to get started, and the workshop will allow them to dive into designing their own grazing system with one-on-one support from Grazing Mentors.
The full-day workshop will start with a presentation from Steve Kenyon on cell design considerations, including working through an example together. In the afternoon, producers will be placed in groups to start work on your own operation's design options. That's right, you have at least some homework to do before the event! (We can help with homework too, such as printing maps!)
The online course on Advanced Grazing Systems mentioned above is part of the work being completed by the Farmers for Climate Solutions, designed and delivered by the Canadian Forage and Grasslands Association. By registering for this event, you'll automatically be registered for the online curriculum (it may take a few days for the link to be emailed to you, please be patient as we workout any kinks or quirks). It is free to register and access the online course and materials.
One of the goals of the workshop is to connect producers directly with Grazing Mentors, and have the pieces they need to finalize a Grazing Management Plan, which can be used to apply for cost-share funding to implement their plan (optional). Further details will be made available as we near the event.
Coffee Breaks and Lunch included.
More details on venue, hotel room booking, and more will be added as quickly as possible.
Questions? Concerns? Please reach out: grazingmentor@bcforagecouncil.com