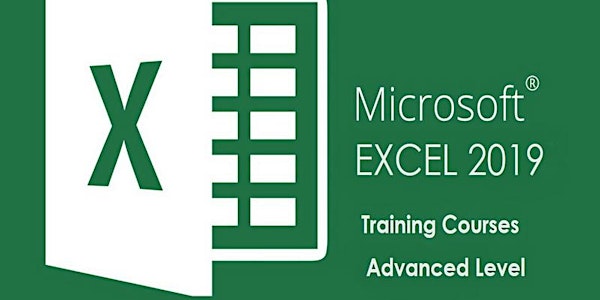 Advanced Microsoft Excel Training Courses | MS. Excel Online Classes
For updated schedule and registration, please visit the course page Training Type: Classroom Training –
Refund Policy
Refunds up to 7 days before event
Eventbrite's fee is nonrefundable.
About this event
For updated schedule and registration, please visit the course page
Training Type:  Classroom Training – Downtown Toronto " Also available in Mississauga and Scarborough"
Other options : Online Training- On-site at your company office " Anywhere"
Course Level:  Advanced
Number of students per session:  Our class sizes are typically 4-6 students per session. Our classes are intentionally kept small in order to foster more interaction between the instructor and students. We limit classes to a maximum of six (6) students unless we are teaching a private group or organization. Each student is provided with a laptop with Microsoft Excel 2019 (Windows) already installed.
Locations: Toronto ( 1 Yonge St),  Also we offer the course in Mississauga & Scarborough.
Duration:   1 day  ( 10 AM- 5 PM) – Weekend and weekdays courses
Special Offers:   Sign up with a friend and save 5% each  – Sign up with 2 friends and save 10%
Bring your laptop: Save $ 50 "$250 only"  (Your laptop with Microsoft Excel 2016 or Excel 2019 installed). 
Corporate Training:  Contact us for special offers
This Advanced Microsoft Excel training course is designed for students to gain the skills necessary to use IF statements, VLOOKUP and HLOOKUP,  pivot tables, audit and analyze worksheet data, utilize data tools, collaborate with others, and create and manage macros.
By the completion of this advanced Microsoft Excel 2019 training course, you will be comfortable with many of the advanced features and functions that this powerful spreadsheet software from Microsoft has to offer.
With the ability to handle advanced tasks in Excel, you'll be able to get more power out of your worksheets and be able to dramatically shorten your task times and increase your efficiency in the process.
Learn how Excel 2016 table tools take the complexity out of table creation and management. As you become proficient at nesting functions within other functions, you'll be able to accomplish just about anything Microsoft Excel has to offer!
Prerequisites
Our Advanced Microsoft Excel training course is suitable for those with a sound working knowledge of Excel who wish to progress to the most complicated functions and features.
Target Audience:
Students who have Beginners-  intermediate skills with Microsoft Excel 2016 who want to learn more advanced skills or students who want to learn the topics covered in this course in the 2016 interface.
Course Objectives:
At the end of this course you will have a complete understanding of the higher functions of Excel.
You will be able to perform the most advanced calculations and functions, manipulate data using pivot tables and 'advanced' analysis, record macros and integrate with other office applications
Course Outline
Using logical functions
Naming ranges– Creating named ranges– Using named ranges in formulas
The IF function (recap)– Creating nested IF functions AND and OR functions– Combining logical functions
Working with lookups
The VLOOKUP function
The HLOOKUP function
Advanced list management
Using data validation– Setting criteria for entry of text, values and dates– Creating a dropdown list
Using database functions– Setting up criteria– DSUM– DAVERAGE– DCOUNT
PivotTables and PivotCharts
Using the PivotTable Wizard
Rearranging PivotTables
Using the PivotTable toolbar
Creating PivotCharts
Using Slicers to manipulate PivotTables
Using analytical options
Using Goal Seek
Using the Solver add-in
Working with scenarios– Creating and saving scenarios– Viewing scenarios
Macros
Creating macros
Using the macro recorder
Viewing and editing macro VBA code
Included Course Materials
Course workbook "PDF" including step-by-step course exercises complete with many actual screen captures and advanced project tips, exercises and answers
Data files with all applicable Microsoft Excel files used in the course
Certificate of completion (PDF)
Related Classes
Take Microsoft Excel 2019 Fundamentals Training Courses in Toronto, Mississauga, Scarborough, Montreal & Ottawa
Take Microsoft Excel 2019 Intermediate Level Training Classes in Toronto, Mississauga, Scarborough, Montreal & Ottawa
Take Microsoft Excel 2019 Advanced Level Classes in Toronto, Mississauga, Scarborough, Montreal & Ottawa
Microsoft Excel 2019 Tables, Pivot Tables, and Conditional Formatting
Microsoft Excel 2019 | Using Formulas for Financial Analysis.
Microsoft Excel 2019 | Using Formulas For Statistical Analysis