Advancements on N2O modelling in water resource recovery facilities
Webinar: Advancements on N2O modelling in water resource recovery facilities by the IWA Modelling and Integrated Assessment Specialist Group
About this event
MIA specialist group webinar series is continuing with the webinar on Advancements on N2O modelling in water resource recovery facilities (WRRFs). Register now to join this webinar and share it with your colleagues who would be interested. The webinar is free and open to everyone.
Event Description:
Wastewater treatment plants are large contributors to greenhouse gas (GHG) emissions. This comprises both direct and indirect emissions of carbon dioxide (CO2), methane (CH4), and nitrous oxide (N2O). Direct emissions are mainly related to the biological treatment processes. N2O emitted during nitrification/denitrification stages is the most significant direct form of emission while indirect emission is mainly associated with the energy consumption of the plant for which aeration is one of the largest contributors. Mathematical modelling is a widely used tool for the optimization of wastewater treatment plants, mostly in terms of effluent qualities. Only recently the focus of this has been extended to include carbon footprint minimization targets. However, the question remains to which extent models are useful to evaluate, predict and/or mitigate N2O emissions from wastewater treatment processes. In this regard, the IWA Task Group on GHG Emission has a broad objective of understanding and modelling the processes responsible for major contributions to GHG emissions in WRRFs and sewer networks. In this webinar, we are focusing on the history and state-of-the-art studies on N2O modelling as well as recent advancements in the use of mathematical modelling for prediction of N2O emissions in WRRFs and how models can help plant managers in adopting appropriate control and mitigation strategies.
Agenda & Speakers:
Introduction to MIA SG and the Webinar: Ulf Jeppsson, Lund University, Sweden & Liu Ye, University of Queensland, Australia.
History and state of the art of N2O modelling: Mathieu Sperandio, INSA Toulouse, France
Potential of N2O emission models for full-scale applications: Eveline Volcke, Ghent University, Belgium
LESSWATT: model-based protocol for mitigation of N2O emission of WRRFs: Saba Daneshgar, Ghent University, Belgium
Target Audience: Process modelers, utility managers, and technologists, consultants, academics and modelers with interest in carbon footprint mitigation of WRRFs
Follow the Modelling and Integrated Assessment Specialist Group on IWA-connect, LinkedIn & Twitter to get informed about our latest events.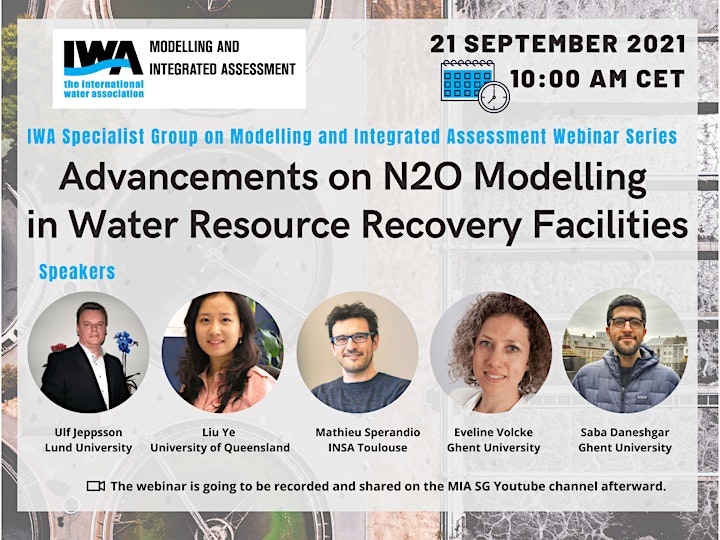 Organizer of Advancements on N2O modelling in water resource recovery facilities