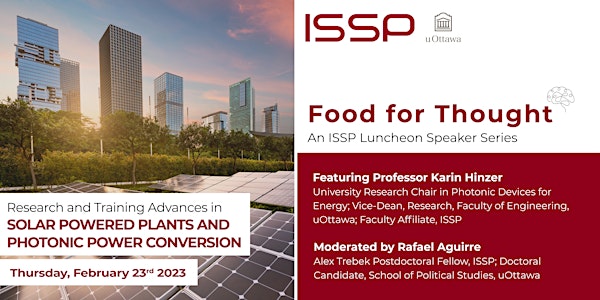 Advances in Solar Power Plants and Photonic Power Conversion
An ISSP event with Karin Hinzer & Rafael Aguirre discussing Research & Training Advances in Solar Power Plants & Photonic Power Conversion.
Date and time
Thu, Feb 23, 2023 9:00 AM - 10:00 AM PST
About this event
Le 23 février 2023, à 12h00, l'Institut pour la science, la société et la politique publique (ISSP) accueillera la professeure Karin Hinzer, vice-doyenne de la recherche à la Faculté de génie de l'Université d'Ottawa, et Rafael Aguirre, boursier postdoctoral Alex Trebek à l'ISSP, pour discuter des avances en recherche et formation sur les centrales solaires et la conversion d'énergie photonique, dans le cadre de l'édition de février du programme Alimenter la réflexion de l'ISSP. Veuillez noter que cet événement aura lieu en anglais.
--
On Thursday, February 23rd 2023, at 12:00PM, the Institute for Science, Society and Policy (ISSP) will host Professor Karin Hinzer, Vice-Dean of Research at the Faculty of Engineering at the University of Ottawa, and Rafael Aguirre, Alex Trebek Post-Doctoral Fellow at the ISSP, to discuss Research and Training Advances in Solar Power Plants and Photonic Power Conversion, as part of the February edition of the ISSP's Food for Thought.
About the topic:
The University of Ottawa's SUNLAB, housed at the Centre for Research in Photonics, is Canada's premier solar cell characterization research facility. It focuses on high performance devices and specializes in 5 key areas related to solar energy, optoelectronics, and photonics:
1. Photovoltaic devices
2. Photovoltaic systems
3. Solar resources
4. Smart Adaptive Grid Edge
5. Light Emitting Sources
As the SUNLAB's founding director, Professor Hinzer will discuss select developments in photovoltaics. The presentation will begin with a status update on photovoltaics worldwide, then provide 2 examples of international research projects at SUNLAB, and finally, present the outcome highlights of the NSERC CREATE TOP-SET training program.
About the speakers:
Keynote Speaker: Professor Karin Hinzer
Professor; University Research Chair in Photonic Devices for Energy; Vice-Dean, Research, Faculty of Engineering, University of Ottawa; Faculty Affiliate, ISSP
Karin Hinzer received the BSc, MSc, and PhD degrees in physics from the University of Ottawa, Ottawa, Ontario, Canada, in 1996, 1998, and 2002, respectively. She is Vice-Dean, Research of the Faculty of Engineering and a Professor at the School of Electrical Engineering and Computer Science with a cross-appointment in the department of Physics at the University of Ottawa, and the University Research Chair in Photonic Devices for Energy. She has made pioneering contributions to the experimental physics of quantum dots marked by two landmark papers in Science. She gained extensive experience in the design and fabrication of group III-V semiconductor devices while at the National Research Council Canada, Nortel Networks and then Bookham (now Lumentum). Cost reduction strategies and liaison with remote fabrication facilities strongly feature in her industry experience.
Professor Hinzer joined the University of Ottawa in 2007 where she founded the SUNLAB, the premier Canadian modelling and characterization laboratory for next generation multi-junction solar devices and concentrator systems. Her research involves developing new ways to harness the sun's energy. From 2007 to 2017, she was the Tier II Canada Research Chair in Photonic Nanostructures and Integrated Devices. In 2010, she was the recipient of the Inaugural Canadian Energy Award with industry partner Morgan Solar for the development of more efficient solar panels. In 2015, she received the Ontario Ministry of Research and Innovation Early Researcher Award for her contributions to the fields of photonic devices and photovoltaic systems and in 2016, she was the recipient of the University of Ottawa Young Researcher Award. She is a member of the College of New Scholars, Artists and Scientists of the Royal Society of Canada and an IEEE senior member. Professor Hinzer is the principal investigator of the Natural Sciences and Engineering Research Council of Canada Collaborative Research and Training Experience Program titled "Training in Optoelectronics for Power: from Science and Engineering to Technology" (NSERC CREATE TOP-SET, 2017-2024), a multi-disciplinary training program involving three universities which has trained over 100 students and postdoctoral fellows so far.
Professor Hinzer is an editor of the IEEE Journal of Photovoltaics. She has published over 190 refereed papers, trained over 170 highly-qualified personnel and her laboratory has spun-off three Canadian companies in the energy sector. Her research interests include new materials, high efficiency light sources and light detectors, solar cells, solar modules, new electrical grid architectures and power converters.
Moderator: Rafael Aguirre
Alex Trebek Postdoctoral Fellow, ISSP; Doctoral Candidate, School of Political Studies, University of Ottawa
Rafael Aguirre studies energy regulation and policy (oil, natural gas, hydrogen, electricity) in North America. His doctoral dissertation explores policy change in the natural gas sector in Mexico (University of Ottawa, 2021). Rafael has carried out research on Canada-U.S. energy relations, the politics of pipeline decisions and federalism in Canada, political polarization, and public opinion. During this postdoctoral fellowship Rafael is studying hydrogen policy in North America.
Rafael Aguirre holds a B.A. degree in international relations (El Colegio de México. Mexico City), and an M.A. degree in Political Economy (University of Essex, United Kingdom). His work on energy has been published by the University of Ottawa, Policy Options and Recherches Anthropologiques.
Rafael Aguirre has previous experience in journalism (Los Angeles Times) and public service, as an officer in the federal ministries of public safety, government and foreign relations (Mexico).
Opening Remarks: Monica Gattinger
Director, ISSP and Full Professor at the School of Political Studies, University of Ottawa
Dr. Gattinger is an award-winning researcher and highly sought-after speaker, adviser and media commentator in the energy and arts/cultural policy sectors. Her innovative research programme convenes business, government, Indigenous, civil society and academic leaders to address complex policy, regulatory and governance challenges. She has published widely in the energy and arts/cultural policy fields, with a focus on strengthening decision-making in the context of fast-past technological change and markets, changing social values, and lower levels of trust in governments, industry, science and expertise.
For more information, please visit our website.
About the organizer
Centered at the University of Ottawa, the Institute for Science, Society and Policy carries out research, teaching and public outreach on the relationship between society and science, innovation and technology.
Situé au sein de l'Université d'Ottawa, l'Institut de recherche sur la science, la société et la politique publique assure la recherche, l'enseignement et l'information du public sur la relation entre la société et la science, la technologie et l'innovation.