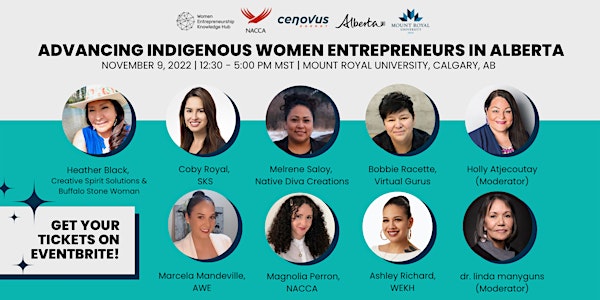 ADVANCING INDIGENOUS WOMEN ENTREPRENEURS IN ALBERTA - Exhibitors
Are you working to advance Indigenous women's entrepreneurship? Here's a unique opportunity to showcase your organization
When and where
Location
Ross Glen Hall 4825 Mount Royal Gate Southwest Calgary, AB T3E 7N5 Canada
About this event
Indigenous women are, and always have been at the very heart of our communities, and today are reclaiming their place and power in the economy. As we journey towards truth and reconciliation, moments of learning help us address current issues and create a better future for Indigenous women and girls, together.
On November 9 the Women Entrepreneurship Knowledge Hub is hosting an event that convenes Indigenous women entrepreneurs and the ecosystem that supports them.
Indigenous and non-Indigenous women entrepreneurs, innovators, and sector leaders will leave this inspiring afternoon with new connections and new perspectives on how economic reconciliation is an integral part of the future of an inclusive innovation ecosystem.
WHY ATTEND
Build connections with Indigenous women entrepreneurs in Alberta
Build connections with business, nonprofit and government leaders
Showcase your organization in our connections hour
Be inspired by Indigenous women and the stories behind their businesses. Hear from Bobbie Racette of Virtual Gurus, Melrene EagleSpeaker of Native Diva Creations, Heather Black of Creative Spirit Solutions and Buffalo Stone Woman and Coby Royal of SKS
Hear from leaders who will discuss the role of government, education, industry and civil society in offering targeted support to help Indigenous women entrepreneurs and how to create programs that support Indigenous women's participation in business
Be lifted by Indigenous performances
Meet the first recipient of The Gifting Circle Bursary for Indigenous women entrepreneurs, Canada's only bursary designed to encourage Indigenous women to pursue entrepreneurship
AGENDA
12:30 pm - Registration
1:00 pm - Welcome and Elder blessing
1:15 pm - Performance by Sandra Lamouche
1:30 pm - Entrepreneur Panel: Entrepreneurship through the lens of Indigenous women
2:30 pm - Performance by Alanna Bluebird
2:45 pm- Ecosystem Panel: Advancing Indigenous women's entrepreneurship: an ecosystem approach
3:30 pm - Bursary award winner naming
3:30 pm - Connections hour - Join us for refreshments and hot hors d'oeuvres as you make new connections in our unique "meet the ecosystem" networking hour
Learn more about our emcee, speakers and performers here.
SHOWCASE YOUR ORGANIZATION AS AN EXHIBITOR
Book your space now. Only 20 exhibitor tables available.
FREE for nonprofit and charitable organizations supporting Indigenous women entrepreneurs. RSVP through the Exhibitor Eventbrite to be an Exhibitor.
*If you're not a nonprofit or charitable organization but have programming that supports Indigenous women entrepreneurs, please contact shannon@shannonpestun.com for more information. Corporate exhibitor rate: $750.
Want more tickets? Buy them here
What is included for exhibiting companies:
Two (2) tickets for organizational representatives
One (1) 6' foot exhibitor table
Parking, light food and beverage service provided
What is expected of your participation:
Arrive early to set-up your station
Stay for the entire duration of the event 12:30 PM - 5 PM MST
Provide high resolution logo for digital marketing materials
Provide company information for event website
Promote the event on your social media channels
Event graphics to share on social media channels
Can't attend but want to show your support? Consider supporting donating to the Gifting Circle Bursary Fund at Mount Royal University. Donate here.
Proceeds from the event will go to support the Gifting Circle Bursary Fund at Mount Royal University. Learn more here.
Thank you to our community partners:

ABOUT WEKH
The Women Entrepreneurship Knowledge Hub (WEKH) is a national network and accessible digital platform for sharing research, resources, and leading strategies. With ten regional hubs and a network of more than 250 organizations, WEKH is designed to address the needs of diverse women entrepreneurs across regions and across sectors. Toronto Metropolitan University's Diversity Institute and the Ted Rogers School of Management is leading a team of researchers, business support organizations, and key stakeholders to create a more inclusive and supportive environment to grow women's entrepreneurship in Canada.
Mikwam Makwa Ikwe is working towards building an inclusive innovation ecosystem for Indigenous women entrepreneurs nationally. Mikwam Makwa Ikwe is housed at one of WEKH's Regional Hubs, the Asper School of Business at the University of Manitoba, which is located on Treaty 1 Territory, the traditional lands of the Anishinaabe, Cree, Oji-Cree, Dakota, and Dene Peoples, and on the Homeland of the Métis Nation.