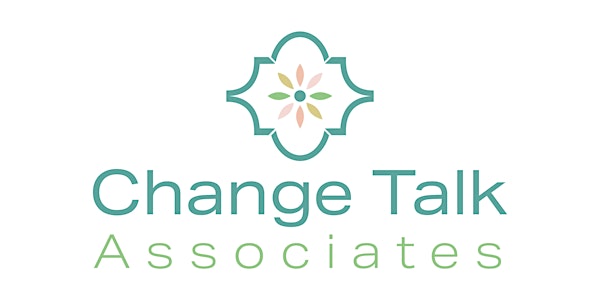 Advancing Motivational Interviewing Skills: Online Learning Series
In a supported learning environment, build your confidence and competence to use an MI approach in practice.
Refund Policy
Refunds up to 7 days before event
About this event
What is Motivational Interviewing?
Increasing attention is being paid to the benefits of an evidence-based, Motivational Interviewing (MI) communication style to enhance engagement and build motivation for change across a range of populations and practice areas such as: physical and mental health; substance use; child and family services; physical rehabilitation services; and education and prevention programming. MI is a respectful and compassionate way of supporting people in making changes in their lives.
Advancing Motivational Interviewing Skills: Online Learning Series
Over 4 mornings on Zoom, learners build their confidence and competence in using an MI approach in practice as they navigate the 4 processes of the conversation, integrating relational and technical components of MI. Learners are introduced to an MI fidelity coding tool (MITI) and audio-record and review their own MI practice conversation.
Objectives
Within self-assessment, coaching and feedback opportunities, learners practice:
- Moving the conversation through the 4 processes, integrating relational and technical components
- Strategic use of person-centered communication skills (OARS)
- Intentionally evoking and strengthening change talk
- Transitioning to planning and strengthening commitment
- Strategies to support ongoing skill development
To maximize the online learning experience, class size is limited to 16 participants.
Prerequisite: Introductory Motivational Interviewing course or equivalent practice-based learning.
Dates & Times
Session 1: Thursday, November 17, 2022, 9:30 am - 12:30 pm PT
Session 2: Tuesday, November 22, 2022, 9:30 am - 12:30 pm PT
Session 3: Thursday, November 24, 2022, 9:30 am - 12:30 pm PT
Session 4: Tuesday, November 29, 2022, 9:30 am - 12:30 pm PT
Total learning hours = 12
Who should attend?
Helping professionals who support others in making health and related changes, such as, social workers, occupational therapists, physiotherapists, counsellors, speech language pathologists, dieticians, pharmacists, educators, coaches, nurses, and physicians .
Facilitator
Cristine Urquhart, MSW, RSW, co-founder of Change Talk Associates, has over 15 years of experience as an adult educator with helping professionals across practice areas and populations. Building on a decade of teaching a multi-level MI program with UBC Continuing Studies, Cristine is dedicated to continuing to support helping professionals to collaboratively and compassionately guide change. Drawing on her own experience of working within substance use and mental health systems, Cristine translates research to practice within the context of social determinants of health and trauma-informed practice. In addition to her extensive experience facilitating interprofessional groups, Cristine has worked on a variety of knowledge translation and prevention initiatives with the BC Centre of Excellence for Women's Health, BC Ministry of Health (TIP Guide) and the Public Health Agency of Canada (SGPG). Cristine is a member of the international Motivational Interviewing Network of Trainers (Bulgaria, 2007) and a contributor to numerous MI resources and practice guides, including a chapter in the second edition of Motivational Interviewing in Social Work Practice (2021). Cristine was an instructor with both UBC Continuing Studies and the Justice Institute of BC for over 10 years. She lives in the West Kootenays of British Columbia, Canada with her family.
FAQs
How can I contact the organizer with questions?
For information, email info@changetalk.ca or call 604.716.6685.
What technical equipment do I need?
To fully participate in the course, learners will need: access to Wi-Fi/internet and a computer with a camera and microphone. The sessions are interactive and require the ability to hear and see each other. A Zoom invitation link will be sent by email prior to each session.
The Zoom application can be downloaded to the computer desktop or accessed via web browsers. If it is necessary to use a mobile device (phone), you can download the app for your phone. Please note that Session 3 audio-recording will need to be done on a computer. For more information on Zoom requirements, please see the Zoom Help Center on the official site.
What's the refund policy?
If you would like to withdraw from a course, please email a written notice to info@changetalk.ca at least 7 business days before the course begins to be eligible for a refund (less a $50 administration fee). No refund will be made for cancellations received later than 7 business days before the course begins. Exceptions will be considered in extreme circumstances, such as illness.
In the event of insufficient enrollment or other unforeseen circumstances, Change Talk Associates may be forced to cancel a course. If this occurs, a full refund is processed and sent to you automatically.
Is my registration fee or ticket transferable?
Transferring from one course to another offering of the same course within 5 business days of the course start date is considered a withdrawal and a new registration. The $50 administration fee for withdrawals will be charged for the transfer or change. A transfer can be made one time.
Continuing Education Credits
A letter of completion is provided at the end of the training, including: course title, description, objectives and the number of learning hours (12).