Advancing Women In The Manufacturing Sector
Our Speaker: Rhonda Barnet, COO of AVIT Manufacturing "We Can Do It" Campaign! Proudly Sponsored by Henderson Maintenance
About this event
Rhonda Barnet is the President & COO of AVIT Manufacturing (formerly Steelworks Design), an engineering and custom automation firm in Peterborough, Ontario.
Rhonda, will speak about her journey and about the "We Can Do It" Campaign goal of bringing in 100,000 women to the Canadian manufacturing sector!
An ardent supporter of Canadian Manufacturing and Exporting, Rhonda was appointed the first female Chair in history of the Canadian Manufacturers & Exporters (2016-2018). Rhonda currently serves CME in the role of Past Chair and the Chair of The Workforce of the Future. She maintains an active schedule of government and industry engagements, including functions in Germany, Holland, Italy, China, Mexico, the United States, and Canada.
Further national appointments include the Federal Advanced Manufacturing Strategy Table and Director of Next Generation Manufacturing Canada (NGen Canada), one of 5 Canadian Super Clusters to deliver $950M of Federal innovation funds.
Quick to recognize the potential of a strong entrepreneurial community focused on skills and education, Rhonda volunteers and champions numerous initiatives to this end. This includes work with regional manufacturers' associations and start-up organizations, community college and economic development strategy councils.
In 2016 Rhonda launched CME's Women in Manufacturing Working Group, convened to elevate the participation and roles of women in Canadian Manufacturing.
In 2018 Rhonda launched CME's "We Can Do It" Campaign, an initiative funded in part by the federal government to add 100,000 women to the manufacturing workforce over the next five years.
Rhonda is an international spokeswoman on diversity, women in manufacturing, skills and the future workforce. Rhonda believes in the value of mentorship and upholds the philosophy "If you can see me, you can be me".
Please register by 6pm - Monday, June 8th
A link to Zoom will be emailed to you.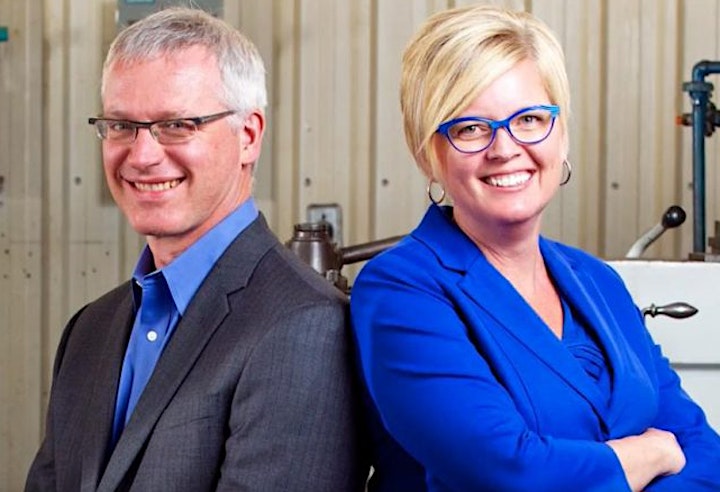 (Photo) Don and Rhonda Barnet
COMMERCIAL CLEANING KINGSTON
SERVING OUR COMMUNITY SINCE 1990
Organizer of Advancing Women In The Manufacturing Sector
Women Mean Business - A Professional Network with Impact! 
Our aim is to build a community of vibrant business and civic minded women and give them powerful platforms to meet with each other, learn, grow and confidently build up their enterprises. Subscribe to our FREE newsletter to keep abreast of upcoming events and resources to help build up your skills and business. Go to www.womenmeanbsiness.ca  and sign up