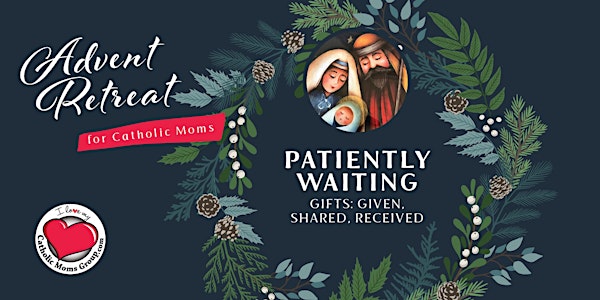 Advent Retreat for Catholic Moms
Advent Retreat for Catholic Moms. Join us for a full day of Painting, Praying, Singing and Inspiration!
Date and time
Starts on Sat, Dec 3, 2022 9:30 AM EST
Location
St. Benedict Catholic Church 2194 Kipling Avenue Toronto, ON M9W 4K9 Canada
Refund Policy
Contact the organizer to request a refund.
Eventbrite's fee is nonrefundable.
About this event
Your Hosts
Dorothy Pilarski, Rema Celio and the team at CatholicMomsGroup.com have created a memorable Advent Retreat that will refresh your spirits, reignite your spark, rejuvenate your creativity and prepare you for Christmas!
If you would like to make a donation to our ministry, Advent is a GREAT time to do it. We accept donations by both credit card and PayPal. Visit our website at www.CatholicMomsGroup.com for the link if you're having difficulty here.
NOTE: This event is for a moms only event. Ask your husband to watch the kids! We all need a little time away, to refresh our spirits and connect with other Catholic Moms!
Please note that there are NO REFUNDS for this event.
--
1. PAINT A CHRISTMAS ORNAMENT
Let's continue our Advent retreat tradition, let's paint! Discover your creative juices, learn how to paint this beautiful ornament for Christmas!
2. PRAY with LIKE MINDED MOMS
Throughout the day, we will take the time to pray. Praying together as like-minded Catholic moms is powerful. We'll also be asking you spontaneously to share some of your family's Advent traditions.
3. LIGHT BREAKFAST plus a HOT ITALIAN LUNCH
Start the day with a light breakfast with us!
Do you love Italian food? Well you're in for a treat. Not only do we have a few secret recipes, we've got an extra special Italian cook. You'll be begging for more, promise.
4. REFLECTION
Patiently Waiting: Gifts Given. Shared. Received (Teresa Harnett)
5. SINGING
You can't prepare for Christmas without singing a few old fashioned Christmas carols, right? Sing a long (only if your comfortable of course) filling your heart and souls with just a few Christmas Carols which will help us get the ball rolling.
6. MASS & EUCHARISTIC ADORATION
For those of you that are able to attend, (it's not a must to attend the retreat) there is an 8:00am Mass at St. Benedict's parish. You can begin the day with Mass. The parish also has an Eucharistic Adoration Chapel, so you can visit Jesus himself.
7. MAKE NEW LIKE-MINDED FRIENDS
Whether you're a young mom, or vintage mom, you are welcome!
Please JOIN US! Do you want to meet warm hearted, fun loving Catholic moms who are the real deal? Would you like to meeting women that will pray with you, women you can trust, women that are not afraid to make a sacrifice and help you with 101 different things? Come to this retreat. You will be blessed, I PROMISE.
Surprises! Surprises! Surprises!
Just a special note, we LOVE surprises, so we will lace the day with plenty of them. Door prizes, God willing a special pop in guest or two. Be prepared for a wonderful day...
AGENDA -- Advent Retreat
Saturday December 3, 2022
8:00 am Mass (St. Benedict Church parish Mass)
9:30 am Coffee & Light Breakfast
10:00 am. Welcome & Opening Prayer Catholic Moms Group Team
10:15 am Painting Instruction with Liz Garcia
12:00 pm Moms Talk - Different Christmas Traditions
12:30 pm Hot Italian Lunch
1: 15 pm Pray Rosary Together
1: 30 pm Reflection given by Teresa Hartnett,
Patiently Waiting Gifts: Given, Shared, Received
3:00 pm. Retreat Ends
3:05 pm ADORATION
5:00 pm Sunday Mass at St. Benedict Parish is at 5pm
This Advent Retreat is for you! If your schedule does not allow you to go to the 8:00 am Mass or you would prefer to go to Sunday Mass at your own parish, that's completely fine. Adoration is optional.
We will be laughing, singing, sharing stories and filling our hearts throughout the day... so please join us!
--
Liz Garcia
Liz Garcia is our painting instructor and guide. She has been teaching are for over 35 years. She loves helping others to learn how to paint and sharing her passion that she's been blessed to follow.
Teresa Hartnett
Teresa Hartnett (M.R.E.) is in her 18th year as Director of Family Ministry for the Diocese of Hamilton. She has her Masters in Religious Education from St. Augustine's Seminary/University of Toronto, a degree in Kinesiology from McMaster University, a Bachelor of Education from Brock University, and is certified in a number of family, counselling, marriage and relationship programs.
She has been the Executive Director of Birthright Pregnancy Service in Hamilton for 32 years and in 2004 implemented and now oversees Project Rachel in the Hamilton Diocese. She is passionate about helping individuals, couples and families to grow strong, healthy and happy in both how they live and in their faith!
Teresa undertakes numerous speaking engagements across Ontario and Canada each year and teaches for both St. Peter's Seminary and the Halton Catholic School Board's Staff Religion courses. She believes her most important role is in her family as a wife of Joe, mother to her four children and grandmother to six beautiful grandchildren!
Dorothy Pilarski
Dorothy Pilarski is a veteran speaker, facilitator, learning specialist, corporate trainer, author, and coach. She has more than 20 years of experience as a consultant with international experience, often leading projects with stellar results.
Dorothy delivered customer service programs for Fortune 500 executives at the Schulich Executive Education Centre for over 10 years and was rated as one of the schools top instructors.
With a solid track record in marketing communications Dorothy and her team have often written, designed, brochures, posters, pamphlets, newsletters and booklets for clients.They have written more than one press release. Her team has also spear headed many events from conception, executing and strategically promoting them to specific publics.
With a background in Marketing, Public Relations, Volunteer Management and Adult Education, Dorothy makes a great addition to any project whether it's in the corporate, non profit or a Faith community.
Dorothy is the founder of CatholicMomsGroup.com, the annual Dynamic Women of Faith Conference and Calling All Girls events. Her writing has been featured in the Catholic Register, she is the author of two books and is a radio host on Radio Maria. Dorothy helped create a TV program and she facilitates discussions between women in a series produced by Salt & Light Media.
About the organizer
Love. Laughter. Moments of Grace.