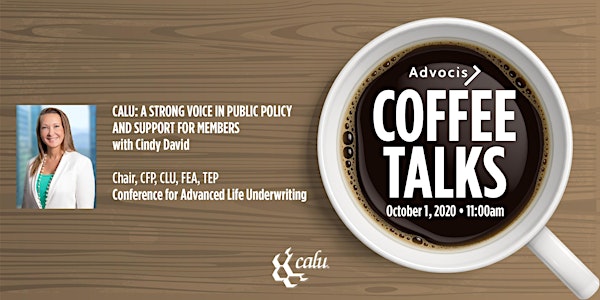 Advocis Coffee Talks: CALU and You: Strengthening our Professional Voice
Coffee Talks is a webinar series by Advocis featuring 30-minute talks on subjects of interest for advisors. Exclusive to Advocis members.
About this event
Episode fourteen: CALU and You: Strengthening our Professional Voice
The Conference for Advanced Life Underwriting (CALU) is the only national professional organization dedicated to advanced planning issues in life and group insurance, wealth management, tax and succession planning. As a strategic partner to Advocis, CALU acts as a strong voice for public policies that support the financial well-being of Canadians and family businesses.
In this edition of Coffee Talks, Cindy David, CFP, CLU, FEA, TEP, CALU Chair of the Board will offer examples of how CALU research into how various audiences perceive the value of professional financial advice, demonstrate how to communicate impactfully about the value of advice depending on the audience, and explain how CALU membership can benefit the advanced financial advisor.
This episode of Coffee Talks is exclusive to Advocis members and has been approved by The Institute for 0.5 CE credits.
CE Requirements
This event will have CE credits available. To be eligible to earn any CE from this event, you must:
Enter your 7-digit Advocis ID on the registration form. No CE will be provided if this is inaccurate. If you have forgotten your Advocis ID, please contact Member Services 1-877-773-6765 or info@advocis.ca
Attend the webinar using the email address entered on your registration form