Advocis Golden Triangle is pleased to host this session in collaboration with the chapters of the Ontario South West region.
About this event
Most advisors in Canada's wealth management sector are facing a new set of opportunities and challenges in 2022. Join Advocis Golden Triangle on Wednesday, February 16, 2022 from 9:00 A.M. - 12:00 P.M. (Eastern Time) as Evelyn Jacks, President of Knowledge Bureau and Peter Wouters of Empire Life share their knowledge and expertise.
A Tax and RRSP Season Like No Other
9:00am – Evelyn Jacks – President of Knowledge Bureau
Learn what's new in tax plus new tips and traps for the clients you will be serving in 2022 with one of Canada's most prolific and best-selling financial authors and educators, Evelyn Jacks, President of Knowledge Bureau.
Big tax changes are unfolding for investors, and advisors will be in demand to have new conversations about retirement planning options, especially for HNW clients.
Public and private pension income pillars and their income splitting implications have changed.
Business owner clients are still navigating through numerous complex government supports & audits and need more planning help
In-person meetings are still challenging; making solid relationship building – especially with the next generation - more difficult. Tax season is a great trigger for purposeful discussions
Ten More Key Tax Issues And Opportunities For Investment Clients And Advisors
10:00am – Peter Wouters – Empire Life
We are seeing and learning about the move from portfolio centric selection and measuring success built on performance to more holistic, financial centric planning. Tax planning is an integral part of financial planning and product selection optimization and implementation of all types. It is frequently not brought up in conversations. This is becoming a deal breaker for clients. And tax planning is a large part of what we do and what we talk about. We will briefly discuss 10 more key tax issues and opportunities for investment clients and advisors that will help you get started in the right direction for your practice and your clients' financial wellbeing.
Tickets
As a benefit of membership, this webinar is $40.00 + HST for Advocis Members (FREE for 2022 SWO Passholders and $75 + HST for Non-Members)
Advocis Members use your ID number to trigger the promotional discount.
Passholder's use your passholder code as the promo code

Do you need assistance using your Advocis ID or passholder code in the checkout? We have a short video to assist you.
Note to iPhone Users: Eventbrite event tickets cannot be purchased through the iOS Eventbrite mobile app at this time. Please use your desktop or laptop computer internet browser to purchase Eventbrite event tickets until further notice.

Evelyn Jacks
Evelyn Jacks is Canada's most respected educator in tax and financial literacy, a best-selling financial author, a trail-blazing business woman and an influential business leader, having twice been named one of Canada's Top 25 Women of Influence.
She is the Founder and President of Knowledge Bureau™ - a world class financial education institute and publisher which provides continuing professional development to tax, bookkeeping and financial advisory firms. Knowledge Bureau™ is the educational home to tens of thousands of graduates in the tax, accounting & financial services who have earned new credentials as specialists, based on the principals of Real Wealth Management™. This is a multi-stakeholder approach to family wealth management.
One of Canada's most prolific financial authors, Evelyn has written 55 books, many of them best-sellers. Her most recent are, Make Sure It's Deductible, an empowering look at the complicated relationship that small business owners have with their tax department, and Essential Tax Facts, How to Make the Right Tax Moves and Be Audit-Proof, Too.
Evelyn is a sought-after tax and financial commentator who appears regularly in MoneySense Magazine, and on national and regional networks including BNN, CBC, and Global to interpret breaking financial news. She has served as an advisor to government, having been appointed to the Federal Task Force on Financial Literacy. She co-founded the Manitoba Financial Literacy Forum in partnership with the Manitoba Securities Commission and provided advice on the direction of Manitoba's tax regime.
Evelyn has received numerous awards for her achievements in business, having received the prestigious Rotman School of Business, Canadian Woman Entrepreneur of the Year Award. She has been recognized internationally with a Business Leadership Award by the Canadian Embassy in Washington, D.C. She has twice been recognized as Manitoba's Woman Entrepreneur of the Year. She is also the recipient of the YM-YWCA "Business Woman of the Year" award.
Evelyn was recently named the recipient of the Intuit Inspire Award for thought leadership in the Canadian accounting and bookkeeping world, which honors trailblazers for their lifetime achievements. She is a past president of The Manitoba Club, western Canada's oldest private business club.

Peter Wouters
Peter devotes much of his time working with independent advisors and other professionals uncovering issues and concerns faced by affluent individuals, professionals and business owners. He supports their efforts in researching and developing optimal solutions for clients aimed at improving their financial well-being and supporting their personal wishes and lifestyles. He has provided 1000s of workshops, seminars and technical support throughout the country on tax, retirement and estate planning issues, concepts and strategies.
Peter, an accredited Registered Financial Gerontologist, educates people of all professions who work with or specialize in the needs, expectations and issues of an aging population. Comprehensive lifestyle planning is an important element of these processes. He has been repeatedly interviewed on regional and national television, radio, newspapers and journals as a subject matter expert on various industry issues and developments. He is a prolific writer on matters dealing with retirement, financial and lifestyle planning.
Among his many professional and industry affiliations are: CALU (Conference of Advanced Life Underwriting), the Society of Trust & Estate Practitioners, the Institute of Research & Planning, the Canadian Tax Foundation, the American Institute of Financial Gerontology and the American Society on Aging. He is faculty chair of the International Elder Planning Counsellor program.
A graduate of McMaster University, Northeastern University and Widener University, Peter has over four decades of experience. He is a true student of business as attested to by 16 professional designations. His articles have been published in newspapers, industry bulletins and trade journals throughout the world.
CE Requirements:
This event is pending for 2.0 CE credits. To be eligible to earn any CE from this event, you must:
Enter your 7-digit Advocis ID on the registration form. No CE will be provided if this is inaccurate. If you have forgotten your Advocis ID, please contact the Events team at events@advocis.ca
Attend the webinar using the email address entered on your registration form
If you would like to be extended the member pricing, please join!
Please contact the organizer to confirm if this webinar qualifies for your provincial insurance council credits.
Thank you to our 2022 Chapter Sponsors: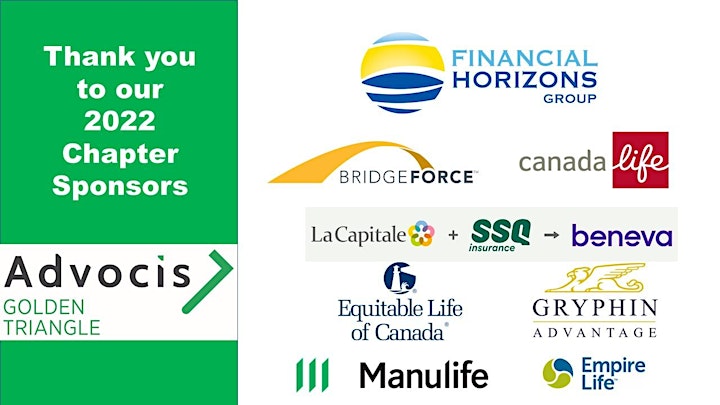 Questions:
If you have any questions or concerns regarding this event, please reach out to the Advocis Golden Triangle chapter at Goldentriangle@advocischapter.ca.