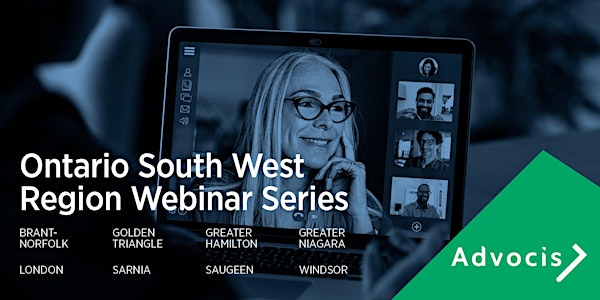 Advocis Golden Triangle: Create A Business Plan That Actually Works
Advocis Golden Triangle is pleased to host this session in collaboration with the chapters of the Ontario South West region.
About this event
How To Create A Business Plan That Actually Works with The Personal Coach
Join us virtually for an interactive seminar with Pat Giesbrecht and April Levitt of The Personal Coach who will help boost your business in 2022! Through this seminar and series of small group workshops, you will be given the skills to outline an effective business plan, develop a concrete action plan and establish timelines that will recharge your business and set you up for success.
Starting 2022 Off Right!
This event is designed for advisors who are looking to make 2022 their best year yet by utilizing effective planning and marketing tools, implemented by top advisors.
Valuable Topics of Discussion
Creating a compelling vision for your practice and your life
Developing an action plan that helps you reach your goals
Define your ideal client and segment your top clients
Implementing your marketing calendar
Evaluating your current practice/situation/determine gaps
Enhance the overall client experience to deepen relationships
As a financial advisor, you may feel like you have hit a plateau, or even a brick wall at some point in your career.
Whether you are an advisor growing your revenue, building your business or looking to monetize it, there are two possible options at a plateau - recharge your business and make changes or, experience a decline.
At The Personal Coach, we help our clients recharge their business momentum. Our mission is for advisors and their teams to ultimately experience three outcomes - confidence, focus and freedom to achieve an extraordinary business and life.
Our clients want to work smarter and maximize their time and their team. Some lack confidence in communicating their value; some lack strategies to attract new clients; and others are not distinguishing themselves in the marketplace.
We've helped advisors:
Build a business entity not dependent on them
Grow revenues to $1 million plus
Plan their succession
Lead better lives overall
As a participant, you will be instructed to fill out The Velocity Indicator before the workshop. This unique self-evaluation tool will help you discover how you are doing in the 15 critical areas of your business and identify any gaps.
Check your confirmation email for links to forms, requested by The Personal Coach. Completing these will assist Pat and April to prepare your presentation!
Tickets
This is a member-exclusive event, as a benefit of membership, you are entitled to view this webinar for $40 ($75 for Non-members and FREE for SWO Passholders).
Advocis Members use your ID number to trigger the promotional discount.
Passholder's use your passholder code as the promo code

Do you need assistance using your Advocis ID or passholder code in the checkout? We have a short video to assist you.
Note to iPhone Users: Eventbrite event tickets cannot be purchased through the iOS Eventbrite mobile app at this time. Please use your desktop or laptop computer internet browser to purchase Eventbrite event tickets until further notice.
Thank you to The Personal Coach:

CE Requirements:
This event is approved for 1.0 CE credits. To be eligible to earn any CE from this event, you must:
Enter your 7-digit Advocis ID on the registration form. No CE will be provided if this is inaccurate. If you have forgotten your Advocis ID, please contact Member Services 1-877-773-6765 or info@advocis.ca
Attend the webinar using the email address entered on your registration form
If you do not have an Advocis ID number please reach out to member services at info@advocis.ca to be assigned an ID number in order to receive your CE credits If you would like to be extended the member pricing, please join.
Please contact the organizer to confirm if this webinar qualifies for your provincial insurance council credits.
Questions:
If you have any questions or concerns regarding this event, please reach out to the Advocis Golden Triangle chapter at Goldentriangle@advocischapter.ca.