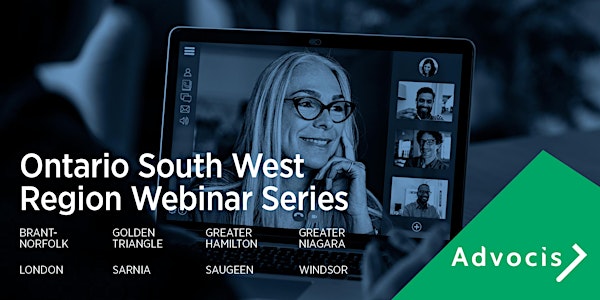 Advocis Greater Niagara: Latest Developments in Financial Advice Industry
The Latest Developments in Financial Advice Industry; Are you Prepared? Included in the South West Ontario Passholder Program
Refund Policy
Refunds up to 1 day before event
About this event
The Latest Developments in Financial Advice Industry; Are you Prepared?
Join Advocis Greater Niagara on Wednesday, August 17, 2022, from 9:00 A.M - 12:00 P.M. (EDT), as they host Rob Kochel of Invesco and Kelly Roberts of Fidelity for an information-filled morning learning about The Latest Developments in Financial Advice Industry; Are you Prepared?
The Resilient Advisor-the right words at the right time.
Rob Kochel- Invesco
In the evolving market, we believe great advisors shine brightest because they know that this is the best time to demonstrate their value to clients.
The program will remind advisors how to maintain resiliency, identify ways top performers respond in the uncertain times and discuss how to use research-based communications in an effort to effectively engage clients.
Women: A Wealth of Opportunity 2022
Kelly Roberts-Fidelity
A significant shift is underway as women are recognized for controlling an increasing share of wealth.
The presentation will examine the financial planning considerations resulting from the longer lifespan of women, from portfolio construction to health care and estate planning.
Ticket Details:
As a benefit of membership Advocis Members are able to attend " The Latest Developments in Financial Advice Industry; Are you Prepared?" at a discounted rate. During the checkout use your Advocis ID or Passholder code as the promotional code to unlock the discounted member rate or complimentary passholder rate.
Member: $40.00
Non-Member: $60.00
SWO Passholder: FREE
Do you need assistance using your Advocis ID or promo code in the checkout? We have a short video to assist you.
Registration closes on Monday, August 15, 2022, at 11:30 P.M. (Eastern Time)
CE Requirements
This event is pending 1.75 CE credits by The Institute. To be eligible to earn any CE from this event, you must:
Enter your 7-digit Advocis ID on the registration form. No CE will be provided if this is inaccurate.
If you would like to be extended the member pricing, please join.
Please contact the organizer to confirm if this webinar qualifies for your provincial insurance council credits.
Presenters:

Rob Kochel
Rob Kochel is the Director of Invesco Global Consulting in Canada. In this role, he partners with successful firms and their top advisors, to navigate the complexities of communicating practical financial advice with their clients and evolving needs. A nationally known speaker and facilitator, Rob utilizes primary research on leading edge investor language to motivate and challenge his listeners to re-examine and ultimately transform their business.
Rob graduated with an Honors BA in Kinesiology and Business from Western University. With more than two decades of senior leadership experience at Invesco, Rob also leans on his diverse background in professional sports, commercial real estate, global packaged goods and wireless communication. His 40 years of C-suite experience and lessons from the street have given him a unique perspective to connect to clients using Invesco Global Consulting's industry leading business building programs and coaching tools.
Outside of work Rob lives by the "3 F's" of family, friendships and fitness. He and his wife Dolores are the proud parents of two grown daughters and two spoiled grandchildren. He loves playing golf and old timer's hockey. Though his hands are still not made for putting or the the perfect snap shot, he has learned the importance of staying engaged with friends and team mates of all ages to continually reinvent himself as life changes.
Kelly Roberts
Kelly joined Fidelity in 2001 and has over 25 years of industry experience. In her role as VP, National Accounts she is responsible for managing and building corporate relationships for both the MFDA and IIROC channels on behalf of Fidelity. Before taking her current position, she was responsible for managing a team of 20+ inside and sales support staff for the Ontario region.
Prior to joining Fidelity, Kelly acquired extensive financial services experience working for several years in both the retail and institutional investment business. She also developed a thorough understanding of advisor focused practice management issues while working at Advisor Impact.
Questions:
If you have any questions or concerns regarding this event, please reach out to Advocis Greater Niagara at: GreaterNiagara@AdvocisChapter.ca.