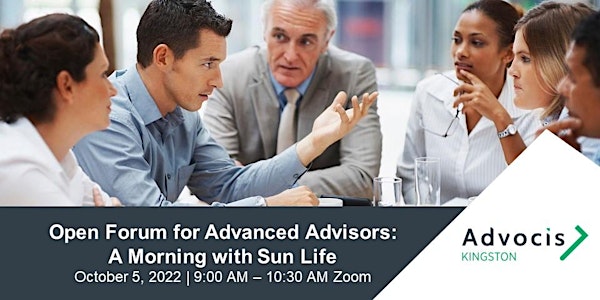 Advocis Kingston: Open Forum for Advanced Advisors
This group is meant to assist the progress of fellow advisors, with an emphasis on advisors newer to the industry.
About this event
Bolstering the Balance Sheet
Virtually, join your fellow Advocis Kingston members on Wednesday, October 5, 2022 from 9:00 A.M. to 10:30 A.M. (Eastern Time) for Bolstering the Balance Sheet - An Open Forum for Advanced Advisors.
Description of the presentation:
Help advisors see that cash value-rich life insurance can be recorded as an asset on the balance sheet as well as have positive impact (not an expense) to the income statement as well (approved for 1.0 CE Credits).
Limited Tickets are Available!
As a benefit of membership Advocis Members are able to attend " Bolstering the Balance Sheet" at a complimentary rate. During the checkout use your Advocis ID as the promotional code to unlock the member rate.
Member: FREE
Non-Member: $15
Deadline to register is October 3, 2022 at 11:30 P.M. (EDT)
CE Requirements:
This event is approved for 1.0 CE Credit from The Institute. To be eligible to earn any CE from this event, you must:
Enter your 7-digit Advocis ID on the registration form. No CE credits will be provided if this is inaccurate.
If you would like to be extended the member pricing, please join.
Please contact the organizer to confirm if this webinar qualifies for your Provincial Insurance Council credits.
Presenter:

Neil Kellock
Regional Sales Director
With more than 30 years in the insurance and financial services industry, Neil Kellock is known for building meaningful and mutually profitable relationships with advisors that are based on integrity, trust, and mutual respect. His goal is to help advisors focus on growing their business by sharing his strong knowledge of product, proven selling techniques and effective sales concepts.
Neil prides himself on being a strategic problem solver. When working with advisors, he motivates them to achieve challenging goals and look for innovative approaches to working with Clients. His experience and expertise is why he is a frequent guest speaker for Advocis as well as other industry events.
Whether you need help developing a sales plan, need a partner who can help with training or mentoring, or want to learn more about territory and account management, Neil can help.
Thank you Sun Life, our event sponsor:

Questions:
If you have any questions or concerns regarding registering for this event, please reach out to the Advocis Kingston chapter at: Kingston@AdvocisChapter.ca.