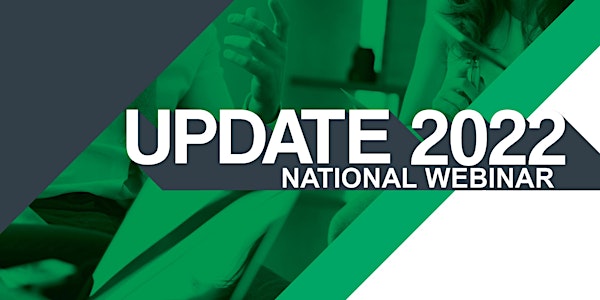 Advocis National Update 2022 Session A: December 6th & 7th
Update 2022 Purposeful Planning - Resilient | Relevant | Ready
Refund Policy
Contact the organizer to request a refund.
About this event

Advocis National is pleased to host Update 2022 Purposeful Planning - Resilient | Relevant | Ready nationally. Join us for both half-day sessions on Tuesday, December 6 from 9:00 A.M. to 12:00 P.M. (EST) and Wednesday, December 7 from 9:00 A.M. to 12:00 P.M. (EST).
Your confident expertise, your support and reassurance, knowing that together you and your clients will find the best way forward for the short term and the long term. No one knows what the future will hold. But we do know that financial advisors and planners help clients prioritize their goals, create a plan of action and guide them forward. Advocis Update 2022 will help position financial advisors and planners to be resilient, provide timely and relevant advice to their clients and be ready to take on the future.
As a benefit of membership, this event is $150, (Non-members for $225).
Advocis Members use your Advocis ID number to trigger the promotional discount.

Do you need assistance using your Advocis ID or passholder code in the checkout? We have a short video to assist you.
Please Note: Individuals who register for an Update 2022 will also receive access to the online Advanced Learning Modules (please allow 24-48 hours for your access to be available through your dashboard).
Update 2022 Explores:
An Economic and Market Overview, understanding the economic indicators that could influence the performance of financial markets and the impact that may have on clients
Legacy Planning, considering how clients nearing retirement can balance their legacy planning objectives with immediate family support and their lifetime cash flow needs
Building Client Trust and Deepening Relationships through Higher Standards
Taxation and Succession Planning for Business Owners
CE Requirements:
Participants earn six (6) CE credits (includes 1.5 Ethics) for full-day webinar participation, and an additional eight (8) CE credits upon successful completion of the Advanced Learning Modules. Click here for more details.
To be eligible to earn any CE from this event, you must:
Full participation is required in both sessions of this event along with breakout session interaction to be CE eligible. If you cannot commit to both portions of the event you will not be issued any CE credit.
Enter your 7-digit Advocis ID on the registration form. No CE will be provided if this is inaccurate.
Attend the webinar using the email address entered on your registration form
Refund Policy:
Cancellation Deadline: November 30, 2022
Individuals unable to attend the Update 2022 National Webinar can cancel up to November 30, 2022, to qualify for a partial refund. No refunds for cancellations received after November 30, 2022.
Partial Refund for Cancellations Received on or Prior to November 30, 2022
Registration for the National Webinar includes access to the online Advanced Learning Modules, which cannot be cancelled. The Bundle Registration fee for the Advanced Learning Modules is $110 (plus taxes) for members and $150 (plus taxes) for non-members.
Individuals who cancel their webinar registration on or prior to November 30, 2022, will still have access to the Advanced Learning Modules and will receive a partial refund as follows:
Members: $40 ($150 minus $110 to cover for Advanced Learning Modules bundle registration)
Non-Members: $75 ($225 minus $150 to cover for Advanced Learning Modules bundle registration

Sara La Gamba CLU®, CFP®, CHS™, TEP
Senior Advisor, SPM Financial
Sara has been focused on helping her clients achieve their financial goals with personalized, professional service for over a decade. As a senior advisor at SPM Financial, she works with businesses, business owners, and families providing solutions and valued advise. A long-time and very active member of Advocis, Sara is a trustee and treasurer of The Institute of Advanced Financial Education where she also chairs the Standards and Accreditation Committee and sits on the Awards committee. In addition, she is a member of the Advocis Legal Regulatory Policy Committee. Sara is passionate about advocacy, compliance, and regulatory affairs. She is an active member of CALU.
Presenters:

Christie Coltman CLU®, CFP®
Financial Planner, Manulife Securities Investment Services Inc. Bewley & Coltman Financial Services
A 30-year veteran of the financial services industry, Christie began her career as an insurance advisor and later expanded her practice to include securities. Using a holistic approach, she focuses on providing families and businesses the expertise to deal with financial, retirement and estate issues with a client base that spans BC, Alberta, Ontario and the North West Territories. A qualifying and lifetime member of MDRT and a member of the Victoria Estate Planning Council, Christie is the past President of the Advocis Vancouver Island Chapter..

Elke Rubach LLB, LLM, CLU®, CFP®, FEA™ MFA-P™
Principal, Rubach Wealth
Fluent in four languages, Elke earned undergraduate and graduate degrees in law, the latter in banking and finance at the London School of Economics. As a lawyer, she worked with McCarthy Tetrault in London, UK, and Toronto. She founded Rubach Wealth in 2012 with a core purpose of wanting every client to be financially independent. Today her practice focuses on wealth management, estate planning and philanthropy, a subject she is particularly passionate about. Elke is an active member of Advocis and CALU, and a sought-after industry speaker

Kim G. C. Moody FCPA, FCA, TEP
CEO & Director, Moodys Private Client / MoodysTax
Kim's primary area of expertise is tax and estate planning for owner-managers of private corporations and executives, and high net worth individuals. Also experienced in trust and estate taxation he enjoys solving the complexities that arise in developing a well-thought-out estate and succession plan and dealing with testamentary taxation matters. Kim is driven to innovate new and better ways to do things for the clients he serves, the advancement of the firm, and other professionals in tax. Kim is a sought-after resource and frequent industry speaker.

Brent Joyce CFA®, PFP
VP, Investment Strategist, Mackenzie Investments
Brent is responsible for providing insight into current capital market and economic conditions for clients and investment partners across Canada. He is a sought-after industry expert known for his straightforward market insights and practical investment strategies for individual and institutional investors. His current and relevant views have earned him appearances on BNN Bloomberg and as an industry key-note speaker across Canada.
Questions:
If you have any questions or concerns regarding this event, please reach out to Advocis at CE@advocis.ca