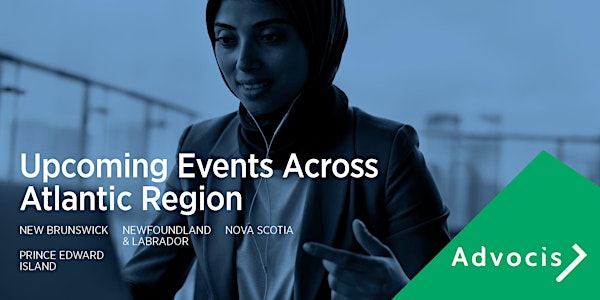 Advocis Nova Scotia: Practice Development Module 12-Relationship Management
Module Twelve focuses on Relationship Management
About this event
Practice Development Series
Module 12 - Relationship Management
Join the Nova Scotia chapter on Thursday, May 26, 2022 from 9:00 A.M. - 10:30 A.M. (Atlantic Time) for the twelfth installment in the Practice Development Series. This series is designed for advisors under seven years in the industry. This series focuses exclusively on the practical skills and knowledge that advisors need to be successful.
In total, there are twelve (12) modules and associated activities in this series. These modules cover a wide array of topics including business planning, marketing, relationship management and more.
This is the final module of this series and the next Practice Development Series will begin June 23, 2022. While this series is focused on the newer advisors, it is welcome to all advisors that would like to attend.
As a benefit of membership this webinar FREE for Advocis Members ($25 + HST for Non-members).
Use your Advocis Membership ID to trigger the promotional discount in Eventbrite.
Do you need assistance using your Advocis ID or promo code in the checkout? We have a short video to assist you.
Note to iPhone Users: Eventbrite event tickets cannot be purchased through the iOS Eventbrite mobile app at this time. To purchase tickets on your Apple device, please first delete the Eventbrite mobile app from your device and then use the iPhone web browser to purchase Eventbrite event tickets until further notice.

If you run into any issues registering, please reach out to Events@advocis.ca.
Ticket Sales end Tuesday, May 25, 2022 at 11:30 P.M. (Atlantic Time)
CE Requirements:
This event has been approved for 3.0 CE credits. To be eligible to earn any CE from this event, you must:
Enter your 7-digit Advocis ID on the registration form. No CE will be provided if this is inaccurate. If you have forgotten your Advocis ID, please contact the Events team at events@advocis.ca
Attend the webinar using the email address entered on your registration form
If you would like to be extended the member pricing, please join!
Please contact the organizer to confirm if this webinar qualifies for your provincial insurance council credits.
Questions:
If you have any questions or concerns regarding this event, please reach out to the Advocis Nova Scotia at: AdvocisNS@AdvocisChapter.ca