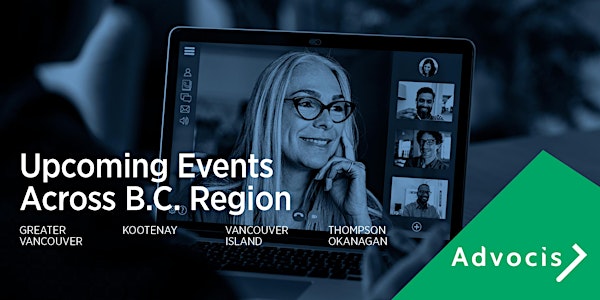 Advocis Thompson Okanagan Practice Development - Module 7B Mentored
Hosted by Advocis Thompson Okanagan in partnership with Advocis Vancouver Island, Advocis Kootenay, and Advocis Greater Vancouver
About this event
Practice Development Series:
Module 7B Advice Delivery- Mentor Session
The Thompson Okanagan Chapter is proud to offer the Advocis Practice Development series, focusing on skills and knowledge that newer advisors need to be successful. The modules are delivered in two parts by experienced advisors who will facilitate the workshops and mentor the participants.
FREE: Advocis BC Chapters have partnered to present the entire series to foster the success of new advisors in our industry.
Join us for all 9 modules and connect with experienced mentors and your peers. These CE accredited Webinars are live sessions only. No credit for missed sessions.
Live webinars with Q & A and CE credits.
2 Webinar events per month.
Module Seven: Advice Delivery - Mentor Session
In this module you will learn how to effectively communicate your findings to your clients as well as the solutions you recommend that will address the identified gaps. You will learn the most effective ways to deliver advice and present recommendations to your clients.
Development Series includes:
Earn up to 30 CE Credits!
Modules 1 - 3: Hosted by Advocis Vancouver Island Chapter:
Module 1A: Business Planning: March 8, 2022
Module 1B: Business Planning/Mentor Input: March 15, 2022
Module 2A: Marketing: April 12, 2022
Module 2B: Marketing/Mentor Input: April 19, 2022
Module 3A: Prospecting: May 10, 2022
Module 3B: Prospecting/Mentor Input: May 17, 2022
Modules 4-6: Hosted by Advocis Greater Vancouver:
Module 4A: Engagement: September 13, 2022
Module 4B: Engagement/Mentor Input: September 20, 2022
Module 5A: Discovery: October 11, 2022
Module 5B: Discovery/Mentor Input: October 18, 2022
Module 6A: Needs Analysis: November 8, 2022
Module 6B: Needs Analysis/Mentor Input: November 15, 2022
Modules 7-9: Hosted by Advocis Greater Thompson Okanagan:
Module 7A: Advice Delivery: December 6, 2022
Module 7B: Advice Delivery/Mentor Input: December 13, 2022
Module 8A: Fine Tuning your Financial Advisory Practice: January 10, 2023
Module 8B: Fine Tuning your Financial Advisory Practice/Mentor Input: January 17, 2023
Module 9A: The Value of Advice: February 14, 2023
Module 9B: The Value of Advice/Mentor Input: February 21, 2023
Questions:
If you have any questions or concerns regarding this event, please reach out to Advocis Thompson Okanagan at: ThompsonOkanagan@advocischapter.ca