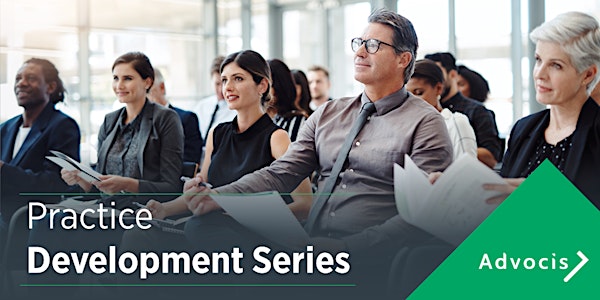 Advocis Thompson Okanagan -Practice Development Module 9A Facilitated
Hosted by Advocis Thompson Okanagan in partnership with Advocis Vancouver Island, Advocis Kootenay, and Advocis Greater Vancouver
By Advocis Thompson Okanagan Chapter
Date and time
Tue, Feb 14, 2023 8:30 AM - 10:30 AM PST
Refund Policy
Contact the organizer to request a refund.
About this event
Practice Development Series:
Module 9A The Value of Advice- Facilitated Workshop
The Thompson Okanagan Chapter is proud to offer the Advocis Practice Development series, focusing on skills and knowledge that newer advisors need to be successful. The modules are delivered in two parts by experienced advisors who will facilitate the workshops and mentor the participants.
Join us for all 9 modules and connect with experienced mentors and your peers. These CE accredited Webinars are live sessions only. No credit for missed sessions.
Live webinars with Q & A and CE credits.
2 Webinar events per month.
Tickets:
Advocis BC Chapters have partnered to present the entire series to foster the success of new advisors in our industry.
Advocis Members: FREE
Non-Members: $25.00
Do you need assistance using your Advocis ID or promo code in the checkout? We have a short video to assist you.
Module Nine: The Value of Advice
You have had some time to develop and build your financial advisory practice. Now, we will explore the value of the financial advice you provide to your clients. After completing this section and the accompanying practice development activities, you will be able to:
Explore and recognize the unique value you provide to your clients
Define the value you bring to your clients
Orient your practice towards providing the highest value possible to your clients
Communicate the value you provide to your clients
CE Requirements
This event has been approved by The Institute for 3.0 CE credits. To be eligible to earn any CE from this event, you must:
Enter your 7-digit Advocis ID on the registration form. No CE will be provided if this is inaccurate.
If you would like to be extended the member pricing, please join.
Please contact the organizer to confirm if this webinar qualifies for your provincial insurance council credits.
Development Series includes:
Earn up to 30 CE Credits!
Modules 1 - 3: Hosted by Advocis Vancouver Island Chapter:
Module 1A: Business Planning: March 8, 2022
Module 1B: Business Planning/Mentor Input: March 15, 2022
Module 2A: Marketing: April 12, 2022
Module 2B: Marketing/Mentor Input: April 19, 2022
Module 3A: Prospecting: May 10, 2022
Module 3B: Prospecting/Mentor Input: May 17, 2022
Modules 4-6: Hosted by Advocis Greater Vancouver:
Module 4A: Engagement: September 13, 2022
Module 4B: Engagement/Mentor Input: September 20, 2022
Module 5A: Discovery: October 11, 2022
Module 5B: Discovery/Mentor Input: October 18, 2022
Module 6A: Needs Analysis: November 8, 2022
Module 6B: Needs Analysis/Mentor Input: November 15, 2022
Modules 7-9: Hosted by Advocis Greater Thompson Okanagan:
Module 7A: Advice Delivery: December 6, 2022
Module 7B: Advice Delivery/Mentor Input: December 13, 2022
Module 8A: Fine Tuning your Financial Advisory Practice: January 10, 2023
Module 8B: Fine Tuning your Financial Advisory Practice/Mentor Input: January 17, 2023
Module 9A: The Value of Advice: February 14, 2023
Module 9B: The Value of Advice/Mentor Input: February 21, 2023
Questions:
If you have any questions or concerns regarding this event, please reach out to Advocis Thompson Okanagan at: ThompsonOkanagan@advocischapter.ca