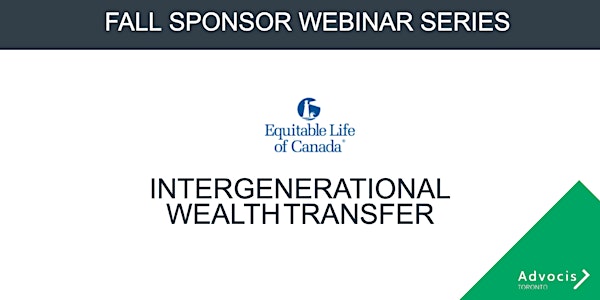 Advocis Toronto: Equitable Life: Intergenerational Wealth Transfer
Gain insight into intergenerational wealth transfer strategies.
About this event
Intergenerational Wealth Transfer
The Toronto chapter is pleased to offer this virtual event on Tuesday, October 4, 2022 from 9:00 A.M. to 10:00 A.M. (Eastern time).
Through the intergenerational wealth transfer strategy using permanent life insurance, a grandparent or parent can share their wealth and potentially live to see their children and grandchildren reap the benefits. They can also reap the benefits of lower taxes today and in the future. Join Equitable Life as they take you through how to talk to and present this strategy to your clients.
Ticket Details
Both Advocis Members and Non-Members are able to attend "Intergenerational Wealth Transfer" at a complimentary rate.
Member: FREE
Non-Member: FREE
Registration closes on Sunday, October 2, 2022, at 11:30 P.M. EDT
CE Requirements:
This event is pending review for 1.0 CE credit. To be eligible to earn any CE from this event, you must:
Enter your 7-digit Advocis ID on the registration form. No CE will be provided if this is inaccurate.
If you would like to be extended the member pricing, please join.
Please contact the organizer to confirm if this event qualifies for your provincial insurance council credits.
Presenter:
Subhastin Kharag, CFP
Regional Sales Manager, GTA / Equitable Life of Canada
Subhastin joined the financial services industry in 2001 as an independent broker working with small business owners in the GTA. In 2006 he served two terms on the ADVOCIS Toronto Chapter board and it was during these years that he achieved his CFP.
Last year Subhastin joined Equitable Life in continuing to help MGAs & Brokers find opportunities to grow their books & collaborate in the "High-Net Worth" space. He is a father of four who enjoys family cooking nights as the head sous chef & CEO of dishwashing.
Questions:
If you have any questions or concerns regarding this event, please reach out to the Advocis Toronto chapter at Toronto@advocischapter.ca.