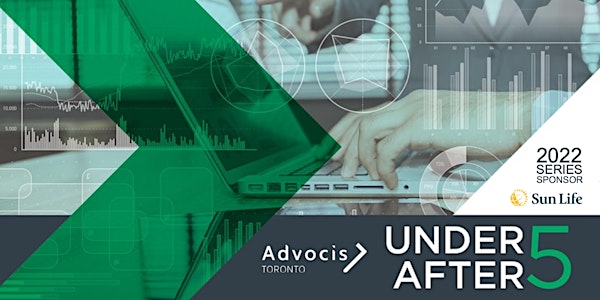 Advocis Toronto: U5A5 Practice Development Series: Module 5- Discovery
Under 5, After 5 Practice Development Series: Module 5 – Discovery Hosted by Longevity Achieved
About this event
Under 5, After 5 Practice Development Series: Module 5 – Discovery
Our Under 5, After 5 Practice Development Series provides the practical skills and knowledge that newer advisors need to be successful. Join the Toronto chapter in person on Wednesday, October 12, 2022 from 3:00 P.M. to 5:00 P.M. (Eastern Time) for our fifth module of the series, hosted by Longevity Achieved.
In the Discovery stage, you continue to build rapport with clients as you collect relevant financial data regarding goals and gain an appreciation of their priorities, values, preferences, and concerns. You want to learn all you can about your clients in order to build an accurate picture of their current situation and to be able to identify current and future needs and opportunities. The outcome of this exploration will help tailor a financial plan uniquely suited to the client's needs, goals and aspirations.
Upon completion of this Module and the accompanying Practice Development Activities, you will be able to:
Conduct a fact-finding assessment to reveal a client's hopes, dreams, goals and concerns
Apply different questioning techniques using open-ended questions
Discover the power of active listening and use these skills to assist with fact finding
Understand the importance of having a good system to keep accurate and complete records of client interactions for business and regulatory purposes
Ticket Details:
Both Members and Non-Members are entitled to view this webinar for FREE.
Ticket sales end Tuesday, October 11, 2022 at 6:00 P.M. (Eastern Time)
Host:

Alaeddine Jabri
Managing Partner, Longevity Achieved
Alaeddine Jabri is the managing partner at Longevity Achieved, a managing general agency and full-service boutique, insurance and investment firm delivering excellence in financial service. Alaeddine leads the New Breed Of Broker®, a community of advisors who are insatiably curious and unabashedly in love with the people they serve - who also use insurance and investments as tools to help clients achieve the life they want.
Alaeddine is regularly asked to speak at industry events, contribute on expert panels and for comment in national news publications. Committed to the adoption and growth of the insurance profession, Alaeddine mentors' new advisors and provides the framework for established advisors to transform their business. In 2021 Longevity Achieved was nominated as Wealth Professional's Multi-Service Advisory Team of the Year.
CE Requirements:
This event has been approved for 2.0 CE credits by The Institute, AIC, ICS and IC. To be eligible to earn any CE from this event, you must:
Enter your 7-digit Advocis ID on the registration form. No CE will be provided if this is inaccurate.
Attend the webinar using the email address entered on your registration form
If you would like to be extended the member pricing, please join.
Please contact the organizer to confirm if this webinar qualifies for your provincial insurance council credits.
Thank you to Sun Life, our 2022 sponsor of the U5A5 Series:

Questions:
If you have any questions or concerns regarding this event, please reach out to the Advocis Toronto chapter at Toronto@advocischapter.ca.