Event Information
Refund policy
Refunds up to 1 day before event
The September 29th session covers Module's 1 and 2. Module's 3 and 4 will be covered in the October 6th session
About this event
The Vancouver Island, Greater Vancouver, Kootenay and Thompson Okanagan chapters are pleased to host Update 2021- Open to the Future for Members and Non-Members across the region and the country. All are welcome to attend.
Join us for both 2 half-day sessions on:
September 29, 2021, 9:00 A.M. to 12:00 P.M. (PDT)
October 6, 2021, 9:00 A.M. to 12:00 P.M. (PDT)
Note: Attendance at both half sessions is required to receive CE Credits
As a benefit of membership, this event is $125, (Non-members for $200).
Use your Advocis Membership ID to trigger the promotional discount in Eventbrite
Ticket sales close September 27, 2021 at 11:30 P.M. EDT
At a time of unimaginable uncertainty, the need for financial advice has never been greater. With a future filled with so many unknowns, it's difficult for clients to be open, let alone optimistic, about their financial future. By finding the safest ways to stay connected with clients, financial advisors and financial planners strengthen these trust-based relationships. Working together to explore solutions to situations they never thought they would be facing, they help clients be 'Open to the Future', no matter what it may look like.
Advocis Update 2021 will explore themes of:
Inclusion, as we consider the value of recognizing and talking about diversity and bias
Flexibility in salvaging financial plans from cash flow management to tax implications
Finding innovative solutions to help keep plans on track all while staying safely connected to clients, staff and colleagues.
Produced and delivered virtually, Advocis Update 2021 will continue to deliver leading-edge continuing education for financial advisors and planners.
Update 2021 is a facilitated seminar that includes four video-taped interviews with industry experts followed by group discussion activities for each interview.
Please Note: Individuals who register for an Update 2021 chapter run seminar also receive access to the Advanced Learning Modules available online (please allow 24-48 hours for your access to be available through your dashboard).
CE Requirements:
Participants can earn up to six (6) CE credits (includes 1 ethics) for participation in the full seminar, and additional CE credits upon successful completion of the Advanced Learning Modules.
Full participation is required in both morning sessions of this event along with breakout session interaction to be CE eligible. If you cannot commit to both portions of the event you will not be issued any CE credit.
To be eligible to earn any CE from this event, you must:
Enter your 7-digit Advocis ID on the registration form. No CE will be provided if this is inaccurate. If you have forgotten your Advocis ID, please contact Member Services 1-877-773-6765 or info@advocis.ca
Attend the webinar using the email address entered on your registration form
If you do not have an Advocis ID number please reach out to member services at info@advocis.ca to be assigned an ID number in order to receive your CE credits If you would like to be extended the member pricing, please join.
Please contact the organizer to confirm if this webinar qualifies for your provincial insurance council credits.
Presenters Bios: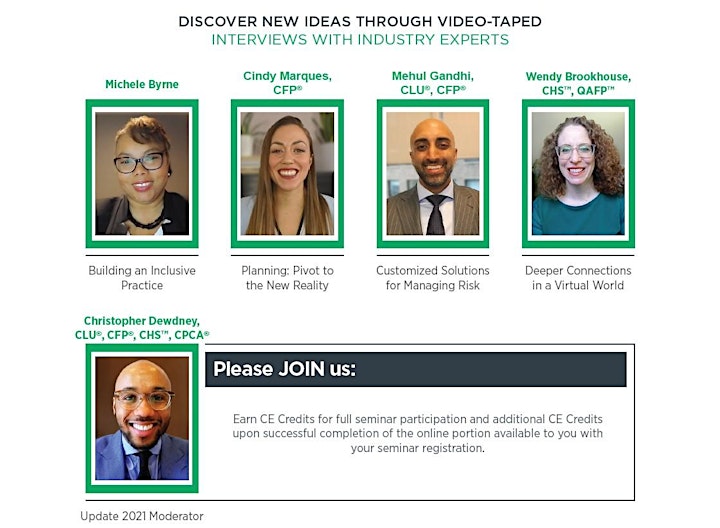 Christopher Dewdney, CLU®, CFP®, CHS™, CPCA®
Principal, Dewdney & Co.
Christopher has committed himself to the financial services industry for over a decade. Helping both individuals and businesses alike, his practice combines all areas of financial management into a unified, detailed, custom plan to serve each client's individual objectives. Christopher's experiences range from risk management to wealth accumulation. He uses a team approach encompassing a detailed and disciplined financial planning process that looks at both the quantitative data, as well as the client's goals and objectives. An active Advocis volunteer, Christopher is also a member of CALU.

Michele Byrne
Senior Advisor, Ministry of Government and Consumer Services
Michele is a diversity, inclusion and anti-racism diversity practitioner with over 18 years' experience. Currently working with the Ministry of Government and Consumer Services, she provides strategic advice on leadership diversification talent pipelines, curriculum and policy development as well as inclusive organizational culture change. Previously Michele has held several positions in her field at both the federal and municipal level. Additionally, she has worked with non-profits and non-federally regulated organizations where she developed and implemented compliance standards for employment equity and race-based mentorship programs including an Indigenous Employment and Education Strategy. Michele has a B.A. from McMaster University and a Professional Certification in Human Rights Theory and Practice from Osgoode Hall Law School.

Cindy Marques, CFP®
Financial Coach, Paper & Coin
Cindy specializes in the millennial demographic with a strong focus on cash flow planning and financial literacy. She believes that financial literacy is the ultimate tool for building wealth and has built an independent practice around that model. An experienced life and health insurance broker, Cindy transitioned her practice to a fee-only Financial 'Coaching' model to better serve the otherwise overlooked millennial market. In an ongoing effort to promote and provide more approachable educational resources, Cindy launched a Financial Literacy program and YouTube channel 'Dressed to Invest' at the start of 2020. Soon after, she partnered with budding Financial Coaching company 'Paper & Coin' and now manages their Financial Coaching program, serving clients nationally all across Canada.

Mehul Gandhi, CLU®, CFP®
Business Planning Specialist and Senior Insurance Advisor, Westmount Wealth Planning
Mehul specializes in advanced tax and estate planning for business owners and high-net-worth families. His unique financial plans provide clients with a detailed road map of their financial lives. A senior life insurance advisor, with expertise in creative insurance planning for incorporated individuals, Mehul believes in lifelong learning and continuously educating himself in the areas of tax and estate law. An active Advocis volunteer, Mehul is the 2018 recipient of the Leslie W. Dunstall Award, presented to candidates who achieved the highest examination marks for all CLU® course subjects.

Wendy Brookhouse, CHS™, QAFP™
CEO, Black Star Wealth™
With the audacious goal of changing one million lives, Wendy is the inventor of the proprietary One Number Solution™. This unique system is a truly holistic plan that covers spending, debt repayment, saving for the future and a strong safety net – and simplifies everything down to one number the client can control! This system allows clients to achieve their financial goals faster and with less stress or anxiety and forms the foundation for retirement income planning and estate planning. Wendy regularly speaks about money consciousness and how to achieve lasting financial change because she believes wealth is so much more than a dollar amount, it is about the joys you have in life and how you live day-to-day.
If you have any questions or concerns regarding this event, please reach out to the Advocis Vancouver Island chapter at VancouverIsland@advocischapter.ca.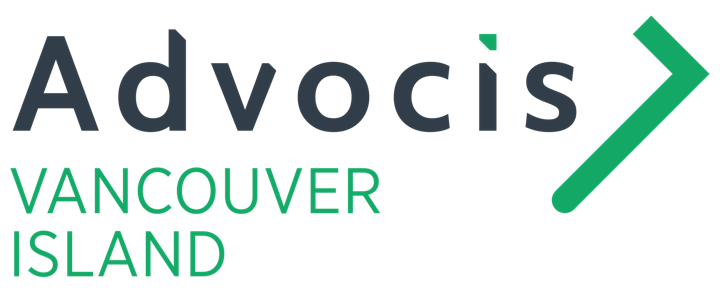 Date and time
Location
Refund policy
Refunds up to 1 day before event
Organizer of Advocis Vancouver Island: Update 2021 - Open to the Future