Join us for the Annual Chapter Meeting, to be followed by our final Pro D Day of 2020. This event is FREE for Advocis Members.
About this event
Agenda - Annual Meeting and Pro D Day – November 25th, 2020
9:00am-930am – Annual Meeting ( See Agenda Below)
9:30am – 10:00am: Kris Wirk, CPA – CA, Partner, Dusanj + Wirk: changes and updates to government support programs, how have programs been rolled out, and what has changed.
10:00am – 10:30am: Update from our sponsors
10:30am – 11:00am: Ron Dumonceaux, Lawyer, Dinning Hunter Jackson Law: Update from Legal areas, especially related to Real Estate, Businesses, and Commercial Real Estate, contracts, and all around legal updates and concerns moving forward
11:00am-11:30am: Chris Hammond, CPA, Partner, Padgett Business Services: Updates around payroll, wage subsidy tracking, changes to the wage subsidy program(s), and other issues around small business management, owner risks, and potential employer/employee responsibilities related to payrolls and accounting
11:30am – 11:50am Dr. Michael King, Gustavson School of Business, University of Victoria - Economic Update
11:50am – 12:00pm Updates from our Sponsors
Starting the day with the Annual Chapter Meeting, our President Christie Coltman will chair the meeting and update the membership on the initiatives and actions of the board in 2020. The meeting will follow a formal set agenda and will include the installation of the 2021 Board members.
As a benefit of membership, you are entitled to view this webinar for free ($50 for non-members). Use your Advocis Membership ID to trigger the promotional discount in Eventbrite.
This webinar is currently pending review for CE credits.
The Professional Development Day will start immediately after the conclusion of the Annual Meeting.
There will be three interview sessions with local professionals, giving you a Pandemic Update in key areas that effect you and your clients:
Kris Wirk, CPA -CA, Partner, Dusanj + Wirk Chartered Professional Accountants
Kris has over fifteen years of experience in audits and taxation services for owner-managed businesses, individuals and non-profit organizations. Kris is extremely strong in the technical areas of accounting and tax, and provides great personal attention to his clients. Kris is a master of thorough answers and insight with respect to financial planning and overall accounting and taxation practices.
Kris has an Honours' Bachelor of Commerce degree from the University of British Columbia, and received the Western Canada Gold Medal for the highest standing in Western Canada on the final chartered accountancy entrance exam. He is a member of the Canadian Institute of Chartered Professional Accountants and the Institute of Chartered Professional Accountants of British Columbia.
Currently, Kris is the treasurer for the Greater Victoria Chamber of Commerce and formerly lectured for the CA School of Business.
Ron Dumonceaux, Lawyer, Dinning Hunter Jackson Law
Ronald J. Dumonceaux (Ron) was born and raised in Saskatchewan graduating from the University of Saskatchewan Law School in 1986 after having received undergraduate degrees in commerce and arts with an economics major.
Ron began practicing in Saskatchewan receiving his call to the bar in Saskatchewan in 1987. He also received his call to the bar in Alberta in 1996, in British Columbia in 1998, in the North West Territories in 2006, and in Ontario in 2008.
Ron continues to be an active member of each of the forgoing bar associations and is entitled to practice law in each jurisdiction. Ron and his family moved to British Columbia in August of 2000 and joined Dinning Hunter Jackson Law (formerly Dinning Hunter Lambert & Jackson) in June of 2002. Ron became one of the lead lawyers of Dinning Hunter Jackson Law in January of 2004.
Ron practices primarily in the areas or corporate law and residential real estate. He organized and chaired seminars for his fellow professionals in advanced commercial law and was a panel presenter for civil litigation procedures. He has also successfully litigated in every level of court in each of Alberta, British Columbia, Saskatchewan, the Federal Court, Tax Court, and the Supreme Court of Canada. Ron designed, implemented and currently manages the Brydges system of 24 hour on call lawyers for persons who have been detained under process of law in each of Saskatchewan, Alberta and British Columbia.
Ron is a volunteer for Access Justice, an organization dedicated to providing legal services to individuals who cannot afford to employ a lawyer. Outside of the practice of law, Ron maintains sports activity in ice hockey and golf. He reads extensively and enjoys travel and spending time with his family.
Chris Hammond, P.A. – Partner, Accountant, Padgett Business Services
Chris has been helping small businesses succeed in Victoria since joining Padgett Business Services in 1995. Chris is a member and a director of The Canadian Institute of Professional Accountants and a member of The Canadian Payroll Association.
Chris wants to be a cowboy when he grows up.
Michael R. King, PhD CFA - Lansdowne Chair in Finance, Gustavson School of Business, University of Victoria
Professor Michael R. King is the Lansdowne Chair in Finance at University of Victoria's Gustavson School of Business. Prior to joining UVic, he held the Tangerine Chair in Finance at Western University's Ivey Business School (2011-2019), where he co-founded Canada's first FinTech research centre (the Scotiabank Digital Banking Lab). Before joining academia, he worked in investment banking in Zurich, New York and London from 1990-1998 (Credit Suisse, RBC Dominion Securities) and central banking in Ottawa and Basel from 2001-2011 (Bank of Canada, Bank for International Settlements). Michael completed his PhD at the London School of Economics in 2001 and his CFA designation in 1999. He has taught finance to undergraduates, MBAs and executives. His research focuses on FinTech, banking, international financial markets, and corporate finance.
Advocis Vancouver Island Chapter – Annual Meeting Agenda:
Approval of Agenda
Approval of Minutes from the 2019 Annual General Meeting
President's Report: Christie Coltman
Treasurer's Report and Chapter Financial Statements
Installation of new Board members for January 1, 2021
Other business
Adjournment of meeting
If you have any questions or concerns regarding this event, please reach out to the Advocis Greater Vancouver chapter at info@advocisvancouver.ca.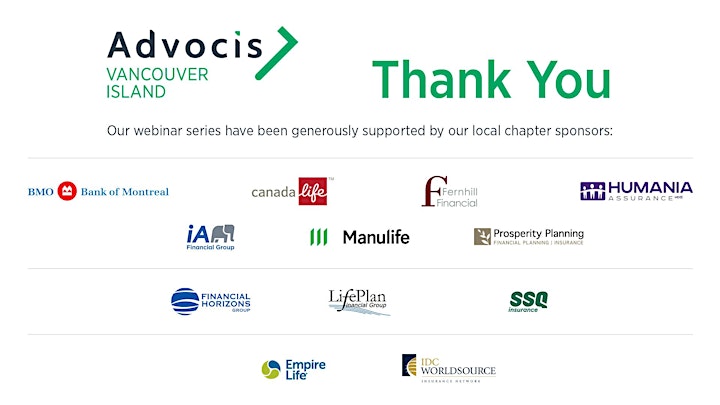 Organizer of Advocis VISL – Annual Chapter Meeting & Pandemic Updates