Event Information
Refund policy
Refunds up to 1 day before event
Working with Indigenous People – It begins with understanding and learning, building trust and having respect
About this event
Working with Indigenous People
Leading up to National Truth and Reconciliation Day, The BC Advocis Chapters want to learn from and celebrate the Indigenous People.
Advocis members are starting to gain an appreciation and awareness of how far we are from truly understanding the history, challenges, values, goals and passions of the Indigenous community. This event will be a day full of virtual learning from Indigenous leaders, professionals and non-profits and those working with Indigenous peoples.
We hope that a great understanding will commence as well as the start of trust building on both sides and that we come from this day with a greater respect, understanding and appreciation for the Indigenous community than we may have had before.
Register Early:
As a benefit of membership, you are entitled to view this webinar for FREE ($25 for Non-members).
Use your Advocis Membership ID as a promo code to trigger the promotional member discount in Eventbrite.
As this event is FREE for Advocis members, please consider making a tax deductible donation in lieu of a registration fee to the Indian Residential School Survivors Society. Donations can be made HERE.
Further information of the work that IRSSS has been doing in the Indigenous Community will be shared at the event
Agenda:
9:00 A.M.
Introductions by Christie Coltman – President of Vancouver Island Advocis Chapter
Discussion of Acknowledgements – and welcoming a current Indigenous client on how best Financial Planners can support Indigenous People.
9:30 A.M.
Mike Carlson – Indigenous Advocis Member
Truth & Reconciliation in Financial Planning – a discussion with Mike about his published article through Advocis, the challenges and issues happening today and some ways that each of us can start to make an impact immediately.
10:00 A.M.
Professional Panel Discussion
Learn from lawyers, accountants and financial planners that are currently working with Indigenous People to ensure they have the financial insights that they need and are in alignment with their values and goals.
10:30 A.M.
Sponsors Spotlight
How are our BC Chapter sponsors helping to make a difference and move forward in support and collaboration with Indigenous peoples.
10:45 A.M.
Dean Delpeache - Discussion of how Advocis is affecting change and becoming a leader with ending discrimination and creating a more positive culture and awareness for all of the community members we serve. Dean will be sharing the direct measures and support that Advocis is committed to in moving forward to working more effectively with Indigenous people.
11:00 A.M.
The Indian Residential School Survivor's Society
A presentation of the work the IRSSS is doing in the Indigenous community – how can Advocis members support and become an ally in the work that they are doing?
11:30 A.M.
12:15 P.M.
Charlene SanJenko - Indigenous Business Owner and a leader in the Women in Business and Leadership movement – Founder of HOME ⋆ PowHERhouse, and a leader in the Women in Business and Leadership movement.
Creating an Indigenous Relations Plan of Intentional Action
Setting Policies and Principles, Priorities and People, with clear steps to move forward and key starting points.
1:00 P.M.
Closing and A Challenge to Advocis Members
Let us embark on a year of conversations and work to come back in 2022 better informed, educated and having made a positive impact towards working in collaboration with Indigenous People – let's come back in 2022 and celebrate the impact and changes we have made.
CE Requirements:
This event is pending review for 4.0 CE credits. To be eligible to earn any CE from this event, you must:
Enter your 7-digit Advocis ID on the registration form. No CE will be provided if this is inaccurate. If you have forgotten your Advocis ID, please contact Member Services 1-877-773-6765 or info@advocis.ca
Attend the webinar using the email address entered on your registration form
If you do not have an Advocis ID number please reach out to member services at info@advocis.ca to be assigned an ID number in order to receive your CE credits If you would like to be extended the member pricing, please join.
Please contact the organizer to confirm if this webinar qualifies for your provincial insurance council credits.
If you have any questions or concerns regarding this event, please reach out to the Advocis Vancouver Island chapter at vancouverisland@advocischapter.ca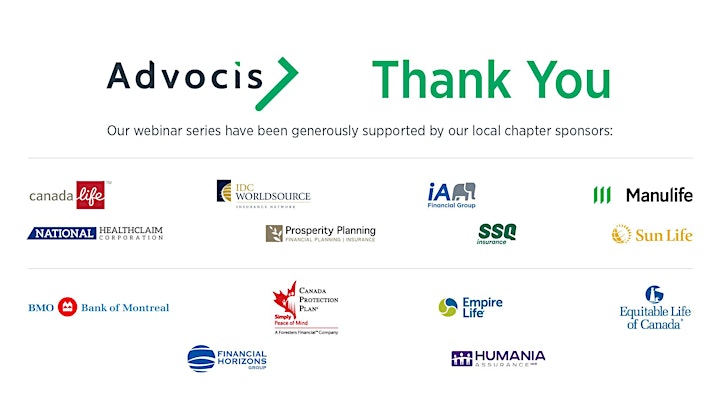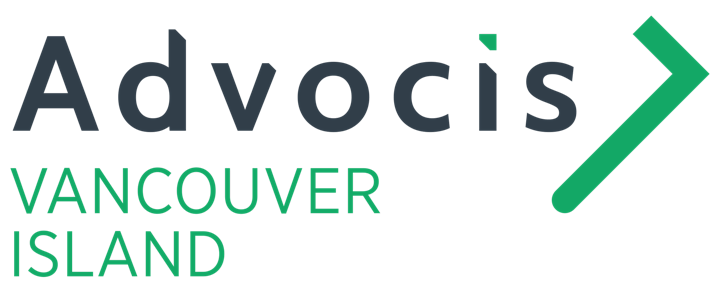 Date and time
Location
Refund policy
Refunds up to 1 day before event
Organizer of Advocis VISL: Working with Indigenous People