AFCFC & Montreal AHEPA Family's 19th Annual Valentine's Ball

Friday, 9 February 2018 at 7:00 PM

-

Saturday, 10 February 2018 at 3:00 AM (EST)
Event Details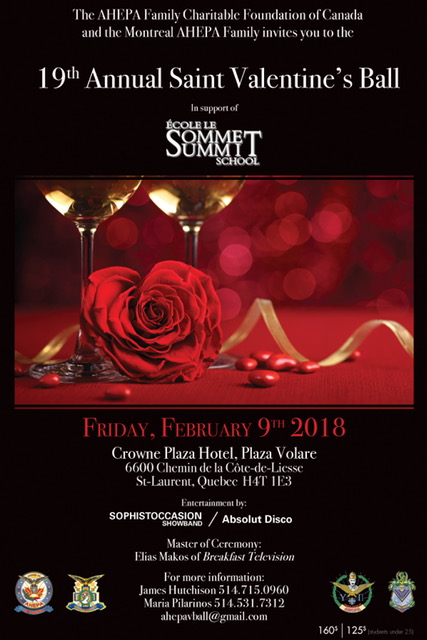 Cher Ami, 
Cette année la famille AHEPA de Montréal organise son 19e bal annuel de la Saint-Valentin. Grâce à vos contributions et vos dons depuis des années, cet évènement a permis d'amasser plus de 811 000$ au profit de diverses causes touchant les enfants dans la grande région de Montréal, comme l'hôpital Ste-Justine, l'hôpital Shriners, l'école à Pas de Géants, l'hôpital général Juif de Montréal (Unité de Soins Intensifs Néo-natale), les écoles Socrates et Démosthène, l'école Le Sommet et plusieurs autres. 
Pour tous vos encouragements, nous vous remercions. 
La famille AHEPA invite donc la communauté de Montréal à continuer cet effort. L'objectif de cette année est de poursuivre notre engagement pour les besoins au niveau d'éducation physique des 570 enfants de l'école Le Sommet. Votre aide en 2016 a permis d'amasser 52 000$ pour débuter la collecte de fonds et pour préparer les plans architecturaux du nouveau gymnase. Depuis ce temps, leurs besoins grandissants et l'admission de nouveaux élèves ont nécessité l'ajout de salles de classes et d'une cafétéria à ce projet. Le gymnase deviendra maintenant un complexe sportif. 
L'école Le Sommet à Ville Saint-Laurent, est au service d'élèves présentant des difficultés d'apprentissage et de développement depuis plus de 50 ans. Cet établissement regroupe enseignants, ergothérapeutes, orthophonistes, physiothérapeutes, travailleuses sociales et psychologues sous un même toit. Chaque étudiant bénéficie d'un programme sur mesure où l'emphase est mise sur les habilités académiques, physiques et sociales, les loisirs, la formation au travail et la communication. À chaque étape de la vie d'un élève, l'école Le Sommet se concentre sur l'éveil de leur épanouissement. 
La famille AHEPA fait appel à la communauté de la grande région de Montréal afin de nous aider dans cet effort avec vos contributions et dons généreux. Les renseignements concernant les niveaux de contribution sont détaillés pour vous sur la page suivante. Les différents niveaux de publicité dans notre album commémoratif sont aussi offerts ainsi que notre formulaire d'information à remplir et retourner selon votre choix de support. Nous sommes disponibles et prêts à vous présenter notre projet avec les représentants de l'école afin de mieux répondre à toutes vos questions. N'hésitez pas à visiter www.ahepamontreal.org et www.summit-school.com. 
Le 19e bal de la Saint-Valentin se tiendra vendredi le 9 février 2018. 
Les invitations suivront sous peu. 
Sincèrement vôtre, 
James Hutchison Maria Pilarinos 
Co-président Co-présidente 
514-715-0960 514-531-7312 
When & Where

Crowne Plaza Hotel Montreal-Metro Centre
6600 Cote de Liesse
Montréal, QC H4T 1E3
Canada

Friday, 9 February 2018 at 7:00 PM

-

Saturday, 10 February 2018 at 3:00 AM (EST)
Add to my calendar
Organizer
"Good actions give strength to ourselves and inspire good actions in others" - Plato
The mission of AHEPA is to promote the ancient Greek ideals of Education,Philanthropy, Civic Responsibility,
and Family and Individual Excellence through community service and volunteerism.