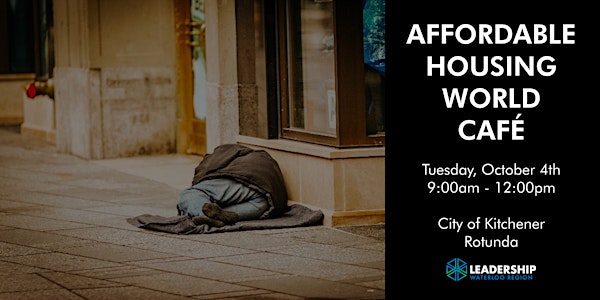 Affordable Housing World Cafe
At this set of round table discussions, folks from around the community will share their housing experiences!
When and where
Location
Kitchener City Hall 200 King Street West Rotunda Kitchener, ON N2G 4G7 Canada
About this event
BACKGROUND ON LWR'S AFFORDABLE HOUSING PROJECT
Our Community Leadership Development Program is at the core of what we do at LWR. That's why we call it our Core Program. We encourage, empower, enable and equip participants through a 10-month practical and experiential learning program so they are ready to take on leadership roles in Waterloo Region.
LWR continues to partner with The Waterloo Institute for Social Innovation and Resilience (WISIR) at the University of Waterloo and Wellbeing Waterloo Region. WISIR brings community stakeholders together around a complex problem and involves students in working through a process designed to breed systems innovation. Through the teaching and facilitation from WISIR, the class will once again collectively take on a critical issue as identified by Wellbeing Waterloo Region: Affordable Housing.
What does the class do?
Through a fulsome investigation, systems impacting affordable housing in our community are examined to develop a set of strategies, recommendations and solutions that will be shared with the Wellbeing Waterloo Region Affordable Housing network and the broader community.
The class' solutions lab work has two main components: during the first phase of their work, the class captures data, contextual information, life experiences and stories from both community partners and those with lived experience relating to housing. One such method of collecting this information will be through a Housing Café-style discussion.
Over the last few years, each class has had a different lens through which they looked at affordable housing. The first two years focused on the organizations and actors that do work in the housing space. Last year, the class focused on the barriers that are faced in each of the different parts of the housing spectrum, from homelessness to market home ownership. Each class developed a set of solutions and a systems map that reflected their work. You can check out the recently released solutions (along with previous years) here.
This year, the class is looking to dive deep into the challenges being faced by those with lived experience, making this cafe of vital importance to gathering the information they need to begin developing solutions.
In addition to those with lived experience, representatives from many different sectors, including social services, housing, social inclusion and public service are invited to participate to ensure that a diverse perspective is captured. Participants and students alike will be encouraged to circulate around the room to join in conversations, or even just to listen.
The Affordable Housing Café is not only an opportunity for our students to learn from you, but also one where you can network with others from around the community. You're also encouraged to bring relevant information about your organization with you to share.
JOIN US FOR OUR IN PERSON HOUSING CAFE!
We hope you'll join us on Tuesday, October 4th! The cafe will run from 9:00am - 12:00pm.Now we know that 3 hours is a lot to ask of you. And of course, we'd love to have you join us for the entire session, but even if you can join us for just an hour, your input and knowledge would be most welcome! Each round table discussion will last for ~30 minutes so please join us for as little or as much time as you can.
It is free to attend, and we would like to encourage anyone with a passion for, is working in the housing sector and especially those who have lived experience to join us and share their perspectives! In other words, please share this with anyone who might be interested.
DETAILS
Date: Tuesday, October 4thTime: 9:00am - 12:00pmLocation: Kitchener City Hall - Rotunda
We look forward to connecting on this exciting opportunity to further the dialogue on affordable housing!
Note: We have set up registration to be able to have a sense of how many folks to prepare for. We understand that many with lived experience may not have access to register online. Everyone is welcome to join us on October 4th and folks will not be turned away so please do share this information with your networks.
*Event photo courtesy of lobalageing.cochrane.org