These two-day engagement sessions seek input on the development of First Nations-led water policy, legislation and a National Water Strategy
About this event
As a follow-up to the pre-engagement Regional Water Roundtable Discussion that took place on December 15th, 2020, the AFN and BCAFN are hosting two full-day water engagement sessions in BC to get input from communities and leaders on how we can move forward with First Nations-led policies and legislation that support access to safe and reliable drinking water on reserves and promotes First Nations inherent and Treaty jurisdictional water rights.
Who should attend? Chief and Council, Water/Wastewater Operators, Public Works Managers, Tribal Councils, PTO's (limit two representatives per community)
Honouraria available for each session
Day 1: Join us on March 30th, 2021 from 10:00am - 4:00pm(PST) to discuss drinking water-related issues and/or gaps in your community and give input on First Nations-led legislative reform of the Safe Drinking Water for First Nations Act.
Day 2: Join us on March 31st, 2021 from 10:00am - 2:00pm(PST) to discuss and give input on your priorities for a long-term National Water Strategy.
For access to all meeting documents for the British Columbia region, please go to
www.afnwater.ca
Zoom link will be provided to registrants closer to the meeting dates.
For more information, please contact the Regional Water Coordinator, Sophia Iliopulos at sophia.iliopulos@bcafn.ca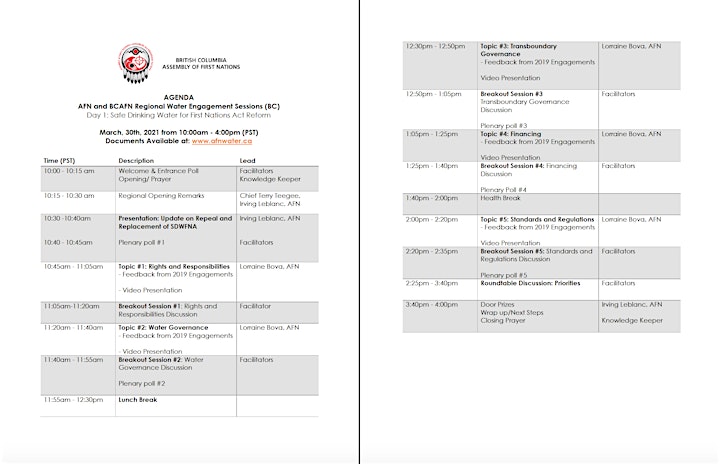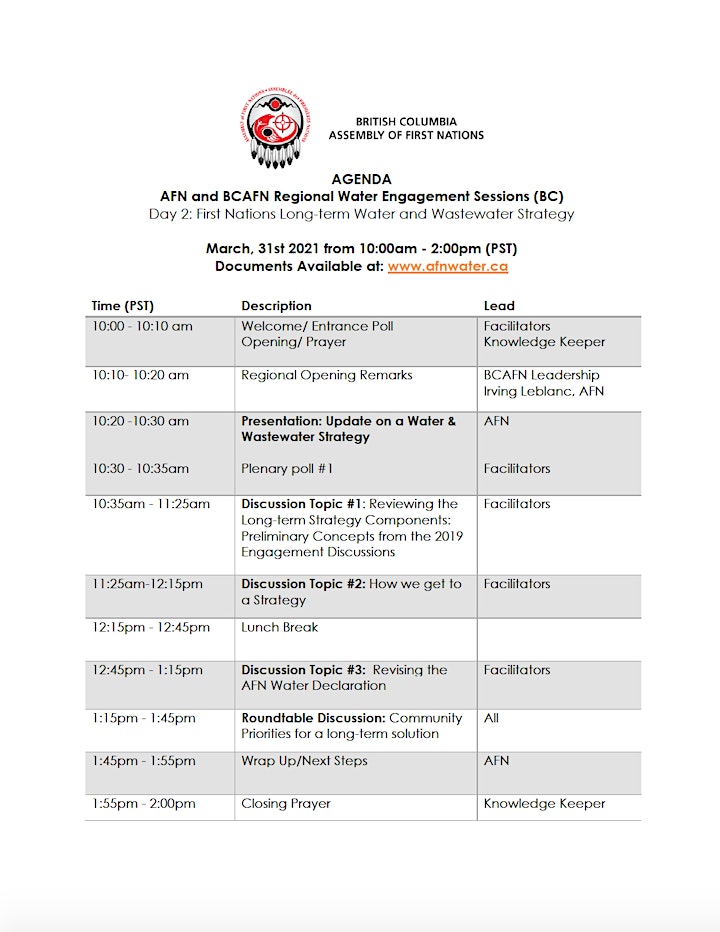 Organizer of AFN & BCAFN Regional Water Engagement Sessions