Description
Ethics in Action: Exploring your Professional Fundraising Practice
It takes courage to stand up for your principles. Every day professional, ethical fundraisers are demonstrating their courage by living their values and representing the missions of their philanthropic organizations. While many discussions of ethics in fundraising arise when something "goes wrong", we will take a step back in this workshop to consider a broader framework of ethical practice in fundraising and philanthropy.
Come join your professional colleagues in this interactive workshop to strengthen your ethical practice.
We will consider questions such as:
The role of ethics in fundraising and your role in building a culture of ethics in your organization.

How can an ethical practice help you navigate our increasingly connected world while respecting the need for accountability and transparency with donors and others?
Using case studies and a model for ethical decision making we will discuss some of the challenging questions professional fundraisers are dealing with every day.
Speaker Bio: Jennifer Johnstone is President & CEO of Central City Foundation, an organization that has been working to improve the lives of neighbours in need in Vancouver's inner city since 1907. In the past 30 years, her career in non-profit management and community resource development has included key leadership positions with Vancity Community Foundation, Battered Women's Support Services, Vancouver Status of Women, and Ballet BC. She has also maintained a successful private consulting practice in fundraising and organizational development and is an instructor in the Fundraising Certificate Program at BCIT. An in-demand speaker about non-profit management, social purpose real estate, organizational innovation and inner-city issues, Jennifer is also a leader in the business community for her continued mentorship of women and youth. Jennifer remains passionately committed to social justice and community investment, serving as a Board member with a number of local organizations and is a member of the national Board of the AFP Canada.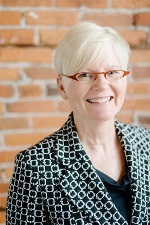 Link to website: centralcityfoundation.ca
---
Questions? Contact:
Mischa Mueller
VP Programs, AFP Okanagan Chapter
mischa.mueller@interiorhealth.ca
250.862.4300 ext 7125