Description
The subject of two New York Times articles, Robert Sturman's art captures the timeless grace and embodied mindfulness of asana. A dedicated yoga practitioner himself, Sturman's work has increasingly gestured at something beyond the physical, something transcendent. His stunning repertoire runs the gamut from yogis perched on rocks surrounded by the Pacific Ocean, to African orphans practicing in Kenya, to breast cancer survivors, bare-chested and scarred.
On this night, Robert will share his visual documentary of the Africa Yoga Project. Join us for a rare chance to hear firsthand about what inspires Robert and how you, too, can bring artistic inspiration to your own life through imagery.
Lisa O'Brien, founder of lifeyum.com and Certified Baptist Yoga teacher Aimee Elsner will lead an invigorating practice on moving through change with power and ease. The class will focus on openings and expansiveness, while also challenging students to live – and breathe – through the present moment regardless of the circumstances.
Proceeds from the event go to the Africa Yoga Project, a nonprofit organization whose work is dedicated to healing and empowering individuals, especially young people.
Visit www.robertsturmanstudio.com to see Robert's work, and learn more about Lisa at www.lifeyum.com and Aimee at www.ctpoweryoga.com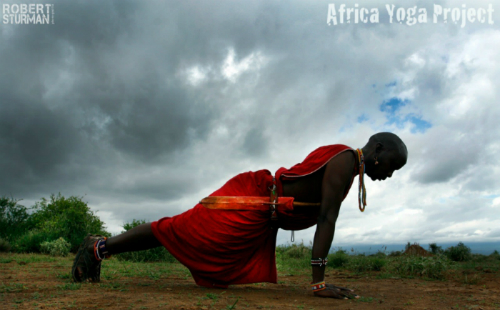 Organizer of Africa Yoga Project with Robert Sturman - lululemon athletica Greenwich