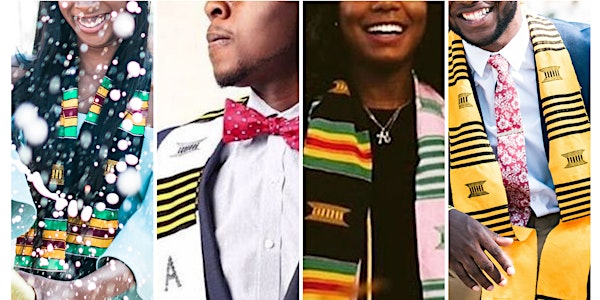 African, Caribbean & Black (ACB) Post-Secondary Graduation Ceremony | Cérém...
Location
University of Ottawa - Pavillon Desmarais Hall
55 Laurier Avenue E.
Room/Salle 4101
Ottawa, Ontario K1N 6N5
Canada
Description
Le français suit l'anglais.
Doors open at 6:30 pm. Ceremony commences at 7:00 pm.
The Young Leaders Advisory Council (YLAC) is proud to announce Ottawa's second annual African, Caribbean & Black (ACB) Post-Secondary Graduation Ceremony in celebration of Multiculturalism in Canada. The Class of 2019 ceremony will recognize our young racialized graduate leaders from the Ottawa/Gatineau region from: Algonquin College, Carleton University, La Cité Collegiale, Université du Québec en Outaouais, St. Paul University and the University of Ottawa.

The purpose of this ceremony is to celebrate Black-Canadian graduates and honour their hardwork and achievements of academic excellence. Whether they persevered through racial microagressions, or helped bring to light social inequality and racial discrimination, we celebrate them as we move towards a future of equity and inclusion.

The occasion will include a keynote speech from Her Excellency, the Right Honourable Michaëlle Jean - Canada's 27th Governor General; valedictorian (wawa aba) selection in celebration of a graduate who works to preserve African-Canadian traditions and share them within their community; the presentation of diplomas; catering of multicultural delicacies; and the honour of being bestowed a Kente graduation stole. We encourage graduates, family members and guests to dress in traditional and/or cultural attire.
*Cost: FREE. Graduate spots will be awarded on a first come, first serve basis while vacanies last.
**Do note that one ticket per person is allowed. Duplicate registrations under the same name will be cancelled.
Instructions for Graduates
Please submit a single document to contactus@ylac.ca including the following:

Please provide your personal information including your first and last name, gender (pronouns), contact information (phone/email), and if you need special

accommodations

.
Provide a brief biography of what you plan to do next (ex: dreams, careers, travel, start a business etc.).
Include a headshot photo
Proof of graduation/education

Have you received an award for an accomplishment, or do you have achievements you would like to bring to our attention

? If yes please describe (ex: awards, distinctions, dean's list, publications. etc.).
Are you the only, or one a few black and/or racialized students in your program, faculty, school or institution? We would like to know! Please support this with statistics where possible.

---
Français.
Les portes ouvrent à 18h30. La cérémonie commence à 19h00.
Le Conseil Consultatif des Jeunes Leaders (CCJL) est fier d'annoncer la deuxième édition de la cérémonie annuelle de remise des diplômes postsecondaires pour les communautés africaines, caribéennes et noires (ACB) à Ottawa pour célébrer le multiculturalisme au Canada. La cérémonie de 2019 reconnaîtra nos jeunes leaders diplômés de la région d'Ottawa-Gatineau des établissements suivants : le Collège Algonquin, l'Université Carleton, La Cité collégiale, Université du Québec en Outaouais, l'Université Saint-Paul et l'Université d'Ottawa.
Cette cérémonie a pour but de saluer le travail acharné et l'excellence académique des diplômés canadiens noirs. Qu'ils aient persévéré malgré les micro-agressions raciales ou qu'ils aient contribué à exposer les inégalités sociales et la discrimination raciale, nous célébrons leurs accomplissements alors que nous nous dirigeons vers un avenir d'équité et d'inclusion.
Au programme de l'événement il y aura : un discours liminaire prononcé par son Excellence, la très honorable Michaëlle Jean - 27e Gouverneure générale du Canada; la désignation de l'un ou l'une des diplômés présents pour le discours d'adieu de sa promotion; la remise de diplômes; des bouchées reflétant notre communauté multiculturelle; et la présentation d'une étole en tissu kenté aux diplômés de la promotion de 2019. Nous encourageons diplômés, les membres de leur famille et leurs invités à porter leurs vêtements traditionnels.
*Coût : Gratuit. Les places seront attribuées selon le principe du premier arrivé, premier servi, et jusqu'à épuisement des places.
**Veuillez noter qu'un seul billet par personne est permis. Veuillez prendre note que les inscriptions multiples sous le même nom seront supprimées.
Instructions pour les diplômés
Veuillez soumettre un seul document à contactus@ylac.ca, incluant les informations suivantes:
Veuillez fournir vos renseignements personnels, y compris votre prénom et votre nom, votre sexe, vos coordonnées (téléphone / courriel)

ainsi que toute demande de mesures d'accommodement si vous en avez besoin.

.
Fournissez une brève biographie de vos plans futurs (ex: rêves, carrières, voyages, démarrer une entreprise, etc.).

Inclure une photo (plan du visage)

Preuve d'obtention du diplôme / d'éducation
Avez-vous reçu une

récompense pour un accomplissement

ou avez-vous des réalisations

que vous voudriez faire valoir

? Si oui, veuillez décrire (ex: prix, distinctions, liste des doyens, publications, etc.).
Êtes-vous le seul, ou un des rares, élèves noirs et / ou racialisés dans votre programme, faculté, école ou institution? Nous voudrions le savoir! S'il vous plaît fournissez des données

pertinentes

pour justifier votre réponse.

Community Partners | Partenaires communautaires :