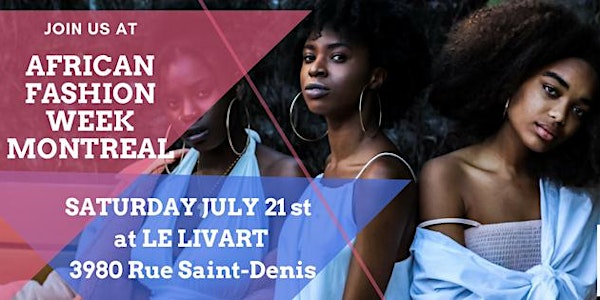 African Fashion Week Montreal 2018
When and where
Location
LE LIVART 3980 Rue Saint-Denis Montréal, QC H2W 2M3 Canada
Description
The concept of African Fashion Week is to promote and support African Talents, History, Art and Culture.
AFWM aspire to become a landmark of talent and diversity in both fashion and culture. AFRICAN FASHION WEEK MONTREAL is an inclusive multi-platform where we celebrate, elevate and give exposure to local talents and businesses, we want to emphasize awareness, celebration, and support the African talents. Our vision is to create a sense of community through inclusion and togetherness between Africans, Caribbean, and Montrealaises and then weave that same community into the fashion industry.
"We feel it is important as a community to empower each other and celebrate together. We at AFWM firmly believe that it will always be Better Together." Those are the words of Gilles Wouanko Director of AFWE & AFWM.
Along with African/Caribbean inspired fashion and designers, AFWM strives to showcase art and culture. Local artists and designers will celebrate, educate and provide a social platform for industry networking, cultural and diversity celebration. Our program is carefully selected to highlight the uniqueness and creativity of Montreal talents, join us in celebrating our 1st edition.
The program will go as follow:
SATURDAY JULY 21st 2018
6pm: Trade show & Cocktail bar
8 pm: Runway Show
11 pm: After party
Tickets:
40 $ Regular tickets
65 65 $ VIP Tickets, VIP includes: Front row seating, VIP cocktail area & gift bags