AFRICAN RHYTHMS COLLECTIVE workshop Series - Lead Masters- ADAMA BILOROU
Description
AFRICAN DRUMMING
Rhythms & Technics
Featuring World renowned Master multi-instrumentist and Composer ADAMA BILOROU
Jump up your skills on Djembé, Balafon, Dun-dun (bass drum), and African dancing.
Get expert coaching in technique, rhythmic expression, performance skills, and drumming history.
A musical experience through the depths of African rhythms that will transform your understanding of African percussion.

These workshops are perfect for hobbyists and professionals alike:
- Beginner (No experience and/or getting comfortable)
- Intermediate (Knows a few rhythms)
- MASTERCLASS (Professional and/or Teacher)
FEBRUARY 17
Scotiabank Dance Centre, Level 6, 677 Davie Street
Vancouver BC V6B 2G6

FEBRUARY 19 - 28
Vancouver Islands
Venues & Dates - www.africafest.ca
Pre-Registration mandatory.
--------Bring your own instruments if you have them. If not please let us know in advance and we will attempt to provide some for you.
*** DJEMBÉ RENTAL FEE IS $5. BALAFON $10
----------------------------------------------------------------------------------------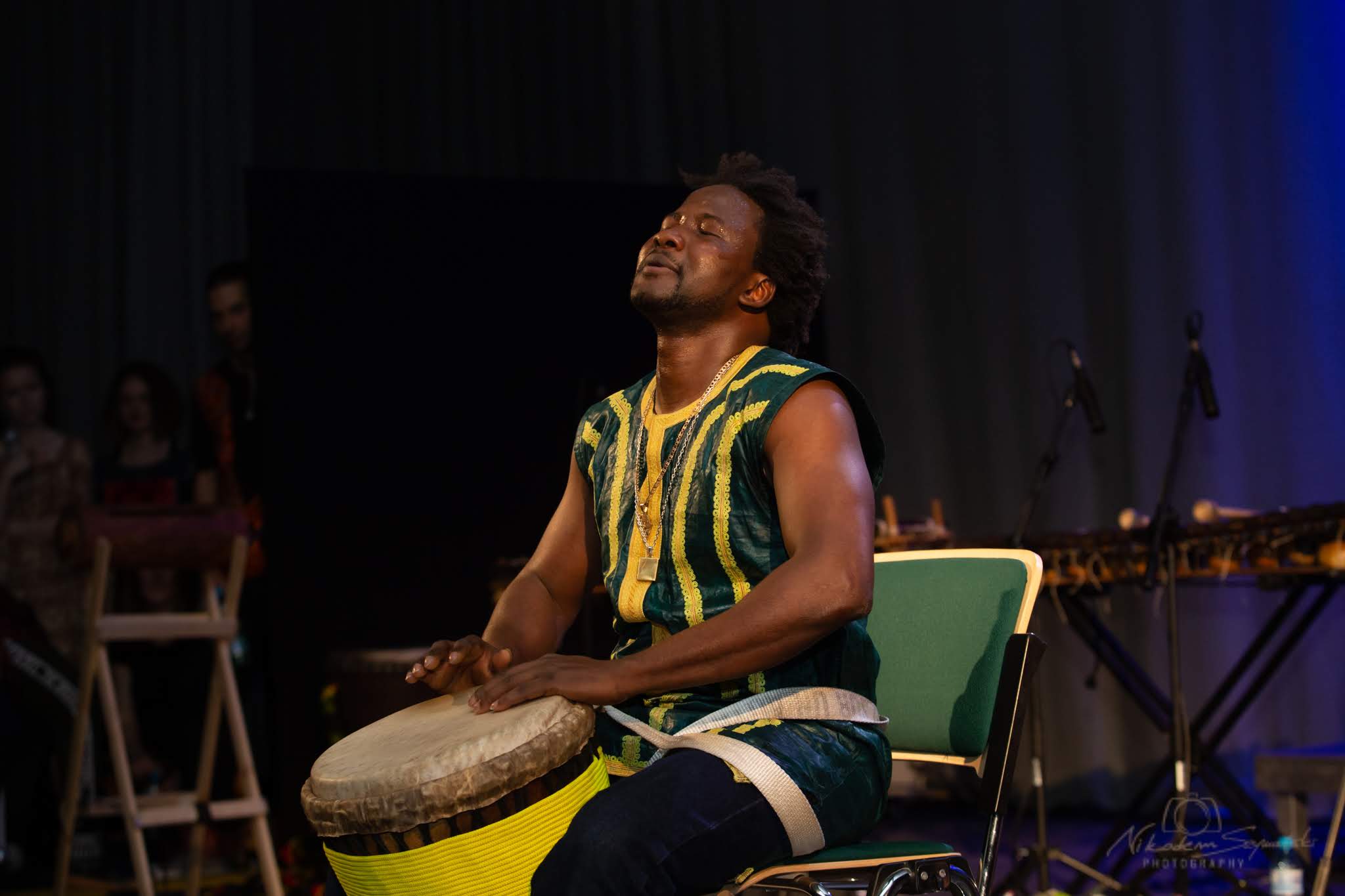 ADAMA BILOROU
Born in Burkina Faso, Adama Bilorou came from a caste of griots. He was initiated at an early age in the technical knowledge of his caste. At 13, he entered the Abidjan Djolem becoming the soloist of the band as well as the National Ballet of the Ivory Coast. In 1999 he founded the troupe Djélikan and participates in Massa festival.
Adama was also a conductor of the Binkadisso troupe. In 2001 he was recognized as the best drummer of his generation.
Throughout his meetings and his many projects, Adama works with big names such as Salif Keita, Alpha Blondy, Ray Lema, Cheick Tidiane Seck, Paco Sery, Manu Dibango, Toure Kunda, Seckou Keita, Trilok Gurtu, Mamadi Keita and Antonello Salli.
Today, with the help of art (free) frica, Adama Bilorou develops his own musical projects and compositions.
He offers especially designed projects around his favorite instrument, the chromatic balafon
AFRICAN DANCES
African dance is no different than jazz or contemporary dance in the sense that the dancer needs to learn a particular technique and practice to become good at it. However, unlike many other dance forms, African dance leaves room for self expression and enables each individual to follow his own 'body language'. Every innovation and creation involves a thorough knowledge of technique which can then be 'forgotten' in order to allow spontaneous personal variations -
African dance is a perfect example of this.
The essence of real, traditional African dance is indeed continual creation and solo improvisations are a big part of traditional African dance, enabling each member of the community to express his own life story or feelings through movement.
Everyone can dance to African music. The idea is to feel the music and express yourself. Let yourself go. It's also an incredible and fun way to have a full body workout
www.africafest.ca