Description
CALLING ALL AFROBEATS MUSIC LOVERS!!
ISSA Black History Month Afrobeat Music Celebration!

The AfroFusion Spot presents: AFROBEAT KARAOKE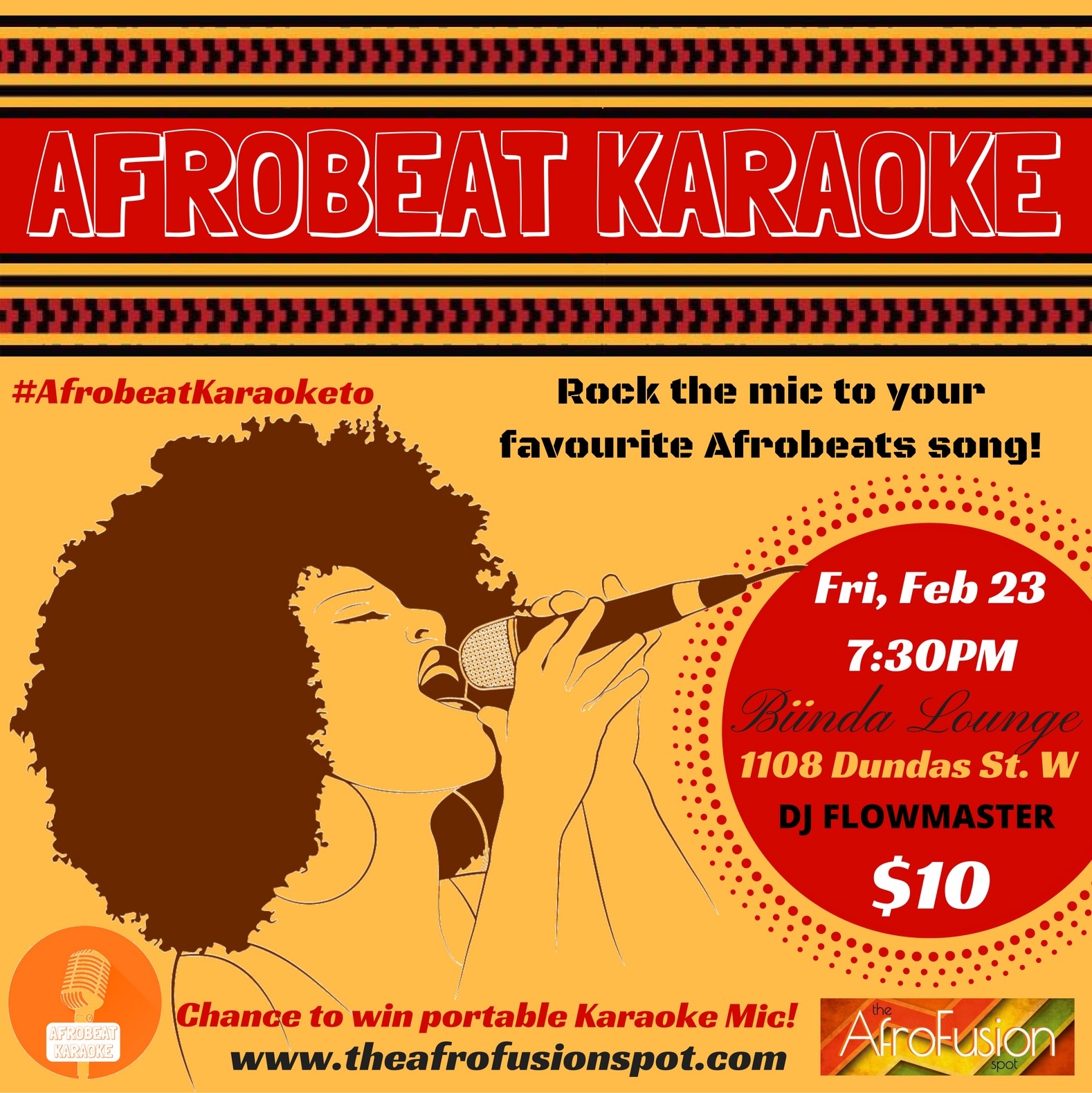 Afrobeat Karaoke is back again for our Winter edition! Our Fall Edition was such a great time, we are back again due to popular demand.
A glimpse of the last Afrobeat Karaoke event HERE
There is traditional Karaoke, there is Trap Karaoke, and now it's time for Afrobeat Karaoke! Here is your chance to showcase your karaoke skills and rock the mic to your favourite Afrobeats song!
Sing along to any Afrobeats song of choice. Whether it is Hiplife, Bongo Flava, Coupe Decale, Soukous, Kwaito, Gquom, Zouk, Kizomba, Afro-pop, Afro-House, Afro-Trap, or even if it is a current song of an old-school Afrobeats song, the choice is yours! Afrobeat Karaoke also welcomes Reggae, Dancehall and Soca songs as well.

Don't know what song to sing, no worries! There will be song books available listing all the popular, new and old, Afrobeats songs. Don't know all the words, no worries! We will have the lyrics on screen for you to follow and the crowd will definitely help as they sing along with you.
It's all going down at Bunda Lounge on 1108 Dundas St and DJ Flowmaster, the African Tantalizer will be spinning on the 1's & 2's.
WHEN: Friday, February 23rd, 2018
WHERE: Bunda Lounge
ADDRESS: 1108 Dundas St. W.
TIME: 7:30pm
TICKETS: $10
* Chance to win a portable Karaoke Mic giveaway + trophy prize for best performer!
So come out and sing, or come out and enjoy the show!
**SIGN UP TO SING!**
Fill out our online form with your song information HERE to reserve your spot to hit the stage and perform your Afrobeat Karaoke.
CHECK OUT OUR INTERACTIVE FLYER HERE
Grab your ticket! See you there :)
ISSA BLACK HISTORY MONTH AFROBEAT MUSIC CELEBRATION!
The AfroFusion Spot Team