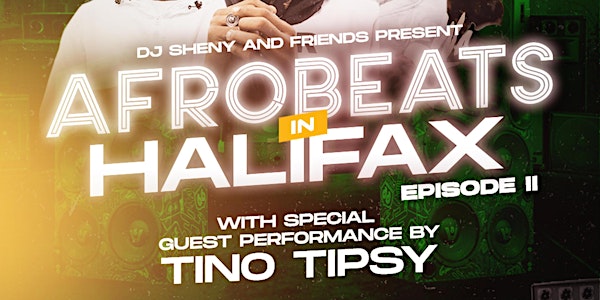 Afrobeats In Halifax - Episode II
AFROBEATS IN HALIFAX - EPISODE II GUEST PERFORMANCE BY TINO TIPSY (FROM TORONTO) MUSIC POLICY: DJ CEDRO & DJ SHENY WEST MEETS EAST AFRICA.
When and where
Location
Level8 Night Club 1800 Argyle Street Halifax, NS B3J 2V9 Canada
Refund Policy
Contact the organizer to request a refund.
Eventbrite's fee is nonrefundable.
About this event
𝐅𝐀𝐌𝐈𝐋𝐘! It's been a crazy year bringing you 𝐀𝐋𝐋 𝐓𝐇𝐄 𝐒𝐌𝐎𝐊𝐄!!! 😤 But what is an epic year without an 𝐄𝐏𝐈𝐂 𝐄𝐍𝐃𝐈𝐍𝐆 🔥🔥🔥
One more time OUTSIDE! Before Winter fully hits
All flights, roads, ships and trains, lead to 𝐇𝐀𝐋𝐈𝐅𝐀𝐗!!!
𝙎𝙖𝙩𝙪𝙧𝙙𝙖𝙮 DECEMBER 3RD, 2022
𝘿𝙤𝙤𝙧𝙨 𝙊𝙥𝙚𝙣 10 PM
𝙎𝙥𝙚𝙘𝙞𝙖𝙡 𝙂𝙪𝙚𝙨𝙩 𝘼𝙧𝙩𝙞𝙨𝙩
🎙️ @tinotipsy
𝘽𝙚𝙨𝙩 𝘼𝙛𝙧𝙤𝙗𝙚𝙖𝙩𝙨 𝙈𝙪𝙨𝙞𝙘 𝙞𝙣𝙘𝙡𝙪𝙙𝙞𝙣𝙜 𝘼𝙢𝙖𝙥𝙞𝙖𝙣𝙤 𝙫𝙞𝙗𝙚𝙨
Brought to you by
🎧 @cedro.__
🎧 @dj_sheny
𝙃𝙤𝙨𝙩𝙚𝙙 𝙗𝙮
🎤 @danny_vic
𝙏𝙞𝙘𝙠𝙚𝙩𝙨 𝙨𝙩𝙖𝙧𝙩 𝙖𝙩 $15
AfrobeatsInHalifax-Episode-II.eventbrite.ca
GO! GO!! GO!!!
𝐕𝐄𝐍𝐔𝐄: LEVEL8 NIGHTCLUB HALIFAX
[8ᴛʜ ꜰʟᴏᴏʀ - 1800 ᴀʀɢʏʟᴇ ꜱᴛ, ʜᴀʟɪꜰᴀx, ɴꜱ ʙ3ᴊ 2ᴠ9]
#AfrobeatsInHalifax #AfrobeatsInCanada #Halifax #Canada #afrobeats #africa #wakanda #Wizkid #Rema #BurnaBoy #halifaxnoise #DJSheny