Description
* If you missed out on the complimentary and advance tix, just come early (between 4 and 5pm) and you will likely be able to get tickets at the door. No entrance guarantees for non-ticket holders. Advance tickets get you priority entrance once we start nearing capacity. *
---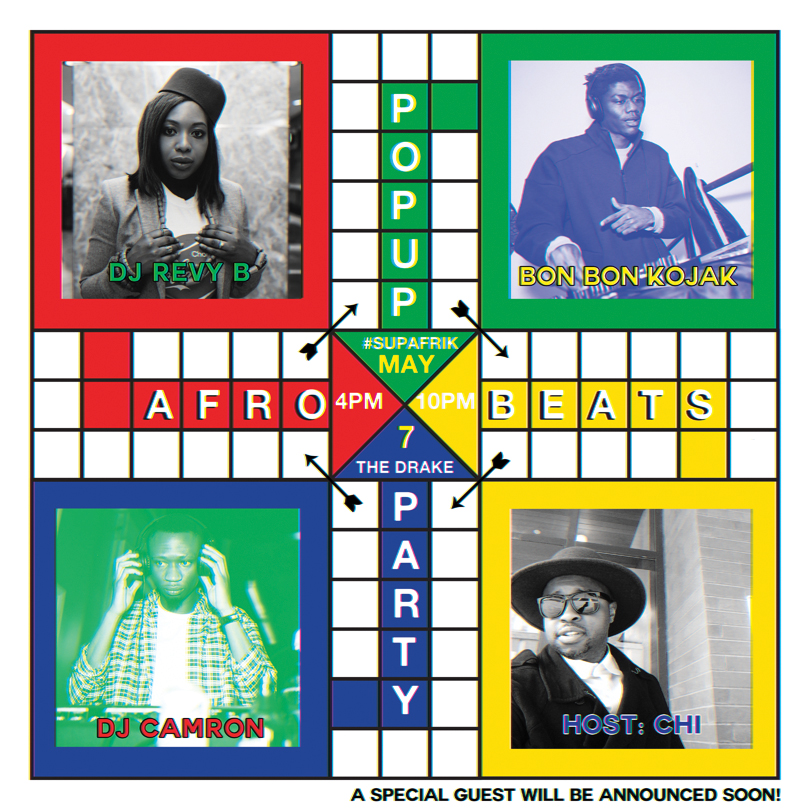 Come out and play! Spring is here. We are back with our annual Afrobeats daytime pop-up shop and party on the Drake Hotel's Sky Yard!
*EXTRA EXTRA* We are pleased to announce that Nonso Amadi will be joining us as special guest or our first live performance!
Very little is known about the reclusive singer but he's one of the rising stars in the world of Afrobeats and R&B. Nonso has been riding a wave since his song "Tonight" surpassed a million spins on Spotify and scored him a guest appearance on Ebro's BEATS1 (Apple Music) show for the world premier of his single "Radio" produced by Juls(Mr. Ea
zi's sound architect). He is quickly becoming a mainstay on Nigerian radio and with forthcoming collaborations with Maleek Berry, a brand new EP with Odunsi entitled "War" and UK dates lined up, the rise of this emotive crooner is just getting started. We are happy to be presenting Nonso Amadi in a rare exclusive performance for

#

Supafrik

. Toronto. Remember where you saw this first!
We're bringing that SUPAFRIK energy to Queen West once again! The focus is on the DJs and their unique blend of urban African sounds. Not to be confused with Fela Kuti's Afrobeat (without the s), Afrobeats is a catch all term originating in the UK that refers to different electronic dance music genres from the African continent and African crews in London, Lisbon and Paris. From Ghanaian Azonto to Angolan Kuduro to South African House and of course Naija jamz. Supafrik regulars DJ Camron and DJ Revy B will return to submerge the Sky Yard rooftop patio in bass heavy Afrobeats sets with splashes of R&B, hip-hop, reggae and pop. They will be joined by Montreal Afrohouse partyrocker Bon Bon Kojak of the Moonshine crew making his Toronto debut.
Room 222 and the tunnel will host a pop-up shop selling a collection of African-inspired summer/spring fashion and accessories from Chinedesign, Ofuure, Bouswari, Kipato, Afrodelik, Papaya & Co and more.
***** We are giving away a batch of 100 comp tickets to show our appreciation to you for rocking with SUPAFRIK for 6 years strong! First come first serve and limit of 2 each. There will also be tickets in advance. Capacity is limited so if you plan on buying tickets at the door please come early. Advance tickets sold out in less than 48 hours ******
About SUPAFRIK: SUPAFRIK is a traveling pop-up concept that was created by Chinedu Ukabam of Toronto fashion label Chinedesign. It has grown from its 2011 debut in Kensington Market, Toronto to dynamic multi-day installations in Washington DC, London, Paris and New Orleans showcasing contemporary African culture to a diverse audience. Artists featured have included painters, photographers, sneaker designers and chefs