Description
ThriveKids™ After School Program - 3 to 5:30pm
Ages 4-13
After School Programs include the following activities and more:
Motion/Exercise: 20/20/20 Circuit™, Power Ninjas, Parkour Littles, Superhero Circuit

Arts: Arts & Crafts, Artsercise™, Improv

Food Programs (Nut FREE): Food is Fuel™, Picky Eaters Program, Sampling

Robotics & Gaming: Table Gaming Social, SPHERO Robotics, Programming & More

Outdoor Exploration: Nature is Nurture!, Scavenger Hunts, Cataloging

Mindfulness & Yoga: Breathing Techniques, Muscle Stretching, Relaxation and Stress Management

TKI Parkour/FreeRun
TKI STEAM (Science, Technology, Engineering, Arts and Mathematics) program. Monthly After School program members will enjoy the benefits of membership with our new STEAM program.
***Please register one week in advance.
***ThriveKids™ is closed the following holidays:
Sept 3rd- Labour Day

Oct 8th– Thanks Giving

Dec 22 to Jan 6 – Winter Brak

Feb 18 – Family Day

March 11 to 15th– March Break

Easter Monday – April 22nd

Victoria Day – May 20th
---
New! We now offer bus transportation from your child's school to the ThriveKids™ After School Camp!
Purchase your child's bus ticket below. We must have a minimum of 5 children from a school registered in order to fill a bus. In the event that we have less than 5 children signed up, you will be notified and refunded the transport ticket.
IMPORTANT INFORMATION ON TRANSPORTATION/ BUSING:
This pre-registration process guarantees your place in the ThriveKids After School Camp. Transportation will be confirmed once a total of 5 children from your school registers.
Please review the map borders and if your school is within those borders (North/ South- Sheppard down to St. Clair) and (East/ West - Avenue Road to Dufferin), please enter your school name and address.
A pre-registration intake process will be completed at the end of June. At that time we will let you know if the minimum for your school has been reached.
We hope you will tell your friends at school, so that we can include your school in the transportation/ busing route!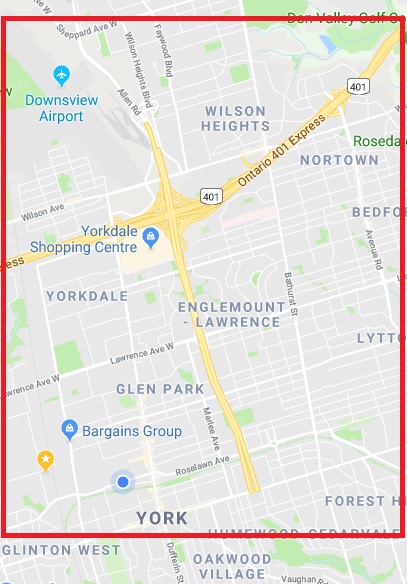 ---
Important Information:
A pre-registration intake process will be completed prior to this event. At that time we will make a determination as to whether your child requires one-to-one , individualized assistance or any additional supports. If your child currently does require these supports in school they will most likely require them in our programs as well. Please note there will be an additional cost for individualized support services.
1. It is very important to identify your child's conditions should they have any exceptionalities whatsoever. An intake process will then be followed in order to aid TKI (ThriveKids, Inc.) in providing the best possible care and assistance for your child during our programs.
2. If your child requires personalized care assistance or one to one care at school, they will also require personal assistance for our programs. Please let us know if this will be necessary well in advance of our programs, so that we may offer you the best and most affordable help.
As well, if you have a personal care worker you would like to bring with your child, you must tell us well in advance in order for us to accommodate both your child and the worker.