Description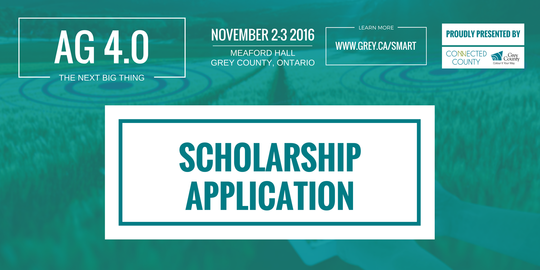 The Ag 4.0 Summit will create an environment where agricultural and food producers can connect and problem-solve with professionals from the creative and technological fields. Grey County and the Ag 4.0 Summit team are committed to making the Summit accessible to people from settings and communities with limited resources, including youth, volunteers and community-based advocates, producers and leaders in the fields of agriculture, food, and technology. We're thrilled to provide opportunities for partiicpants to expand their connections, share ideas, and be inspired to build exciting new initiatives here in Grey County.
Although every attempt will be made to assist as many people as possible, we regret that our Scholarship Fund is limited and we will not be able to meet all requests. Up to 10 scholarship spaces for the Summit will be made available. Scholarships will be evaluated based on a close match between applicants interests, background, and experience with the goals and principles to be explored through the Ag 4.0 Summit. Ppriority will be given to those whose attendance at the symposium will help enhance their work in their own communities, to those who are able to assist in the transfer of skills and knowledge acquired at the symposium, and is relevant to their professional or community work or field of study.
These scholarships have been generously provided through donations from municipalities, organizations, businesses, and individuals who want to support the inclusion of youth and people for whom price may be a barrier. We are grateful for the support from our community and look forward to reading your application for a scholarship to attend the Ag 4.0 Summit.
Please note that that these scholarships are for the Summit only and some scholarships have been donated for applicants from specific communities.
Click here to learn more about the Ag 4.0 Summit or visit www.grey.ca/smart
For more information or if you have any questions, comments, or concerns, please contact:
Organizer of Ag 4.0 Summit Scholarship Application