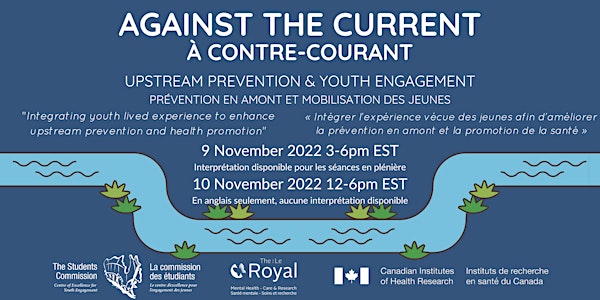 Against the Current: Upstream Prevention and Youth Engagement
Bringing youth & adults together to share the latest info on prevention, health promotion, & youth engagement to inform policy & practice
About this event
English follows
Cet événement en ligne de deux jours réunira les chercheurs, les législateurs, les défenseurs de la jeunesse et les praticiens qui travaillent dans le secteur de la jeunesse et la santé publique afin qu'ils partagent des approches associant la prévention en amont, la promotion de la santé et la mobilisation des jeunes. Un accent particulier sera mis sur le modèle de prévention islandais, tel qu'il a été mis en œuvre par l'organisation Planet Youth. Une interprétation sera disponible pour la première et la dernière heure des séances du 9 novembre. Les salles d'atelier comprendront une salle en français. Aucune interpretation disponible le 10 novembre.
This two-day online event will bring together researchers, policymakers, youth advocates and practitioners working in the youth sector and public health to share the latest information on upstream prevention, health promotion, and youth engagement, as well as how to combine these approaches. Within this event, we place a particular focus on the Icelandic Prevention Model as implemented by Planet Youth. This initiative applies an evidence-based approach to primary substance use prevention in youth and has been implemented in Iceland for over 20 years. The model has been identified as a promising practice within Canada's Chief Public Health Officer's 2018 Report, the Public Health Agency of Canada's Blueprint for Action and the 2022 Stanford Lancet Commission.
Initiatives that apply system-level strategies designed to influence social determinants have a greater impact on youth health and wellbeing at the population level. Youth lived experience of health equity issues can enhance the feasibility and effectiveness of these efforts, yet many models do not integrate youth engagement processes. There is a need for greater uptake of youth perspectives to inform upstream prevention and health promotion.
This event is being presented by the Students Commission of Canada, lead of the Centre for Excellence in Youth Engagement, and Dr. Tanya Halsall at the University of Ottawa Institute of Mental Health Research in collaboration with Planet Youth.
We are pleased to announce that Dr. Alfgeir Logi Kristjansson will provide a keynote presentation about the origins of the Icelandic Prevention Model and considerations for international scaling.
Dr. Alfgeir Logi Kristjansson is an Associate Professor at West Virginia University, School of Public Health, the Principal Investigator for the West Virginia Prevention Research Center, Senior Scientist with the Icelandic Center for Social Research and Analysis and an Adjunct Professor at Reykjavik University.