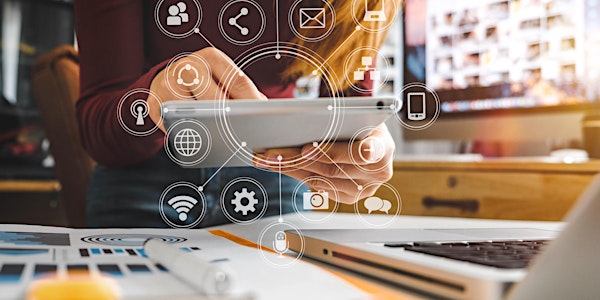 Age Friendly Arts and Culture Symposium
New ideas and collaborations for Building Digital Bridges to connect older adults to arts, culture and creativity - COVID and beyond.
About this event
Previously planned as an onsite event, the Age Friendly Network Meeting and Arts and Culture Symposium were cancelled due to the March COVID lock down. This new virtual event is a response to COVID-19 hosted by Museum London, co-sponsored by London Area Creative Age Network with special funding extensions provided by the Ontario Seniors Community Grant Program.
Thursday December 10th 2020, 9:30am to 3:30pm
Building Digital Bridges
Older Adults, Arts, Culture and Creativity During COVID-19 and Beyond
9:30am Land Acknowledgement
Welcome Remarks
Michelle Dellamora, Policy Strategies City of London Age Friendly Network
Brian Meehan - Executive Director Museum London
The project Host and Sponsor Museum London's art collection has more than 5,000 regional and Canadian works and our 45,000 artifacts reflecting the history of the City of London as an important regional urban centre in Southwestern Ontario.
_____________________________________________________________________
9:45am - Symposium overview by Kathy Smith, Coordinator of the London Area Creative Age Network and Symposium Co Convenor. For the past 10 years, Kathy has helped groups and organizations develop the resources and capacity to provide creative programs and events to address the changing needs and interests of older adults (55+) and their service/care providers
__________________________________________________________________________
10am - Morning Panel and Breakout Discussion
Memories & Connections – Building Communities & Audiences through digital programming by understanding context and content for older adults
Moderator - Victoria Stasiuk Owner of Arts and Culture Consulting and Symposium Co Convenor. In her consulting practice she guides projects focussing on the importance of building resilience in the cultural sector through digital strategies and online experiences. Victoria is currently a docent at the McMichael Canadian Art Collection.
Mario Circelli is the Founder and Chair of the Forest City London Music Museum and Director of the Creative Digital Arts Centre.
Mario is community leader and champion for intergenerational arts and cultural programming. He's a musician, broadcast journalist, documentary filmmaker and communications expert. During his career, he has produced and/or engineered over 40 records and compilation albums. Mario worked in radio and television for nearly 20 years before moving into the communication industry as a government and community outreach specialist. His documentary credits include, "In Our Own Words" which chronicled Italian immigration to south-western Ontario and other works for the Canadian International Development Agency (CIDA). Mario will describe his work in providing Digital Skills Training for Older Adults so they can interact with family, friends as well as interact with online communities created by and for their generation(s) focussed on their interests, issues and perspective.
Mike Baker Curator Elgin County Museum (2019 Heritage Award Winner) has been acknowledged for his broad knowledge and outstanding research on London and area history as well as his eloquent and energetic advocacy for heritage over many years. Mike will describe his recent project at his museum to get items from the collection ready to interact with the EXAR studios immersive smart phone application implementation Spring 2022. This tool and funding program will allow Elgin County and Port Stanley to create interest for cultural heritage assets and enhance his museum's digital story telling.
Sophie Hinch is a Francophone artist, educator, and arts administrator with a background in public arts programming currently working at the Art Gallery of Windsor as the Education and Public Programs Coordinator. She also served as Gallery Coordinator for the SoVA Projects Gallery at the University of Windsor, and as Secretary to the Board of Directors at Artcite Inc. When the pandemic forced many galleries and arts organizations to close, the AGW had to reimagine and adapt existing programs for digital platforms and create new programs to respond to their communities needs. The AGW is now offering guided virtual tours and workshops, audio-visual gallery tours for a touchless gallery experience, outdoor and offsite programs, as well as modified in-person programs. Sophie will highlight the Gallery's programming for older adults and the vulnerable public as well as "the Remembering Through Art program" offered in collaboration with the Alzheimer Society. ________________________________________________________________________________________________
12 Noon - Social, Sandwich and Salad Club
For those who'll take a lunch break near the computer we'll be here to keep you company.
______________________________________________________________________
1pm - Afternoon Panel and Breakout Discussions
Moderator - Rana El Kadi Phd has several years of experience in community-based research, arts-based research, and knowledge mobilization in partnership with various communities and organizations in Canada. She is passionate about using community-based research to design and pilot effective education and social practices, programs, and policies for communities with lived experience of difference.
Research & Development – A Digital Art Platform for Older Adults
Description
Direct[Message]: Digital Access to Artistic Engagement is a 3-year project funded by the Canada Council for the Arts (Digital Strategy Fund). The team is researching and developing a new digital platform that older adults can use to participate in online arts programming from their homes and communities. The project team includes older adult community members, researchers, artists, and engineers from organizations across Hamilton, London, and Guelph: Centre [3] for Artistic & Social Practice; McMaster University; Re-Vision: Centre for Art and Social Justice; VibraFusionLab; and Cinematronics.
In this session, the team will provide an overview of the project's aims, as well as their approach to community-based research, community engagement, and collaborative design during COVID-19. They will present some preliminary research findings and a skeletal overview of the digital platform design. Audience members will then have the opportunity to join a breakout group of their choosing to dive deeper into their area of interest. They will be able to make new connections, share resources, and discuss potential solutions around challenges we are all facing as we work towards building digital artistic bridges with older adults during the pandemic.
Presenters and Facilitators
David Bobier is a multisensory media artist that identifies as a hard-of-hearing older adult; he is the Director of VibraFusionLab in London, Ontario.
TJ Charlton is Studio Manager of Centre[3] for Artistic and Social Practice, as well as an interdisciplinary artist, educator and musician based in Hamilton.
Dr. Rana El Kadi is a community-based researcher working in aging, critical disability, arts-based methodologies and participatory design; she is the co-founder of Emergent Futures CoLab.
Becky Katz is an artist who is deeply immersed in the world of Arts Education and Community Arts in Hamilton.
Dr. Tara La Rose is a Registered Social Worker and Assistant Professor with the McMaster University School of Social Work.
Christina Luzius-Vanin is an Ontario Certified Teacher, artist, and a current Ph.D. student in the School of Social Work at McMaster University.
Colina Maxwell is Co-Founder and Executive Director of Centre[3] for Artistic and Social Practice, a charitable organization based in Hamilton.
Jim Ruxton is an electronics engineer, media artist, and the sole proprietor of Cinematronics, a Hamilton-based company created to service the film special effects industry.
____________________________________________________________________________________________________
2:30pm - Closing Session Moderator Kathy Smith
Where do we go from here? How we link networks to share resources and develop new audiences in the regions?
Kathy Smith, Coordinator of the London Area Creative Age Network. For the past 10 years, Kathy designed and delivered community-based, outreach and engagement programs and special events. Artist educators engage and involve older adults through dynamic arts education programs. Certified Creative Aging Facilitators developed social programs and events.
Kathy was named to Mayors Honour Roll for Arts and Culture in London and she received the Ontario Achievement Award for her work with Age Friendly London and Creative Aging initiatives.
Kathy will review the FREE Age Friendly Arts and Culture Discussion Guidebook, and Creative Aging Toolkit: for Rural Communities and the Creating @Home Workbook available to all Symposium participants.
Also - don't miss FRIDAY December 11th - ZOOMAPALOOZA - the Creative Aging Social Gathering 9: 30am TO 3:30pm
Who should attend
Those who also wish to explore opportunities for collaboration and the use of technology to engage older adults in arts and cultural programs and online activities during COVID-19 and beyond . Morning and afternoon sessions.
Municipalities
Libraries
Arts and Culture Institutions
Art Galleries and Community Arts Organizations
Arts/Health Organizations
Universities and Colleges
Arts Instructors and Facilitators
Community Developers
Retirement Homes and Seniors Social Housing
Program and Activity Coordinators
Tech Support and Services
Seniors Services Providers
Interested Older adults and Caregivers
See Age Friendly Communities Life Enrichment Sector https://uwaterloo.ca/age-friendly-communities/community-sectors/life-enrichment-recreation-education-arts-and-culture