Description
A collaborative community project: Museum London, Age Friendly London Network and the London Creative Age Network with funding from the Ontario Seniors Community Grant Program
Save the Date - register early!
March 23rd 2020
In the morning we'll gather at Museum London to learn more about the Age Friendly Cities movement, the Age Friendly London Network and AFLN Working Groups.

Afternoon symposium presenters will explore and consider the important role of arts/cultural organizations, funders, corporate sponsors and service providers to keep older adults engaged in lifelong learning and community arts outreach programs.
---
Symposium Program and Presenters
Land Acknowledgement:
10:00am Morning Greetings: Robin Armistead City of London, Manager of Culture and Municipal Policy
Brian Meehan, Executive Director, Museum London

---
10:15am to 10:45am Age Friendly London Network Presentation A

Michelle Dellamora, City of London Manager of Policy and Community Initiatives

11:00am to 12noon: Age Friendly London Networking
or
11:00am to 12noon: Morning Presentation B, Creative Studio

Professional Development Workshop- Leadership and Staff Training
What is Age Friendly Arts and Culture?

Kathy Smith, London Creative Age Network
---
12noon to 1:00pm: LUNCH - 2nd floor Lorraine Shuttleworth Gallery

---
1:00pm to 2:00pm: Presentation C - The Nostalgic Theatre, Centre at the Forks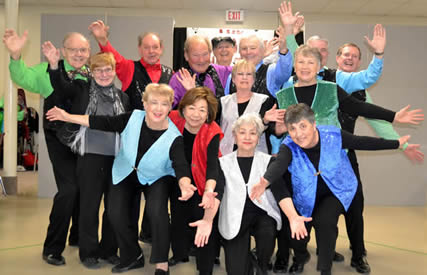 or
1:00pm to 2:00pm: Afternoon Research Presentation D Boardroom
Professional Development Pilot Project: Direct [Message]: Access 2 Engagement for the Aging Community
This 3-year project is funded by the Canada Council for the Arts Digital Strategy Fund through the University of Guelph and McMaster University with 3 community partners
Centre [3] for artistic and social practice
Vibra Fusion Lab
Museum London
This team is exploring and developing new digital models and prototypes to improve and transform the aging community's access to and engagement with the visual arts, including developing a prototype that is adaptable to include members of the aging community that live with disabilities such as loss of memory, hearing, sight, and mobility.

2:00pm to 3:00pm: Afternoon Community Arts and Older Adult Engagement Presentation E, Creative Studio

Penny Wearne, Coordinator Creative Age Art Studio in Thames Centre Ontario will review the steps taken to establish a creative arts community hub for older adults using cross-sector community engagement strategies developed and led by seniors at the area municipal seniors centre.
2:00pm to 3:00pm: I Honoured Him Until the End, Presentation F

Indigenous Storytelling of Caregiving for a Loved One with Memory Loss - Agnes Mickleson, Danielle Alcock and Annette Sullivan.

This presentation focuses on the importance of art through storytelling. In partnership with the Alzheimer's Society of London-Middlesex, Agnes Mickleson, the instructor for the Artful Minds Program will share stories about the positive impact for seniors with memory loss. Additionally, two Indigenous women will discuss how art emerged as a part of their caregiving journeys. Danielle is Anishanaabe kwe and a member of the Chippewas of Rama First Nation, and is a caregiver for her Dad. Danielle completed her PhD and her research focused on the experiences of Indigenous caregivers. She will provide insight about 1)improving cultural safety for Indigenous families impacted by memory loss especially within long term care homes, 2)barriers Indigenous families face in their journeys, 3)resources and recommendations for change. Annette is a dedicated community member of the Muskrat Métis of the St. Clair region and was a caregiver for her father until he returned to the spirit world. Annette is a professional artist whose boldly colourful images in the Woodland genre offer viewers awareness on issues of reconciliation and historical trauma.
2:00pm to 3:00pm - Telling Our Stories Presentation G

Pilot project with London Middlesex Community Housing (seniors)

3:00pm to 4:30pm: Afternoon Round Table Discussion Presentation H - Centre at the Forks/Theatre

On site Events and Programs
Outreach and Engagement Programs

Marketing and Networking
Funding and Resource Development
Possibilities and Collaborations
Moderated by Jen Tindall - Community Arts Programmer Extraordinaire and owner of Art Your Service: Meaningful Programs, Workshops, Webinars and Events for adults 55+ and former Artistic Associate Harbourfront Centre Toronto.
Debra Pasquerette, teaching artist and Manager of Community Engagement at The Wallis Annenberg Center for the Performing Arts in Beverly Hills, CA, has worked with people of all generations across the community. She later shifted to working with older adults and developed a passion to pursue Creative Aging Programming in her community.
Kate Dupuis Kate Ph.D., C.Psych.is the Schlegel Innovation Leader in Arts and Aging at the Centre for Elder Research at Sheridan College. She is passionate about identifying the benefits of arts programming for older adults and their care partners, and in determining potential barriers (e.g., sensory and cognitive decline, transportation) to active participation in the arts. Kate is a registered Clinical Neuropsychologist and a professor in the Faculty of Applied Health and Community Studies at Sheridan College. Her specialties include project development and co-ordination, stakeholder management, and working on collaborative teams.

Andrea Hibbert, Executive Director, London Arts Council Andrea has been immersed in arts and culture her entire career. Whether as a funder, administrator, educator, consultant, advocate or patron, she has always understood the vital role of the arts in city and community building. Andrea was appointed Executive Director to the London Arts Council in 2003.

Mario Circelli, Founder and Chair Forest City London Music Awards and London Music Hall of Fame. Manager of Digital Creative Arts Centre - promoting intergenerational digital arts collaborations and performing arts education. Circelli's music program for seniors with disabilities connects the DCA Centre with Community Living London by bringing in guests to play different instruments, different genres and songs everyone knows.

Vonnie Snyder, artist/instructor. Board member of Oxford Creative Connections, and member of Ingersoll Creative Arts Centre as well as Tillsonburg Station Arts. After a professional career in mental health and dementia support services Vonnie started to exhibit her art in galleries throughout Oxford County – Elmhurst, Annandale NHS, Woodstock Hospital, South Gate Centre and also Art With Panache Gallery in London. She participates in the Oxford Studio Tour and Oxford Creates. Her creations have found new homes throughout Oxford County, other parts of Ontario, Labrador and Florida.

Dharshi Lacey, Director of Diversity and Governance, PILLAR Non Prifit Network
---