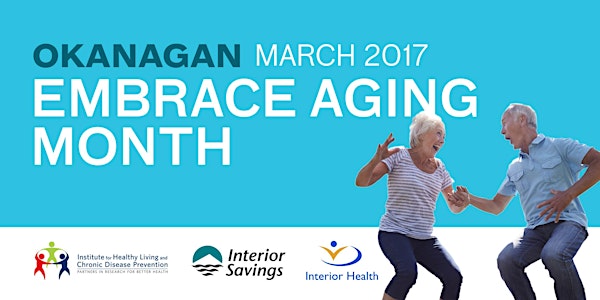 Age of Love - West Kelowna
By Healthy Living and Chronic Disease Prevention
Date and time
Fri, Mar 3, 2017 6:00 PM - 8:30 PM PST
Location
Landmark Cinemas Encore 200 - 3645 Gosset Road West Kelowna, BC V4T 4N8 Canada
Description
Screening sponsored by
AGF Investments Inc.
and Interior Savings Credit Union
Friday, March 3, 6 - 8:30 pm PST
Landmark Cinemas Encore
200 - 3645 Gosset Road, West Kelowna

Age of Love: It's never too late to date

An unprecedented speed-dating event for 70- to 90-year-olds serves as the backdrop for THE AGE OF LOVE, an alternately poignant and funny look at the search for love among the senior set.
Over one summer, we intimately follow as ten speed daters—recently widowed, long-divorced or never-married—prepare for the big day, endure a rush of encounters, then anxiously receive their results. Fearlessly candid about themselves and what they're seeking, these WWII babies are forced to take stock of life-worn bodies and still-hopeful hearts.
Then, as they head out on dates that result, comic and bittersweet moments reveal how worries over physical appearance, romance and rejection, loss and new beginnings change—or don't change—from first love to the far reaches of life.
THE AGE OF LOVE is a story of the universality of love and desire, regardless of age.
New York film director, Steve Loring, is flying in to the Okanagan to introduce the film. Afterwards, he will inspire and entertain you as he shares his motivation for making the film and recounts stories of the people he got to know quite well as he followed them in their pursuit of love.
FREE AND OPEN TO THE PUBLIC
Everyone is welcome - Attend in person
Registration is required