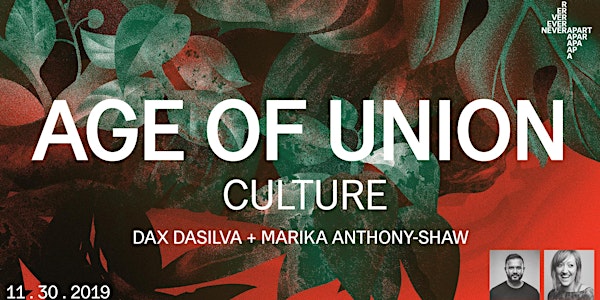 Age of Union: Culture — Dax Dasilva & Marika Anthony-Shaw
Dax Dasilva continue sa série de quatre entretiens issus de Age of Union avec le 2e pilier du livre: la culture. Avec Marika Anthony-Shaw
When and where
Location
Centre Never Apart 7049 Rue Saint-Urbain Montréal, QC H2S 3H4 Canada
About this event
Dax Dasilva, l'auteur du livre «Age of Union» et le fondateur de la société de technologie Lightspeed et du centre culturel Never Apart, continue sa série de quatre entretiens issus de Age of Union avec le deuxième pilier du livre: la culture.
Pour la deuxième de quatre conférences, Dax invite Marika Anthony-Shaw (Arcade Fire / PLUS1) à participer à cette discussion inspirante sur la façon dont les artistes peuvent être d'importants moteurs de changement lorsque leur art trouve son public et comment la culture elle-même peut être une force pour le changement.
Dans cet exposé de 45 minutes animé par Dax et suivi d'une discussion de groupe de 30 minutes, nous aborderons des sujets explorés dans le livre tels que : les clés de la culture, la culture comme identité, la culture comme expression, le rôle culturel de la technologie, la culture comme agent du changement, construire une culture de diversité.
Entrée gratuite, RSVP Eventbrite requis.
[English follows]
► À propos de Marika Anthony-Shaw
Marika Anthony-Shaw a joué de l'alto en tant que membre en tournée du groupe Arcade Fire pendant 9 ans. Elle a également dirigé les activités philanthropiques et communautaires de ce groupe. En jouant sur les scènes du monde entier, Marika et les autres membres du groupe ont pu ressentir l'incroyable énergie de milliers de personnes se rassemblant pour vivre quelque chose de profond. Motivée par ce potentiel, Marika s'est consacrée à bâtir une nouvelle organisation, PLUS1. PLUS1 permet aux artistes de s'associer à leurs fans pour sensibiliser, défendre leurs intérêts et fournir des ressources aux organismes qui font un travail éprouvé et mesurable pour accroître l'équité, l'accès et la dignité pour tous.
Marika a été élevée en Colombie-Britannique par sa mère - une linguiste et universitaire qui travaille avec les communautés des Premières nations à la revitalisation linguistique - qui lui a appris la valeur de l'identité et le pouvoir de la langue. Marika est diplômée en interprétation musicale et en éducation musicale de l'Université McGill. Elle siège au conseil d'administration de Partners in Health Canada et au conseil d'administration de PIH à Boston. Elle conseille et donne fréquemment des conférences sur le pouvoir de l'impact collectif et l'intersection de la philanthropie efficace, de l'art et de la justice sociale, notamment à C2 Montréal, au Sommet Forbes des moins de 30 ans, dans les universités et dans d'autres événements internationaux. Elle vit à Montréal avec son mari, le producteur de disques Marcus Paquin et leur jeune fille.
► À propos de Dax Dasilva
Dax Dasilva est l'esprit créatif à l'origine de Lightspeed, Never Apart et Age of Union. Fondée en 2005, Lightspeed fournit une plateforme infonuagique à des détaillants et à des restaurateurs situés dans plus de 100 pays. La mission de l'entreprise est de dynamiser les villes et les collectivités en outillant les entreprises indépendantes.
Lightspeed compte plus de 800 employés répartis dans huit villes et a obtenu un financement total de 292 millions de dollars américains de la part d'Accel Partners, d'iNovia Capital, d'Investissement Québec et de la Caisse de dépôt et placement du Québec. En mars 2019, l'entreprise est devenue une société ouverte inscrite à la Bourse de Toronto sous le symbole LSPD ; elle compte également parmi les 10 plus importants premiers appels publics à l'épargne dans le secteur technologique canadien.
En 2015, Dasilva a également fondé Never Apart, un organisme à but non lucratif qui s'est donné pour mission d'avoir un impact social positif grâce à une programmation originale à la portée internationale. Situé dans les anciens bureaux de Lightspeed, Never Apart inspire une grande diversité de personnes et en a accueilli des milliers dans son espace de 12 000 pieds carrés.
La philosophie de Dasilva repose sur deux éléments fondamentaux : les technologies de Lightspeed contribuent à ce que les entrepreneurs deviennent des leaders dans leurs communautés et son travail chez Never Apart contribue à soutenir les artistes. Il encourage une culture de l'innovation, promeut un leadership diversifié et apprécie des points de vue variés.
Paru en mai 2019, Age of Union est le premier livre de Dasilva ; il réunit ses propos sur le leadership, la spiritualité et l'environnement, en plus d'aborder les thèmes de l'identité, de la diversité, de l'expression culturelle et des responsabilités individuelles afin de motiver les acteurs de changement dont le monde actuel a besoin.
——— ENGLISH
Dax Dasilva, author of Age of Union and founder of tech company Lightspeed and cultural centre Never Apart, continues his series of four Age of Union Talks with the second pillar of the book: Culture.
For the second of four talks, Dax welcomes special guest Marika Anthony-Shaw (Arcade Fire / PLUS1) to engage in this inspiring discussion about how artists can be important changemakers as their art finds its audience and how culture itself can be force for change.
In this 45 minute talk lead by Dax followed by a 30 min group discussion, we will delve into topics explored in the book such as: the keys of culture, culture as identity, culture as expression, the cultural purpose of technology, culture as change agent, building a culture of diversity.
Free entry, Eventbrite RSVP required.
► About Marika Anthony-Shaw
Marika Anthony-Shaw played the viola as a touring member of Grammy award winning band Arcade Fire for 9 years. She also led the band's philanthropy and community outreach. While playing on stages around the world, Marika and her fellow band members could feel the incredible energy of thousands of people coming together to experience something profound. Motivated by this potential, Marika dedicated herself to building a new organization, PLUS1. PLUS1 empowers artists to partner with their fans to drive awareness, advocacy, and resources for organizations doing proven, measurable work to increase equity, access, and dignity for all.
Marika was raised in B.C. by her mother - a linguist and academic who works with First Nation communities in language revitalization - who taught Marika the value of identity and the power of language. Marika has degrees in Music Performance and Education from McGill University. She sits on the Board of Directors of Partners in Health Canada, and on the PIH Board of Trustees in Boston. She frequently advises and speaks on the power of collective impact and the intersection of effective philanthropy, art, and social justice including at C2 Montreal, the Forbes Under 30 Summit, universities and other engagements globally. She lives in Montreal with her husband, record producer Marcus Paquin, and their young daughter.
► About Dax Dasilva
Dax Dasilva is the creative mind behind Lightspeed, Never Apart, and Age of Union. Founded in 2005, Lightspeed develops a cloud commerce platform used by retail and restaurant customers in over a hundred countries. The company's mission is to bring cities and communities to life by powering independent business.
Lightspeed employs over 800 staff located in eight cities and has raised $292M USD from Accel Partners, iNovia Capital, Investissement Québec and the Caisse de dépôt et placement du Québec. The company went public in March 2019 on the Toronto Stock Exchange under the symbol LSPD, becoming one of Canada's top 10 technology IPOs.
In 2015 Dasilva also founded Never Apart, a cultural non-profit determined to bring about positive social change and unity through original programming with global reach and impact. Housed in Lightspeed's former offices, Never Apart cultivates a diverse following and has welcomed thousands into its 12,000-square-foot space.
Helping entrepreneurs become leaders in their communities through Lightspeed's technology and elevating artists through his work at Never Apart are fundamental to Dasilva's philosophy. He fosters cultures of innovation, promotes diverse leadership, and values different viewpoints.
Dasilva's debut book released in May 2019, Age of Union: Igniting the Changemaker, brings leadership, spirituality and environmental guardianship together with themes of identity, diversity, cultural expression, and individual empowerment to ignite the impactful changemakers that the world needs now.