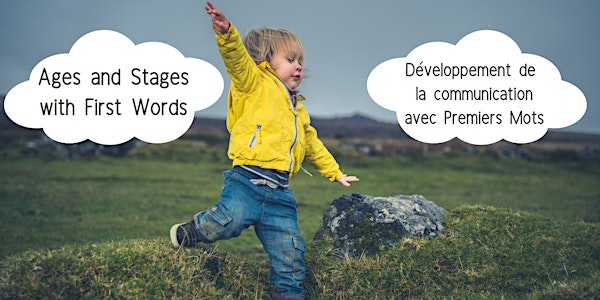 Ages and Stages / Développement de la communication
Ages and Stages with First Words / Développement de la communication avec Premiers Mots
About this event
Much of your child's speech and language is learned before the age of 5 years. Join us to learn about your child's speech and language milestones (0-5yrs), general tips about how to promote speech and language development, how to introduce a new language to your child and First Words services.
In order to attend the workshop you will need to access Zoom (link and password in reminder email) on an electronic device (tablet, laptop, computer, phone etc.) and a reliable internet connection.
For the security and safety of all our clients, it is important that each client checks in on camera with the facilitator at the beginning of program. Please be prepared to show yourself via camera at the beginning of each virtual program.
For parents of children aged newborn to 5 years old.
*Open to Ontario residents only.
___________________________________________________________
Votre enfant acquiert une grande partie de sa capacité de parole et de langage avant l'âge de 5 ans. Joignez-vous à nous pour connaître les étapes clés de la parole et du langage de votre enfant (0 à 5 ans), obtenir des conseils sur les façons de favoriser le développement de la parole et du langage, apprendre comment initier votre enfant à une nouvelle langue et vous renseigner sur les services de Premiers Mots.
Pour participer à cet atelier, vous aurez besoin d'accéder à Zoom (nous vous enverrons le lien et le mot de passe dans le courriel de rappel) sur un dispositif électronique (tels qu'une tablette, un portable, un ordinateur, un téléphone cellulaire, etc.) et une connexion internet fiable.
Pour protéger à tous nos clients, il est important que chaque client active sa caméra au début du programme pour que la facilitatrice puisse vous voir. Préparez-vous à activer votre caméra, au moins pour quelques secondes, au début de chaque programme virtuel.
Pour les parents d'enfants âgés du nouveau-né à 5 ans.
*Ouvert seulement aux résidents de l'Ontario.
FAQs
Where can I contact the organizer with any questions? Pour communiquer avec l'organisateur
earlyONyva@wocrc.ca
Can I update my registration information? / Est-ce que je pourrai faire des changements à mes informations?
Yes / Oui
How do I join the online workshop? / Comment puis-je participer à l'atelier en ligne?
The link and password to join will be sent in the reminder email. / Nous vous enverrons le lien et le mot de passe dans le courriel de rappel.